How to buy things with Google Home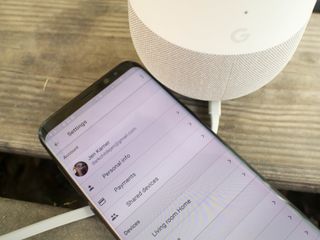 It seems as though every year our lives get even busier than they were the year before. Between your commute, working, hitting doctor's appointments, making it to the gym, and ensuring everything gets done on time, it can be hard to figure out the best time to run out to the store. That's where Google Home wants to make things a bit easier for you.
You can set up voice purchasing and even reorder items that you've ordered previously. It only takes a few minutes to set up voice purchasing, and we have the details on how to do it right here!
How to set up purchasing on Google Home.
Open the Google Home app.
Tap the menu button(it looks like three horizontal lines in the upper left corner of the screen).
Tap More Settings.
Tap Payments.
Tap Get Started.
Tap accept after reading the Terms and Conditions.
Tap to choose your default payment method.
Tap Next.
Tap to choose your delivery address.
Tap Next.
Tap the toggle to choose the Google Home that can make payments.
Tap Done.
How to make a purchase using your voice.
Say "Buy [product]", "Order [product]", or "Purchase [product]" to make a single order.
Say "Buy [product] from [store]", "Purchase [product] from [store]", or "Order [product] from [store]" to order a specific product from a specific store.
Say "Reorder [product]" to reorder a single item that you have purchased previously.
Questions?
Have you set up purchasing through Google Home? Do you have a question we didn't answer? Be sure to leave us a comment and let us know about it below!
Jen is a staff writer who spends her time researching the products you didn't know you needed. She's also a fantasy novelist and has a serious Civ VI addiction. You can follow her on Twitter.
Can I order from Amazon using my Google Home?

This was my only question, too! I'll try to test it out once I get my Home up and running.

I dont think so only from express.

It'd be nice if you included what stores are available.

I suspect the list varies by locale, and is potentially growing all the time.

Buy "vibrating xxx" from "lover's lane"

I bought the bigger version of that. Normal size didn't cut it.

Is Google Express needed? Edit: Never mind I see the image at the top now and I tried it on my phone. Has anyone used Google Express?

I have tried google express. I activated the trial and shop mostly at costco store on express and they have so far given me $65 worth of discount.
on my initial purchase i got $20 then they send a $5 Gift card on my second purchase and then 2 $20 discount on $60 or above on costco purchase (all of these discounts comes on your order shipping box).
most of the time it ships same day and u get it next day. delivery is not available on Sunday and Monday in my area.
No perishable goods but there are 27 stores to shop from including costco,wallgreens, wholefood,khols etc its totally worth it for me.

Awesome, thank you for the heads up. Are you going to sign up for a member ship with Google Express? i have been thinking about it due to the integration with Google Home and Google Assistant.

I am looking forward to what they were showing off at I/O about ordering online through Google Assistant and it all goes through your Google Account. No need to setup accounts with online merchants, or use their app. You can do it all through Google Assistant. :)
Android Central Newsletter
Get the best of Android Central in in your inbox, every day!
Thank you for signing up to Android Central. You will receive a verification email shortly.
There was a problem. Please refresh the page and try again.