How to build a smart home in an apartment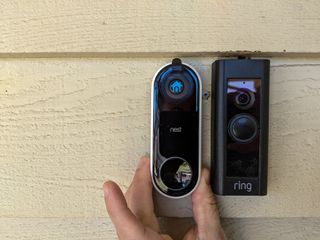 Smart home technology is getting more pervasive, but if you don't own your space, you may feel a bit left out. Fortunately, it's still possible to wire up a smart apartment and make everything look great.
Here's how to build a smart home when you can't change anything!
Find out exactly what you can change
Before spending any money, it's worth having a conversation with your landlord to find out what you can and can't change. Basic stuff like smart speakers, streaming boxes and lightbulbs will almost certainly be fine, but other pieces may not be. Smart Locks and thermostats are a bit tricker, and anything that requires you to put a hole in your wall is probably not going to fly. Have the conversation before losing your security deposit.
D-Line cable channels
Ethernet is still the most reliable way to get data to all of your smart devices, but you can't route cables behind walls. If you're going to run Ethernet cables, speakers cables or anything else around, you'll want some cable channels. There are a few options, but D-Line's Cable Raceway is probably the best for most folks. It blends right in the base of your walls, and you can paint these any color you'd like to match your walls or baseboards. It'll also look nice flat on your wall if you need to run cables up to the ceiling. Most importantly, it can be easily removed in a year when you get ready to move somewhere else.
TP-LINK 5 Port Ethernet Switch
Rather than running multiple Ethernet cables, it's easier to group your gadgets together, run one Ethernet cable for the long distance, then split it up with a switch for the shorter distances. I have an Ethernet cable running from my router to my TV stand, then a network switch for wired connections for my Xbox and Nintendo Switch. A network switch is inexpensive and gives you a bit more flexibility when wiring your gadgets.
Nanoleaf Aurora Rhythm Starter Kit
If you want colorful lights without replacing all of your lights bulbs, Nanoleaf's Aurora lights may be the perfect fit. You get either nine or 15 panels to arrange in any shape you want, and each panel can be given its own individual color. There's a smartphone app for assigning colors to the panels and turning the array on, or you can purchase an adorable remote that also lights up. Setup is easy: just snap the panels together and plug in the single power cord. And when it's time to move in a year, the whole array can be moved without being disassembled.
Philips Hue Starter Kit
If you do want to replace your existing light bulbs, Philips is the best name in town. Its Hue starter kit gets you four bulbs and a hub to connect to Google Assistant, Amazon Alexa or Apple's HomeKit. Once everything is set up, you'll be able to use your voice to turn on your lights, change the color and more. And since moving the bulbs just requires unscrewing them from the lights, you can re-use the bulbs in your next apartment.
Google Home
There's nothing permanent about a smart speaker, and Google's Home speaker is a great option. Google Assistant will integrate with nearly every smart home product, and using Assistant on the speaker is no different than using it on your phone. The Google Home's speaker is great for what it is, and moving it around your apartment or to a different place entirely is as easy as plugging it into a new power outlet.
Lenovo Smart Display
Take everything that was just said about the Google Home, but add a display to it. You still get the great home automation and good speakers for listening to music and podcasts, but you also get to watch recipes for the food you're cooking, or watch news broadcasts, or make video calls with Google Duo. The Smart Display is also a Chromecast target, so your Hulu or YouTube TV shows can be right there in your kitchen, without the chance for you to ruin your laptop in the process.
Wemo Mini Smart Plug
If you want to control power to your gadgets — or want an easy way to shut things down if a storm is coming — Wemo's Smart Plug line is for you. You get a single passthrough plug that connects to your Wi-Fi network that lets you control power through Google Assistant, Amazon Alexa or Apple's HomeKit. You can also set a schedule for the plug, so your cool home theater gadgets are all powered on by the exact moment you get home. You can also set your lights to randomly turn on and deter intruders when you're away. When it comes time to move, you just need to unplug the Smart Plug and plug it back in at your new space. Best of all, the Mini Smart Plug is compact enough that two of the plugs will fit on one standard power outlet.
LeFun WiFi Smart Power Strip
If you have more gadgets than one plug can handle, a smart power strip is for you. LeFun's model lets you individually power each outlet on the strip, and it includes four USB ports for your phone, streaming stick, or another gadget. There's a generous six-foot power cord, and connecting it to your smart home just requires Wi-Fi. It works with Google Assistant or Amazon Alexa, perfect no matter which smart speaker you own. Finally, there's a resettable circuit breaker on the strip in case your devices start drawing too much juice. And when you move, just unplug the power strip and take it with you.
Other tech you can buy
You won't be able to get a smart fridge or smart oven, but you can build most of the pieces of a smart home even if you're leasing. No one's going to stop you from using the game console, wireless router or smart speaker you wish. All of these basic pieces aren't hard to disassemble and move at the end of your lease either.
More: Best Smart Home Tech for an Apartment or Small Space
What say you?
How do you keep your smart apartment connected? Let us know down below!
Get the Android Central Newsletter
Instant access to breaking news, the hottest reviews, great deals and helpful tips.