How to boot NVIDIA Shield TV straight into live television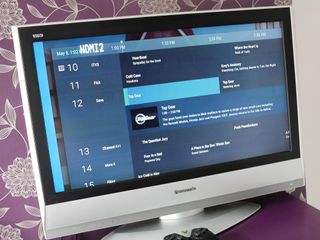 If you're using your NVIDIA Shield TV (opens in new tab) in conjunction with the Live Channels app for over the air television, then there's a strong chance that's going to be the first thing you want to see when you turn it on. But, like any other Android device, the first thing you see when you turn it on is the home screen.
But this is Android so there's usually a way around things to get exactly what you want. The same is true here, and it doesn't take much effort on your part to achieve this simple dream.
Head into the Play Store on your Shield TV and search for an app called Launch on Boot (opens in new tab). It's free to download and does, not surprisingly, exactly what the name implies. It'll let you boot the Live Channels (opens in new tab) app, or any other app for that matter, every time you turn on your Shield TV.
When you open it up you get a very quick tutorial on what it does, but the options are simple. You've a toggle to turn it on, which you need to do to make it work. Below that there's another toggle to turn on if you want to boot directly into the TV. Make sure this is on, hit test to make sure it's working and your work here is done.
If you'd prefer a different app to launch, for example, if you're wanting to see Plex, HDHomeRun or Kodi when you first turn on the Shield, simply turn off the toggle for booting into TV. You'll then see an option to choose any of the other applications currently installed on your Shield TV. Select, hit test again to make sure all is well and you're good to go.
It'd be nice to have this built in, but at least for now this is a simple way to get the job done.
Get the Android Central Newsletter
Instant access to breaking news, the hottest reviews, great deals and helpful tips.
I just want them to fix the HDHomeRun Sound bug. I was so happy when they added support for HDHR tuners so I could use the DVR function and not just watch live TV. Then I tried it and the sound would not work.

I use the DVR with a HDHR Connect and don't have any sound issues, just one channel seems to freeze up.

It is not a bug per se. The Nvidia client just natively decode AC3 audio. People that don't have any issue with the audio has a TV that can decode AC3 or a received that can.

Interesting. I have heard similar things. My TV is from 2010 so it is old for a tech product. I wonder if there is a way to feed the audio directly to my Vizio sound bar and resolve this. That said though, using the HDHomeRun app as a tuner has no issues with sound whatsoever. You just can't use the DVR capabilities then. So I would think it is something that can be resolved.

What I need is the ability to launch into Live Channels as an activity on my Harmony remote. I rarely watch TV, but it'd be nice to be able to send a command that launches the app rather than have to commit to this solution for every time I fire up the SHIELD. Also, this app is useless for me because I wake it from Sleep and this is only for cold boot scenarios. It takes less time to manually launch an app than wait for the device to boot and then launch it.

Not about speed, about convenience.

Thanks for highlighting my app. I've got plenty more useful TV utilities​. It may make for a good article.

This is nice it works without issue. Thanks for the link