How to add live TV channels to NVIDIA Shield TV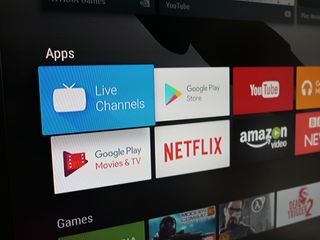 If you have an Android TV set, then obviously live television is built right in; otherwise, it'd be a pretty poor product. But if you're picking up a set-top box like the NVIDIA Shield, you're not left out in the cold. With some additional hardware and a few spare minutes, you can have the same experience on any TV.
Here's what you need to know.
See at Amazon (opens in new tab)
What you need
For the purposes of this how-to, we're using the excellent HDHomeRun (opens in new tab) Connect tuner from SiliconDust. It acts as a go-between that pulls in your OTA TV signals and then broadcasts them over your local network. Similar products are available, which may also be compatible with Android TV, and for those the basic steps would be the same.
What we're using is:
Before doing anything with the Shield, you'll need to make sure the HDHomeRun is all up and running. If you need a guide on what to do there, our buddies over at Windows Central have just the thing. Just hit the link below.
How to setup the HDHomeRun tuner
How to add live TV channels
Start up the NVIDIA Shield TV and before doing anything, make sure the Live Channels application is installed and up to date. Then follow the steps below.
Download and install the HDHomeRun application from the Play Store.
Open the Live Channels app on the Shield TV. You should see HDHomeRun input as a source for channels.
Select the HDHomeRun input and the app will populate with the channels from the source.
Select done.
What you'll now see when you open the Live Channels app on the Shield is all of the channels you can get on your regular OTA TV antenna with a fully populated guide. It's a little unfortunate that Live Channels requires the HDHomeRun app to be installed before it will find the input, but it's a mild inconvenience.
You could also just ignore the Live Channels app and use the HDHomeRun app to watch TV. The interface in Live Channels is nicer, though, and it has the added benefit of being a central location for other apps that can hook into it. If you're using the beta of the HDHomeRun DVR, however, then you'll be making use of it.
That's all there is to it. It's super simple to set up live TV on the Shield and makes the overall experience just that little bit better.
See at Amazon (opens in new tab)
Questions?
Let us know in the comments below.
Get the Android Central Newsletter
Instant access to breaking news, the hottest reviews, great deals and helpful tips.
Not just for cord cutters. With the HD Homerun Prime and a CableCard from your provider you can essentially make your own DVR. Lowers the cost of that HD recorder you are renting.

Can't get that product over here in the UK but I assume it would work just the same with the HDHR DVR beta?

You can get it in the UK. I bought it from amazon uk a few months ago and have it up and running.

All I see on Amazon is HDHomeRun Connect, the one I bought.

Here is the Amazon link to the HD Homerun Prime (US Amazon)
https://www.amazon.com/SiliconDust-HDHomeRun-PRIME-Cable-3-Tuner/dp/B004... Here is the product page from the manufacture
https://www.silicondust.com/product/hdhomerun-prime/ This might be as US only product. I'm not sure if it will accept CableCard from other countries. I'm not sure if Zippybungle got the the Prime version. He may have misread your original comment about it not being available in the UK and he may have thought you were referring to the HD Homerun in general.

Actually I found the UK Amazon link to the HD Homerun Prime. Seems like it is the same exact model number HDHR3-CC as the US version. So perhaps it is compatible in both countries. Amazon UK shows as unavailable at this time. Could be why it doesn't show up with a regular search
https://www.amazon.co.uk/SiliconDust-HDHomeRun-CableCard-3-Tuner-HDHR3-C...

If you are in the US and have the latest shield update, you do not actually need the HDhomerun app installed. You can use the built in beta network tuner function in live channels and get a full fledged DVR with timeshifting, captions, and recording (single or series).

Will be handy for sure. Post will be updated when said feature is more widely available :)

I was going to highlight the same thing

The built in LiveTV channel DVR has certain issues depending on your player TV Combination. Most pronounce i know about is that if AC3 audio doesn't get decoded by the connected device you don't get audio. So if your TV doesn't decode it the built in Livetv channel DVR won't work. The HDHomerun app allows the streaming device to decode the AC3 stream. That is why it is still needed, and also why you would want to probably use HD Homerun DVR.

I have this setup and found that, HDHomerun app is not needed to add to Live Channel. I am facing a different issue with HDHomerun though - when I do not use the app for a while, it disconnects to the server (box). Only workaround I have is to just access myhdhomerun.com via a browser and then it accesses the channels again.

I've been using the HDHomerun Prime and a cable card with Plex Pass DVR Beta. It works with Verizon Fios and Optimum. Unfortunately the DVR functionality has had a few hiccups (as to be expected while in beta) but I found that maintaining the paid TV subscription and using Android TV Mi Boxes and Nvidia Shield's as cable boxes still isn't the best way to go for us. I decided to get the new Fios Gigabit and pair it with PS Vue (which allows for 5 simultaneous streams and a multiroom DVR itself instead of paying for a Double or Triple Play, and renting the cable card (HDHomerun Prime has only 3 tuners so you would need 2 and rent to cable cards to get what you can with PS Vue).

The shield TV has several methods to get TV to the box
1. Live channels with HD Homerun viewer
2. Live channels with HD Homerun DVR
3. Live channels only with built in network tuner functionality.
4. Plex DVR

Might want to mention that Plex DVR requires paid subscription to Plex Pass. You can then DVR to the Plex Cloud or you can use your own Plex Server but in either case you still need the Plex Pass subscription for DVR functionality. Just to not confuse people, having your own Plex server is free but you don't get the added benefits of Plex Pass like DVR and cloud among other features. Plex server will run on a computer or some advanced NAS devices and it also will run directly on Nvidia Shield TV.

There is also:
5. HDHR or USB tuner + TVHeadEnd Live Channels (beta) - requires a TVHeadEnd server.
5.1. (above) + TVHeadEnd backend app - https://forums.geforce.com/default/topic/1000226/shield-tv/tvheadend-apk... - makes your Shield the TVHE server.

Would appreciate a comparison to Tablo. I've had some experience with Tablo and think it performs very well. The guide and very reasonable lifetime "account" (as opposed to "device") subscription is a nice option.

We're getting a Tablo sent to one of the North American's very soon.

Love the Taboo and the Shield. The DVR works great. My only regret is that I bought the 2 tuner version instead of the 4. I had friends over for the Super Bowl; they couldn't believe the picture quality from the antenna.