How are you liking Android Oreo on the Galaxy S8?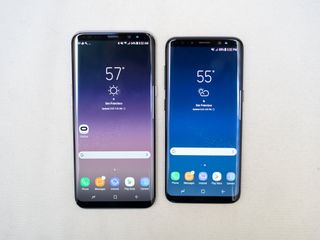 Following months of anxious waiting, Android 8.0 Oreo is finally making its way to the Samsung Galaxy S8 in the U.S. Verizon was the first carrier in the country to start updating the phone, and it was soon followed by T-Mobile and Sprint.
Android Oreo brings a lot to the Galaxy S8, including picture-in-picture, Google's Autofill API, smoother performance, a new security patch, and plenty more.
We decided to check in with some of our forum users to see if they've gotten Oreo on their S8 yet, and this is what they had to say.
Now, we'd like to hear from you – How are you liking Android Oreo on the Galaxy S8?
Android Central Newsletter
Get instant access to breaking news, the hottest reviews, great deals and helpful tips
Joe Maring was a Senior Editor for Android Central between 2017 and 2021. You can reach him on Twitter at @JoeMaring1.
Ill let you know when AT&T get's their crap together

Not much of a change. Battery life is a bit better. Maybe a little snappier. Love the new lock screen clocks.

Like it so far wish that Samsung keyboard had a search bar for gifs because not all of Gboards gifs work

I've never experienced this; think maybe it's a Samsung issue?

I'll let you know when Samsung finally pushed the update to unlocked U.S. Devices after all the carriers receive it first.......😡

When I chatted with a Samsung rep the other day, I was told unlocked U.S. phones should receive within the next few days and include the March security update. I think it's ridiculous for unlocked owners to be penalized with a delayed roll out.

Hardly any difference with Oreo.... Galaxy s8+ VZW... Not impressed

And now you see why Android updates don't really matter for heavily skinned devices. But I certainly see differences, just nothing big. It is noticeably smoother and the picture in picture works better.

All this noticeably smoother talk makes me think I may reconsider Samsung when I update from my Pixel 2. In 2 years...

This is my first Samsung. Always went Nexus before. Very happy with it. Oreo on the S8 also lets you skin the on screen buttons, combined with Pixel launcher, I get the best of both worlds. The best hardware, Pixel UI and all the useful Samsung additions. Very happy with this phone. The Pixel 3 will be too be really good to sway me away.

I must be a dum dum, because i see absolutely nothing. Maybe i don't know what to look out for but nothing stands out on my S8+. I keep hearing about picture in picture, which sounds intruiging, so i have to see how/where that works... Battery life seems the same, not better or worse. Performance, the same..

You could do picture in picture already because Samsung added it before Google added it to Android. Here is how I do it on my S8+ that's still on 7.0. Open an app and then long press the app switcher button. Your screen should divide in half with the open app on top and background apps or recent apps listed in the other half. Select a second app, and then tap on the app you'd like to have in a "picture". You'll know which app is selected by which side of the divide the blue line is on (might be a different color depending on your theme). Tap on the divider line to see a menu with different buttons. The PinP button has a small square inside a larger square. Tap it and the selected app will be in a window on top of another app. You can move the "picture" around, resize it, or close it. Just another example of Samsung doing something and Google pretending they created it.

I don't recall Google saying that they created PIP; they just said that it's in Android 8. It may not mean anything to those of us with S8's, but it does to everyone else, so they should talk about it as a feature of Oreo.

Picture in picture is of little use to me also split screen that came before it.
I only have a 6" screen and unless I'm casting to a TV I can't bloody see it!
My wife's Pixel is still on 7.1 as she really can't be bothered to download 8.1 and I can't say I blame her.

Let me shorten that sequence for you. Android 7 on the Note8, tap on the app switcher button, tap and hold on any open app. Near the centre of the screen there will be a blue box and with instructions to put the app in pop-up view.

I got the February security update ahead of Oreo. The picture in picture is already a feature on my S8+. I really don't see any benefit to getting Oreo, but hopefully the background process management is better.

I haven't really noticed a big difference.

Yes love the changes... Number 1 is that I can use 2 different whatsapp messaging phone numbers on one phone (I don't know what it's called but it's definitely convenient). Number 2 is I just like the little pop up notifications for messages now they look way better and they are not as ubtrusive as before.

I noticed my smart lock is not working. I have it set up to keep my phone unlocked at home but when I long press the home button I still have to swipe my pattern or use the iris thing. Not liking that.

My smart lock appears to be not working also. Hope that can be fixed soon.

Smart lock still works for me...

I was about to post some sarky comment about it not being available on my s8 yet, just checked and the update is downloading now... EE (UK)

I have a unlocked Galaxy S8 and i am still waiting for my OTA update to come to me yet really getting tired of samsung and their slow updates....this is last time i buy samsung will buy google next time.

I didn't realize I had it until I checked. I use Nova Launcher so, it doesn't matter to me.

You think the OS only updated the launcher? For one, you'll likely care since the OS better handles background processes, thus improving performance and battery life. Everyone cares about that stuff. The Auto Fill API will make certain apps work better. Increased control over notifications is welcomed, at least by me. High quality audio codec support for Bluetooth will be HUGE for some.

I'm in South Africa and my S8 was still stuck on November security patch and of course no Oreo in sight. So I downloaded and installed a European Oreo release that also has a February security patch. So far am loving the ability to snooze notifications and the ability to run dual message which is running two copies of messaging apps like Telegram. Battery use when idle seems to have improved a bit, probably due to better managing of background processes. Device does feel a little more responsive but could be a placebo effect. Love the nice AOD clocks and general Lockscreen clocks. And just knowing my phone generally up to date is comforting.

I'm amused by all of the people who buy expensive Samsung phones, criticize Samsung for slow OS updates, and then complain after the updates that the phone is pretty much the same because they didn't know that most of the Oreo benefits are under the hood. My S8 does feel faster (particularly the iris unlock), which is a good thing, but I wouldn't say it felt slow with Nougat after six months of use. And since I liked how my phone was working, I don't have any complaints about that. The only thing that I don't like at this point is that they extended the home screen's Infinity Effect (the moving stars) to the Always On Display. So, instead of an all-black display with the clock and notifications, now there's a blue-tinged star field all of the time. I can't see a way to turn that off short of abandoning the Infinity wallpaper (which I like for the home screen). I prefer the minimalist AOD, so I changed the wallpaper.

I can't update what's the app that let u update off the computer

So far it definitely seems more smooth, typically the jump to a new is build has the opposite effect. I also think battery life may be a little better, but it's way too early to tell

If only my unlocked S8+ gets it.
Android Central Newsletter
Get instant access to breaking news, the hottest reviews, great deals and helpful tips
Thank you for signing up to Android Central. You will receive a verification email shortly.
There was a problem. Please refresh the page and try again.