How to activate GPU Turbo on the Honor 8X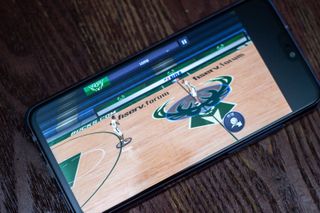 Your Honor 8X comes with a GPU Boost feature, which improves gaming performance when you need to run more demanding games like PUBG Mobile at higher settings. But how does it work and how do you use it? We're glad you asked.
Products used in this guide
How to activate GPU Turbo on the Honor 8X
Previous Huawei and Honor phones picked up GPU Turbo functionality in a software update, but the Honor 8X ships with the feature as standard. As such, there's nothing you actually need to do in order to activate GPU Turbo, as the feature is an always-on enhancement that kicks in automatically.
Essentially, to use GPU Turbo you just have to play a game that demands it. Something like PUBG Mobile or Fortnite at maximum graphical settings would certainly give it enough of a challenge to do that. When the GPU demands more, the Kirin 710 will pretty much go into overdrive, giving you boosted frames without even having to ask for them.
While active, GPU Turbo does use more power, so battery life will take a hit. You'll also likely notice increased device temperatures, but it doesn't get dangerously hot. Both of these are normal side effects of temporary overclocking. If it's a bit too warm for your taste, use a case or a mobile Bluetooth gaming controller. And if it's so hot that it feels like it's about to explode, you likely don't have a normally functioning device, so get it exchanged ASAP.
Our top equipment picks
The Honor 8X might be the best gaming phone for those on a budget, especially with the arrival of GPU Turbo.
Deceptively Powerful
A new standard of quality.
With a great look and build, a sharp camera system, and underrated raw chipset performance, the Honor 8X is a well-rounded powerhouse that doesn't cost you much money to enjoy.
With a Kirin 710 chipset, the Honor 8X has a little more power than other phones in its price range. It can't match up to a Samsung Galaxy Note 9, a Pixel 3, or an iPhone XR, but it plays most games at medium settings beautifully. Thanks to GPU Turbo, it can also handle high settings in some of your favorite games.
Additional Equipment
These products can keep you safe and enhance your gaming experience while using GPU Turbo on the Honor 8X.
Spigen Rugged Armor ($11 at Amazon)
Spigen's Rugged Armor keeps this all-glass phone nice and safe, all the while creating a heat shield for your long gaming sessions.
MOGA Hero Power ($28 at Amazon)
The MOGA Hero Power is a great way to dodge the heat from intense gaming sessions. It's a gaming controller that can hold the Honor 8X all on its own.
Be an expert in 5 minutes
Get the latest news from Android Central, your trusted companion in the world of Android