Honor View 10 vs. Samsung Galaxy S9: What do you get for the extra $200?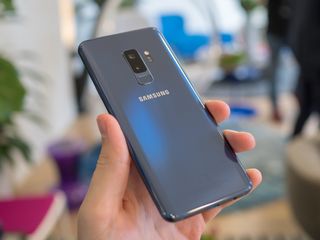 (Image credit: Android Central)
Okay, this is a weird comparison, I know, but hear me out. The Honor View 10 stood toe-to-toe against the OnePlus 5T as one of the best "budget flagships" you can buy, with great dual cameras, sturdy build quality, and a compellingly low price of $499.
On the other hand, the Galaxy S9 is the new hotness around, packing every feature under the sun into a package so beautiful and well-machined that you almost don't want to put it down. But with a starting price of $719.99, just how much more are you really getting for the $200+ premium over the View 10?
What the Honor View 10 does better
It's pretty obvious that the cheaper phone of the two will come with some compromises, but the View 10 still offers a ton of bang for your buck. You get the modern design we've come to expect of a 2018 flagship, complete with slim bezels and an 18:9 aspect ratio. That modernization doesn't mean Honor has completely thrown out old trends, though — it still has a headphone jack!
Despite a relatively low price, you still get the very best processor Huawei has to offer — the Kirin 970, complete with the same AI enhancements found on the more expensive Mate 10 Pro. In addition, the View 10 is backed by an impressive 6GB of RAM, and you probably won't run out of space, given the 128GB of internal storage and microSD slot for expandability.
Per usual, the biggest differentiator between phones is the software, and the View 10's software definitely isn't for everyone. It's still Android Oreo, which is great news, but the EMUI overlay is a far cry from stock Android, with plenty of OEM customizations throughout the interface. The same can be said of The Artist Formerly Known As TouchWiz residing on the S9, but EMUI just feels … less useful, with more redundant apps that offer little extra functionality.
One area where the View 10 easily bests the Galaxy S9 is battery life, where its massive 3750mAh — combined with power-efficient software — far outlasts the S9's measly 3000mAh cell (and even outmatches the larger 3500mAh battery in the S9+).
See at Honor (opens in new tab)
What the Galaxy S9 does better
Wireless charging, water resistance, stereo speakers, dual apertures, and iris scanning — all things the Honor View 10 simply doesn't have, and the list doesn't end there. The Galaxy S9 topples over just about every other phone on the market when it comes to feature lists, and this is no exception.
The Galaxy S9 may be more iterative than some would have liked, riding on the same general design as the Galaxy S8 before it, but that just means that Samsung has had an entire year to refine its already-great hardware. The curved glass and metal pairing is as gorgeous as ever, and the fingerprint sensor is finally in a sensible place underneath the camera module.
Speaking of cameras, the Galaxy S9's camera absolutely clobbers the View 10, even with just one lens. That's not to say that the View 10's dual camera module is bad — it's pretty great, actually — but the S9 just takes stunningly good photos, and its dual aperture system is unparalleled. It also benefits from OIS for added stability, further improving its video performance and night shots (two areas where the View 10 lacks).
See at Samsung (opens in new tab)
Which one is right for you?
If you have the extra money, the Galaxy S9 is still the better buy. Its software is more thought out, it takes better photos, and it boasts a significantly longer list of hardware features. What's more, you can finance it through your carrier — and speaking of carriers, it's your only choice of the two if you're on a CDMA network like Sprint or Verizon.
Still, if you don't mind more reseved hardware, the Honor View 10 has a lot to offer for significantly less money. You'll still get great specs with a top-tier processor, excellent dual cameras, and better battery life than Samsung can compete with. The design isn't quite as futuristic, but it's still well-built, and for the money it's hard to complain.
Are you going all out with the Galaxy S9, or has the View 10's lower price and competitive specs won you over? Let us know in the comments below!
Android Central Newsletter
Get instant access to breaking news, the hottest reviews, great deals and helpful tips
Hayato was a product reviewer and video editor for Android Central.
The honor view 10 is a good phone but no way compares to the s9. What the 10 lacks makes up for it in price. Still a good buy for the money!

The extra features are of no value to me. But the camera could well be worth the £200 difference.

After weeks having the A8 18 disaster from Samsung i sell my t for recycling to buy the honor view 10. Now 3 weeks later i know one thing sure.... this 499 euro phone make me really flabergasted. Samsung is the most popular but that's not a guarantee that they give the best Quality and support. How you can explain that they bring in 2018 phones on the market with 7.1.1 and no Oreo in the future. It's a shame that Samsung lie to the customers. But to the Point. View 10 is not waterproof and have not stereospeakers but that's not 349 euro price difference worth. 849 euro for the S9 is discusting because on the end of the road have honor full AI support plus double camera's that do the job verry well with 6gb ram and 128gb rom plus the possibility to use 256 SD card. Also the front mounted fingerprint and 3d face unlock plus the combined LTE bands with max 1.2GBPS download speed are amazing. Sorry but Samsung is to expensive and the future is in the hands from the manufactors from flagship phones under 500 Euro with good Updateservice and maybe all android one because so much phones kill Android.

Well first of all you don't have to wait for the View 10 if you want to give the S9 or S9+ a run for their money.. Huawei Mate SE
Huawei Mate 10
Huawei Honor 7X
Xiaomi Mi Mix 2
Xiaomi Mi Max 2
Essential Ph-1
All of these phones are extremely reasonably priced and have amazing specs for the price. And will save you from $200.00 to $600.00
But you still won't be that cool kid in the back of the class.

I can vouch for the essential

Well, I have the Mate 10 (non-pro) and it is by far the best phone I have ever had that ticks all the boxes for me. Do not like overly curved front glass (don't like any curves on the front at all but appears there's nothing we can do about that)...I am not a camera fanatic like so many lately but from what I have done and seen...the Mate 10's camera is very, very good! So even though the Mate 10 costs a little more than the Honor view 10...I think it has a better camera (different lenses???) a larger battery 4000 mAh, and it still costs less than the Samsmug S9! As for EMUI...it is just fine...slap Nova Prime on it and do what you want!

There is give & take on the honor view for 499.00 USD. But I don't like the idea of not having OIS with the camera. That's not worth my pennies. I take a ton of photo's and to me that's a very important feature! That's another reason the z2force is not selling well, no OIS! To me I'd rather spend the extra 2 hundred & get the feature packed camera!

These articles never mention the compromise with customer support. I was a Nexus user for years, and Huawei single handedly convinced me that customer support was worth a premium. Their entry level support techs were great, but they were nothing but empty promises. Once they had my phone, I was at their mercy for over a month. I actually had to reach out to their main US headquarters and find the email of the head of customer service. This gentleman had a new device to me within 18 hours, but the device they sent me was a refurbished model with no working wifi or Bluetooth. It was a mess.

Yep. That's why I have an iPhone now.

Though it is not mentioned in the article I would choose the Huawei mate 10 Pro over the s9.
Android Central Newsletter
Get instant access to breaking news, the hottest reviews, great deals and helpful tips
Thank you for signing up to Android Central. You will receive a verification email shortly.
There was a problem. Please refresh the page and try again.