Why multi-home support in Google Home matters to everyone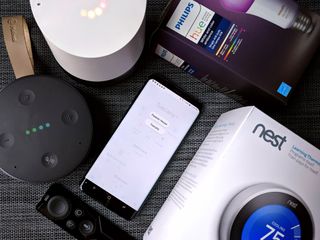 (Image credit: Android Central)
The new Home View experience that Google announced alongside the Google Home Hub made a lot of people cheer, myself included. This simplified, one-stop shop for smart home management and simplified controls was a complete godsend, and the moment that update rolled out to my Google Home app (opens in new tab), I immediately dove in to see what other goodies were hiding inside it. My Google Home experience has always been a bit cluttered because all the Chromecasts at my parents' house are linked to my account — after all, I'm the one usually tasked with setting them up — but in the new Home View, I quickly found that I could clean things up by putting all those devices in a second Home.
And then I cried, because I remembered my grandmother's house, and how far things have come in just a year.
The personal past of smart home fragmentation
My grandmother lived in her Alabama home — that lovely little brick one-story you see behind her — until the day she died last year. She had lived in that house for longer than I'd been alive, she did not want to leave it, and my father did everything he could to respect her wishes. He flew over every couple of weeks, but to watch over her when he wasn't there, he bought two Zmodo security cameras. The cameras sometimes watched for intruders, but mostly they were there to tell my father when Grandma was up, how frequently she was moving around the house, what she was doing, and how she looked.
Figuring out what other technology we could use to help my grandmother — who never owned a computer or a smartphone — from hundreds of miles away was something my siblings and I thought of constantly. Could we get a smart thermostat for her? Would one even work with the outdated wiring in that old house? What about some smart lights? Is there any way we could get her Netflix? Could Grandma even use Netflix? God, if we could just get an easy way for her to video call so she could see us. Whatever we bought had to work consistently, it had to be manageable from three states away, and it had to work in a house that only had three-prong outlets in the kitchen.
This was where a large part of my interest in smart homes and especially in Google Assistant came from: figuring out any way I could say yes when my dad asked me about whether or not we could do something. Late last summer, he bought a Google Home for Grandma's house, hoping she could use it to control the TV through the Harmony hub he'd bought, or ask about the weather, or call him if she misplaced the phone (or, heaven forbid, she fell).
Setting up Harmony Hub commands through Google Home was — and still is — downright tedious, and I couldn't do it for him the way I had done most of the testing with Google Home. At the time, both the Google Home and the Harmony Hub commands would have to be almost completely redone in Alabama after testing it in Texas, and we ran out of time.
Consistency, control, and collaboration: The beauty of Home View and multi-home support
It's only been a year, but things have already gotten so much better. You don't have to set your Google Home up from scratch every time you move it to a new Wi-Fi network anymore; it'll keep its configuration and just ask for the Wi-Fi password. Google Assistant-powered speakers can also remember multiple Wi-Fi networks, which was welcome news for the TicHome Mini I bring with me on trips.
Google Assistant's integration with smart home devices and manufacturers has skyrocketed over the last year, too, and it's now compatible with over 10,000 devices from 1,000 brands. Controls for smart lighting and appliances have become more diverse and more sophisticated — such as the addition of scenes to Philips Hue support — and the ability to control entertainment has improved in both consistency and service selection. Now, crowning these advancements is a streamlined view for all of the smart home devices connected to your Google Assistant account through Home View.
the top of the new Home View in the Google Home app sit a series of quick commands based on what devices are in your home:
If you have smart lights, you'll have quick On and Off switches — which can be used be used to control one room of lights or the whole house.
If you have a Google Home or Assistant-powered speakers, you'll see a Broadcast option — simply speak your message and it'll repeat on every smart speaker in your home.
If you have a smart thermostat like a Nest, you get a Thermostat shortcut — from which you can adjust the temperature or change modes.
If you have a Google Home, you'll see the Play option to get the music flowing — though right now you don't have a choice in music providers or musical content, it just plays the default shuffle.
Every Home has the options to Add a dew device or service and Settings to manage a Home and who has access to it.
Below the quick command bar, you can control devices on a per-room and per-device basis, as well as managing which devices are in what room, what groups, or what Home. This layout makes navigating your devices a snap, and when you tap Settings for your Home, you can invite members to join your Home and control the devices and rooms you've already set up.
I could set up the full spectrum of smart home gadgets — from the thermostat to the lights to the security system to the speakers, TVs, and smart plugs — and then turn it over to my parents to use through the Google Home app on their phones. If they didn't have a smartphone or tablet, they could control things through Home View on Google Home Hub, and they could, of course, use voice controls on any Google Assistant speaker to control everything, too.
Smart home control is still not entirely where it needs to be yet, especially for managing a separate smart home for an aging loved one — you still can't manage a Chromecast or Google Home's settings unless you're on the same Wi-Fi network, but you can at least control the lights, thermostat, and home security from afar. We also need the ability to share Google Assistant Routines with a Home and all its Home members, so that any super-handy custom routines I come up with can be used by everyone else in the house. You're also limited to six members per Home right now, which in the current age of multi-generational housing is really low.
But we're getting really, really close. It might not have been close enough to help my grandmother, but maybe it will be for other strong, amazing grandmas and grandpas wanting to hold onto independence as long as possible.
Android Central Newsletter
Get instant access to breaking news, the hottest reviews, great deals and helpful tips
Ara Wagoner was a staff writer at Android Central. She themes phones and pokes YouTube Music with a stick. When she's not writing about cases, Chromebooks, or customization, she's wandering around Walt Disney World. If you see her without headphones, RUN. You can follow her on Twitter at @arawagco.
i would not say it matters to me or to a lot of people to be honest.

This is handy for people like me who are basically the family IT guy (even across the country). Tech/software like TeamViewer, TeamViewer quicksupport (for phones), and just being able to remotely control things from afar are part of my week-to-week challenges. So I welcome new tech that can make these things easier. It's fine to speak for yourself, but this kind of thing will happen to anyone as we get older and we won't know how to operate the holographic room or whatever new tech is out at that time.

Yes it does matter, to families that have older Generations living in a separate house. Communication and connectivity play a key role in family life. As a developer, I continually got feedback to make my apps simple and reliable. The menus have to be logical and intuitive. Make it simple and make it work. I still feel the smart home is in its infancy state. In my home, family, we have quite the array of different types of phones. My future job is to make it (our Smart Home(s)) compatible with everyone. Thanks for the article and for being passionate about the subject.

Hi Ara Sorry I'm posting here but as a newly registered member I could not post in your article dated 2 Jul 2018 "Best keyboard apps for Android in 2018" I'm shocked that "Graffiti Pro" is not considered as one of the best Keyboards in Android. There is NO other data entry better suited to small input areas and friendly with those of us with short-sightedness who can't easily identifies ridiculously tiny buttons on mini keyboards on small screens. Graffiti can be used even without looking at the screen !!!
For me It has been the main reason to use Android instead of iOS.
Sadly, Graffiti has disappeared from Google Play, no longer supported by the Japanese company that bought the rights from Palm.
Ara, have you tried it?. Why is just me (and a handful of other graffiti devotes) the only ones mourning its passing ?

No, I hadn't tried it. It's not on Google Play and is no longer being supported/maintained, which means even if it was good, it wouldn't be added to Best keyboard apps. Those posts are to help people find a new keyboard when/if they get frustrated with the one they have; dead apps do not help people looking for a good keyboard to use.

Another option for a tiny input area on a small screen is MessagEase. Fitt's Law FTW! It does admittedly have a significant learning curve, so it's unlikely to appear on any "best" list.

Someone coined the term "smart home", because that's where technology is heading--that's the goal. But I think people need to understand that we're only at the "automated home" at this point in time, and there's a big difference between the two. I have Google Homes, Chromecasts, a Harmony Hub, and a bunch of wifi plugs and switches. I control it all with a combination of Google Assistant, IFTTT, Tasker, and the Automation Manager app running on an old Android phone...and there is nothing remotely 'smart' about it. I'm doing all of the thinking and planning to create rules for the system to follow. If there's no rule or pre-existing Google Assistant command/routine, then there's no automation. I enjoy home automation as a hobby, but for most people it's not worth the hassle. And it won't be until you can plug in a device and have your home figure out how best to use it. Learning thermostats are the only tech we have that comes close. I think we'll get there, but not for awhile longer.

I do not want that much automation beyond Nest's learning for temperature and the routines I create in Google Assistant. I want the home to be "smart" so that it's easier for me and my family to use it, and easier to be monitored and controlled. I don't need it to do everything for me, I don't want it to do everything for me. I just want it to integrate properly and be relatively easy to setup and then to manage it from near or far.

I agree. I think it is still in its infancy stage. Start with simple things and make them work correctly. Make the interface simple, intuitive and reliable. Make it so it's not a chore or cumbersome to operate. Repeat. Repeat again. What I had to do when I was close to what I had thought was a finished product - was to sit people down who had no knowledge of the product and watch them step through the application and try to accomplish goals. Watch for repeated steps - add some form of automation - trap and report any errors... Feedback is very - very - important.

Sadly a lot of developers don't listen to their user base. Even in the Corporate world - I have voiced my opinion - and have been overridden from above. The problem with some applications is the Architect / developer (s) have a personal viewpoint on how and what the app should look like and operate...and will not adjust to their user base. And there are a lot of those... especially in the Corporate world.

Thank you for sharing your story about your grandma. Seniors have been left behind on the technology highway, and the children typically act as the IT support department. The smart home will eventually provide companionship and safety to seniors in their home and offer a sense of relief for children living far away from their parents. Google's consumer offering based on AI and the Google Assistant will be a standard for seniors and Seniors Home Care providers will soon be offering IT / technical services for these smart devices.

Heard they are working on multi-room audio. Can't wait for that update, cause I have a lenovo smart display(google assistant) which is connected to a few home minis. It will be the ultimate voice controlled sound system lol. Make my friends listen to Metallica whether they like it or not when they come over XD
Android Central Newsletter
Get instant access to breaking news, the hottest reviews, great deals and helpful tips
Thank you for signing up to Android Central. You will receive a verification email shortly.
There was a problem. Please refresh the page and try again.