Here's when your Nexus phone or tablet will stop receiving guaranteed updates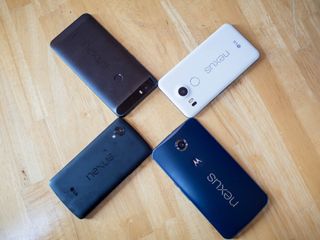 Last year, Google said that it will roll out monthly security updates to Nexus phones and tablets for three years from their respective launch dates, and platform updates for "at least two years." The search giant is now listing concrete timelines for when guaranteed support will end for each Nexus phone and tablet, including the Nexus 6P and 5X:
Google guarantees updates for the Nexus line. Currently, phones and tablets with the Nexus name are guaranteed Android version updates for two years from the date the devices first went up for sale at Google Play. For security updates, this guarantee is extended to whichever is the longest amount of time — three years from first availability in Google Play or 18 months after the device stops being sold. A small chart to answer your biggest questions:
| Device | No guaranteed Android version updates after |
| --- | --- |
| Nexus 5X | September 2017 |
| Nexus 6P | September 2017 |
| Nexus 9 | October 2016 |
| Nexus 6 | October 2016 |
| Nexus 5 | October 2015 |
| Nexus 7 (2013) | July 2015 |
| Nexus 10 | November 2014 |
The Nexus 6P and 5X are guaranteed to receive updates until September 2017, which is around the time Android O should be released. The exact timing of the release will determine if those phones are guaranteed to get Android O. This also doesn't mean that the devices will be abandoned, just that any further updates are no longer guaranteed.
Google has done a commendable job of ensuring that its Nexus phones receive two years of updates, which is more than what most manufacturers can claim. Furthermore, all Nexus devices will receive guaranteed security patches for a duration of three years following their launch, which is Google's way of making sure that the phones are protected against any vulnerabilities.
Google has also talked about software updates for Android One phones, stating:
Harish Jonnalagadda is a Senior Editor overseeing Asia at Android Central. He leads the site's coverage of Chinese phone brands, contributing to reviews, features, and buying guides. He also writes about storage servers, audio products, and the semiconductor industry. Contact him on Twitter at @chunkynerd.
Just when I was about to buy a Nexus 5x hmmm maybe 1+ it is Posted via my LG G4

You be able to go until September 2018 with the latest OS, so unless you plan to keep your device more than 27 months, it still makes sense to go with 5x. And if you consider that One+ and most other non Nexus phones don't get the update until 3-6 months after, you can add that too.

Yeah, it's definitely annoying waiting for device updates that may or may not show up. At the same time, I'm not personally concerned about getting updates 2+ years into the future, because the odds are very high that by then I'll want a new phone with a better screen, fingerprint reader, radios, and all the other tech we're bound to come up with between now and then. Plus all of the stuff that will trickle down from high-end phones into mid-range phones by then. If you like the 5x or any other phone for what it is now, don't let a very distant future limitation be too much of a deterrent.

That is right. This article is pure bull ****. I have my updates on all my NEXUS devices: NEXUS 5, 7 and 6P except that I got the 5 and 7 updated before the 6P. Google is Good.

This article was not made up by AC. It was posted by Google.

The 5x will probably get N, and who knows about the OP3. But the OP3 actually has enough memory to run N well, whereas the 5X's 2GB RAM is probably marginal. I'm running Marshmallow on my 2GB Nexus 4 care of CM13, but am not counting on Android N working well on it. If my N4 broke tomorrow, I'd get an OP3. As it is, I'm holding out to see what this years Nexus looks like.

The 5X will definitely (not probably) get N and will definitely get Android O as well. I've read reports that the One Plus 3 is sluggish and even with all the RAM I read that the iPhone crushed the OP3 in performance. The software on the OP3 is not optimal and if you are used to using a Nexus with pure Android then you will be very disappointed with the sluggish performance of skinned phones. Stick with Nexus. You will get faster and longer support from Google than you will ever get from One Plus. It's a no brainer. Posted via the Android Central App

Dont want to start a troll war here I'm a Nexus 6p owner and love it but I think Apple support their hardware a lot longer. Posted via the Android Central App

At least half of iOS's new features are regular apps on android, and about a quarter of the other new features are phone specific. So, in reality, the iOS upgrades are longer for just 25% of the OS.

Please tell us of a great new features introduced in the latest android. if you exclude apps, the only new things are performance improvements and various interface tweaks. The smartphone ecosystem is not as agile as it once was. I'm not praising apple here but all things being equal, i'd rather have android get stable updates with as little performance degradation as possible, and as a long time android user this hasn't been happening all that often. Next phone's still going to be an android though :D

Doze mode, adoptable storage and the new permissions model are three big ones that require a system update.

Someone always replies with that nonsensical reply to the previously stated fact. I too am on a 6P that I love. Apple provides superior support, case closed.

You get what you pay for with Apple... an under spec'd device that costs upward of $800 for a decent model that has more than 16 GB of unexpandible storage on it. Oh and a one year extremely limited warranty and then over priced support after that.
On the flip side, Android offers a wide range of devices, priced differently, updated differently, and supported differently. With Android you get what you choose, not usually what you pay for. Research is a key factor in getting the best Android experience for the best value. To say Android support is inferior is laughable... Have you ever been on XDA? Posted via the Android Central App

Nexus 6P owner here. I think you are right. I am considering Windows phone next year and this is probably one additional reason to go... Not considering Apple as devices are overpriced for what they offer... Posted via the Android Central App

See you back next year. Posted via the Android Central App

lol @ Windows Posted via the Android Central App on Nexus 6 Assassin Edition. Android Central Moderator, Gonfaloniere.

Your comment actually tells me that you not really following recent Windows Mobile development... You could learn few things...

Really? I took it as me saying that I am aware of what they've been doing for years and that it's miserably bad. Other than abandoning most of their already bad devices though, the pinnacle of WM (afaik) is the Lumia 950, which even Windows Central says is an uninspiring lump of plastic with extremely buggy software and specs that sure do resemble the Nexus 5X a whole lot considering it doesn't get anywhere near the performance of the Nexus 5X, won't resist obsolescence anywhere near as long and has no chance of ever being anywhere near as secure. So... yeah, WM is in a very sorry state, Windows 10 is broken as hell on phones and there's no signs of that changing anytime in the next few years. I can respect the Microsoft Surface Pro 4 a whole lot - it's a very decent touchscreen ultrabook, sucks for gamers but it's good for most people's every day stuff, if a little way overpriced. I use Windows on my gaming PC and so far, nothing is better for gaming. But on PHONES and TABLETS, or what we call Mobile, Windows is in a very sorry state indeed. Oh, and the fact that most major apps still aren't there in any respectable form and they have almost no customers. That sum it up pretty well?

While I am no fan of Microsoft, they do support their software a lot longer than this. I still receive security updates for my Windows 7 laptop that I bought in 2010 (although I had to install an app to prevent an automatic update to Windows 10). Ubuntu provides 5 years of support for its LTS releases. Only providing support for two years is nothing less than forced obsolescence. Replacing your phone every two years may have made sense in the early days of smart phones when they were undergoing extremely rapid development and improvement, but it does not make sense today. They ought to provide at least 5 years of support.

Microsoft does well with their desktop version of Windows, but mobile is much worse. No Windows Phone 7 device received Windows Phone 8. Upgrades from Windows Phone 8.1 to Windows 10 Mobile have been spotty, and Windows 10 Mobile has been buggy since release.

Apple definitely tries to support their phones longer than just about everyone else, but Nexus phones are no slouches on support - at least since the hardware's been robust enough to handle new versions. I have a Nexus 4, and while Google dropped it too soon, it's still current thanks to Cyanogenmod 13. That's a pretty big nexus advantage - if you're willing and not too scared to take that route. I assume the 6p will be supported via 3rd party ROMS long after Google stops updating it.

The 2 year support does make a lot of sense actually, the first and biggest reason being that most phones today don't last longer than 2 years. Some people have there's last that long this is true, but generally speaking they don't. Another issue with backwards support for an extended period of time is it can limit the ability to progress ( this is a computer programmer speaking here.) Old phones will not be able to physically handle everything that we change in the future, at some point keeping your 3 year old phone on the latest update will hinder you rather than help you. Windows vista is a perfect example of this. I hate it but one area that it excelled in was security. It was the most secure windows platform built, because they decided to stop being backwards compatible and build something completely new and better. People complain and now windows is backward compatibe again and security is a huge struggle of there's . Companies like Google can't afford to be slowed down by 2-3-4-5 yr old phones.

So, my primary phone is my work phone. I'm in good with the person that is over the telecom department at our company. She let me switch to a Windows Phone three times, and each time I regretted it and switched back within the couple week return window. I wanted to love it, and there were things that I really did love about it, but I just had this running list of problems. Things that I used to be able to do but then couldn't anymore, or specific apps I needed for this or that and they simply weren't an option. I wish you the best. I loved their hardware and the OS itself was probably the fastest and most fluid of any I've used. But it's a hard switch and one that I couldn't make after many serious attempts.

After using a Lumia 950 (With Windows 10) as my backup phone to my 6P, call me unimpressed. Though the hardware was decent for its price point, Windows 10 left something to be desired. The lack of apps (and a scant number of 3rd party alternatives) was a deal-breaker for me. Microsoft needs to really wow me in the next year to even consider one again.

Yes they are supported longer but do you want to use them? iphone 4S has ios 9 but it was already running slow on ios 8. Plus without LTE, would you really want to run the phone. Cost of an iphone I can buy a Nexus phone and still have money left over for about 1/3 or 1/2 the price of the next generation nexus phone. Based on the chart Nexus 5 is suppose to have ended support but I just got the June security update and running on Android 6.0.1 without lagging.

Unfortunately the listing seems to provide cut-off dates only for major version updates for the devices. It doesn't tell when the devices stop receiving security updates to whatever version they're stuck in. Fortunately this security update period should be a longer one than the major update period, but it would be quite crucial to know when the devices enter the "you're on your own now" territory with even security updates missing, as that's the real EOL date.

I think it's 3 years or 18 months after being removed from the play store. Depends on what's longer. Love for all things android and IT

It does tell you when Nexus devices are not longer guaranteed to receive security updates: "Android version updates
For at least two years from when the device became available on the Google Store.
Security patches
For the longer of 3 years from availability or 18 months from when the Google Store last sold the device" So, add one year from the end of Android version updates, e.g. the 5x isn't guaranteed to get Android versions updates after
September 2017, which means the date for security updates is September 2018.

You are right about that. Most iPhones get 4 years of support from what I can figure out. Posted from one of my various Nexus devices.

Their updates are mostly nonsense. IOS has only had 2 real updates since 07 Posted via Techmology

Bit stupid as most phones are 2 year contracts, the original nexus 7 seemed to get a load of updates pretty much 3 years of them I am sure of it. Just sad how I got a 6p recently and in just over a year will be forgotten about and its Just sad how my nexus 9 will be left behind in October when both devices are more than capable for any new update and especially the nexus 9 Google hasn't shown they are even bothering with tablets anymore. Posted via my 6p & the Android Central App

Yeah, you and the author are misreading this. Itd not going to be abandoned in 2017, this means that the 6P will get Nerds, Oreo and will not be guaranteed to get P. That means it's up to date until fall of 2018. Posted via the Android Central App on Nexus 6 Assassin Edition. Android Central Moderator, Gonfaloniere.

You're the first I've seen to call Android N Nerds. Lol. Posted via the Android Central App

Most phones are not in a 2 year contract. My god, why do you idiots comment with this garbage Posted via the Android Central App

Everyone i know has a 2 year contract Posted via my LG G4

Support for the Nexus devices pretty much last about as long as the hardware can handle the new OS. Plus with the new cellular changes, two year old phone is going to leave you with basic functionality. i wouldn't use my Nexus 4 now since it doesn't have LTE. With the wifi calling on Nexus 6P available, I wouldn't use my Nexus 5 now. With VOLTE, Gen 5 cellular, and other tech coming out, most of the older phones would not be able to take advantage of the new features. 2 years is a pretty long time for the tech. Plus this is a guarantee of updates, not a drop dead date. The dates would be interesting for future products like the Ara which has hardware upgrades.

"two year old phone is going to leave you with basic functionality..." ARE YOU KIDDING ME?! I mean, granted if you specifically pertain to the likes of WiFi calling, VOLTE, and (nth)G connectivities, older phones can't compete, but that doesn't mean they automagically become paperweights!!! I have an TWO-NEAR-THREE YEAR OLD Galaxy Note 3 and that still performs great, it can handle itself against the Honors and Motos out there. The LTE is super fast, WiFi performance is good, and it does phone stuff exceptionally well. SMH This phone has the AC App.

You probably have the same OS as the latest honors devices(kitkat). My note pro is still running android 5 and there is no such thing as monthly security updates. hardware wise it's got most of what is needed for a tablet. Your note 3 came out when LTE was more common but if you were on t-mobile where they are using the LTE band 12, you would be out of luck. If your phone was update to Android 6.0, it will most likely have lag issues. The OS is just going to get more complicated and require more ram and processing power, older hardware will have a hard time with it pass the 2 year mark. If you don't care about new functionality and updated security, the old devices will work fine on the older OSes.

Mine's on LOLLIPOP 5.0. I shoulda disclosed that. Factory resetting your device to new helps SIGNIFICANTLY. Also, the severity is extremely exaggerated in some scenes. I mean, my mum's LG G4 on Marshmallow and Brother's G2 on 5.0.2 run roughly the same and hold the same number of apps in the background. Posted via the Android Central App

This is a ridiculous comment my note 2 which was 4 years old once rooted could handle marshmallow easily ran it really well not a hint of slowdown ever just only thing missing was 4g as it doesn't come with it. Phones can easily run the soft wear wasn't 5 optimised for phones with less power perfect for older devices but doesn't seem to of helped devices get updates. Posted via my 6p & the Android Central App

Wow, Google just delivered on planned obsolescence in a big way!

i think that like the other commentors have mentioned, Google should definitely support their consumers more than what they are. I can understand lower end smartphones not getting the frequent updates, or even any updates at all, but the expensive flagship phones need to have frequent updates to keep them up to date with security issues and any other issues that need sorting out. I think 2-3 years support for updates would be pretty good, any more is probably unnecessary as most people buy new phones before then anyway but any less is absolutely unacceptable for a flagship phone imo.

Interesting.
Sad in a very big way for me. I'd rather see the updates out to 3 years anyway.
This makes Google align with the likes of Samsung for updates...minus the bloatware...
???? Now I'm open to other phones from the eastern block that you can unlock the boot Loader and run custom software. Maybe this is where modular phones come into play. ??? Posted via the Android Central App

No reason whatsoever to stop support on the Nexus 6. It still has the fastest processor of any phone on the market with a 2,7 Ghz processor, and 3 GB RAM. Seriously, with Google saying they want to minimize Android to have the same experience on mid range and top tier phones, the Moto 6 Specs should keep it updated for 4 years of support. Not to mention how many Fi subscribers are using a Moto 6, I'd think they want to support that longer.

couldn't agree more. other than the fingerprint scanner what does the N6 not have? I bought mine about the time the 6P came out because the price dropped drastically and it was a great value. Google is obviously trying to help manufacturing partners sell more devices by making old handsets obsolete more quickly.

You still are getting Android N and security updates for a while longer. Why so much complaining?

I'm not early happy with this statement, I'd like to see 3 years. As long as they actually push updates well past that time like they have been doing for the Nexus 5 and 7 I'll be OK but I really hoped they were striving for a better example than the rest of the Android vendors that drop support quickly. This is not a big portfolio to maintain.

Good thing Cyanogenmod is around and very active at putting out snapshot releases for older Nexus devices. That's how my 9 will get Android O next year. Posted from one of my various Nexus devices.

Yeah I'm not too impressed and I'm a big Nexus fan, not going to throw the toys out of the pram and declare 'im buying a iphone: etc but I will seriously have a think about where my cash goes on my next phone. Posted via the Android Central App

No mention of the Pixel C either? suppose it's not a Nexus device but wonder how long it will be supported? Posted via the Android Central App

Good question. I looked for similar info in the Pixel support section, but there isn't anything about updates:
https://support.google.com/pixel I am considering purchasing a Pixel C, but this is making me hesitate.

:-(
I own a Nexus 5&6. My 5 is a backup and it's just now showing signs that it is slowly degrading. My 6 is still a beast, but I was planning on waiting until 2017 to get a new phone. I'm thinking I can hold out until the 2017 Nexus is released. Posted via the Android Central App

Nexus 6 with Marshmallow runs great as it is. I suppose if security patches are the main concern... Posted via Xperia Z5

We are going to get"N". I just hope that it runs smooth.

I've been running the N pre-release on my Nexus 6 for a few months now as my daily driver without any major issues. I had one weird bluetooth thing that was fixed with the latest update.

My N5 still runs like a champ. No signs of degrading or slowdown whatsoever.. I just sped up animations and it flies. Faster than most 2016 devices. Posted via Techmology

First off, the title of this article is *extremely* misleading. Even Google's own table says: "No GUARANTEED Android Version updates..." Second, nothing says devices will suddenly not receive any updates at all at a certain magical date, and even the Nexus 6 has gotten at least 3 OS revisions. Plus, let's say that if its true that the 6P and 5X 'only' get Android O, that means its still going to get security patches until at least Android P (in 2018) as *that* would be the year and Android version it's not 'guaranteed' to get the update. Plus, there's nothing from Google that says they won't just keep on pushing out updates as long as the phones can support them (a la the iPhone). Seriously though, between the 'Sky is Falling' title and posters running around like Chicken Little, this article seems to be nothing than click bait panic-mongering.

+1 Posted via the Pixel C

This. Two major version updates = three years of current software. Posted via the Android Central App on Nexus 6 Assassin Edition. Android Central Moderator, Gonfaloniere.

Yep and with monthly security patches that entire time, guaranteed! This is far and away better than any other Android OEM is offering. Google is doing a a great job with this and has been for the entirety of the Nexus program ('cept for the maybe the verizon galaxy nexus). Three years of guaranteed support is THE reason to buy a Nexus and people on here are acting like it's the opposite. The issue is that people are misunderstanding what these dates represent. They see Sept. 2017 for the 6p and think, "OMG! My brand new phone is going to be obsolete in a year!" That's not the case at all. And even when android P is out and the 6p doesn't get it, you'll still be able to get loads of support from the dev community if you're trying to squeeze some more life out of it. But let's be honest...are you really going to be using a 3 year old phone?

Not everyone has £500-700 pound to splash out on a phone I had to wait for contact prices to come down before I could afford the 6p what I have just frustrating thats all but I guess I will have to root it like I did I'm the end with my note 2 Posted via the Android Central App

Well my comment was about updates, since that's what this article was about. Your reply about not being able to afford a certain phone doesn't really fit here but I'll play along anyway. First, if you're buying a Nexus on contract you're doing it wrong. Second, there are a plethora of ways to finance a phone and pay monthly installments without signing a carrier contract. Third, have you considered the 5x? There are some superb deals where you can pick one up for around $200.

Should be at least 2 years from when they stop selling in the Play store. Support your customers and fulfill the promise of a Nexus device.

Agreed! Posted via Techmology

If they continued to update phones beyond 2 years people might not buy the latest phone which would cost them sales, does anyone really keep a phone for 2 years nowadays? People want the latest greatest thing Posted via the Android Central App

I think this is not the case for everyone. My sister has a S3, it has been replaced like three times, but I lost count of how long she has had this phone. For context, she had this phone before I even got my first smartphone in 2014. It basically lives on the charger though for the most part. lol. To her, it still works so why spend money on a new phone (because she thinks that $300+ is crazy to pay for a phone) if this one is working decently. I can't even remember the last phone she had before this, that's how long it's been. For me, I don't think I have found a phone that would be awesome for 2 years. The SE is a great runner-up though...

No. The vast majority will not upgrade unless it's "free or $100 on contract". Buying outright they will use it until it breaks or slows down to unusable. Nexus falls into the latter, and since Google isn't a hardware company, devices sales shouldn't matter to them. I would still be using my N4 us it had lte. So I'm milking my N5 until the wheels fall off. There is nothing the new phones do better. No reason to upgrade. I couldn't care less about a fingerprint scanner. Posted via Techmology

Just my opinion but where functionality is concerned, Nexus lags far behind the OEMs. Yeah the vanilla OS has some strong selling points but I can't even change fonts without rooting. I would consider my Nexus 6 nearly unusable if it weren't for the likes of Resurrection Remix and Pure Nexus. ROMs should keep me updated well beyond any arbitrary date set by Google.

The Nexus 6 is fine. You don't need to put a ROM on it. The phone is very useful. Some Android users really are clueless fools Posted via the Android Central App

Any phone without Comic Sans is useless.

So, after October 2016, my devices (Nexus 6 & Nexus 9) should be rooted to get updates from custom rom
I will probably get the next Nexus phone but not sure about the tablet since the current one is working great!

No; N is the last guaranteed full version update for those two devices. They're still going to have another year of security and minor version updates, so they're current until fall of 2017 and aren't guaranteed to get Android O. They might, but they might not. So your devices are current for a full extra year from when N release this fall. Posted via the Android Central App on Nexus 6 Assassin Edition. Android Central Moderator, Gonfaloniere.

OS update not guaranteed after two years. Could possibly get an OS update, but might not.

The way it works is, if you buy a phone released in 2015, it gets the major version updates for 2016 and 2017 and minor updates and security updates through 2018. So the nexus 6P follows that plan, it released with MM, gets N, O and is not guaranteed to get P, but it will get all the minor versions up until P and all the security updates up until P are guaranteed, but after that it's maybe. When they say, "No guaranteed Android version updates after", they are talking about the major OS releases that are raising the API level . So from 5.x to 6.x qualifies but 6.0.x to 6.0.x does not. Part of this is understanding the way they're referencing it. It isn't that the phones will stop receiving OTA updates, it's that they're not guaranteed to go to the next new OS, as in from M to N or N to P.

People need to read this.

This is wrong. This is when guaranteed major version updates stop, but not next when major version updates stop (they can arrive without guarantee) and not when minor version updates stop and not when security updates stop. Several Nexus devices has received multiple updates after the timeline described, they're just not guaranteed to. Posted via the Android Central App on Nexus 6 Assassin Edition. Android Central Moderator, Gonfaloniere.

..those updates aren't guaranteed. That's clear to me in the chart Google provided.

Well the security updates for the following year are guaranteed and the minor bump versions aren't addressed by the chart but they generally also come through, so they're not guaranteed but they're very likely to happen.

This doesn't bother me a bit , it will take new hardware support for the next version of BT and LTE so I'll need to switch then anyway...That's also going mean a new radio for my vehicles. So a phone will be the least expensive item.... Posted via Serenity

Hey, Google specifically says they don't guarantee updates after two years. You MIGHT still get updates, but it isn't guaranteed. I think you need to change the title and some of the wording of this article. It is down right wrong and poor journalism.

Yes, I was thinking the same thing. There is nothing "concrete" about " no GUARANTEED updates after." Posted from one of my various Nexus devices.

Yeah, their wording more sounds like they are covering their asses if they have some sort of a hardware issue like the Galaxy Nexus. They specifically said a minimum of 2 years, not a "concrete" shut down after 2 years. Posted via the Android Central App

You got to be kidding me? My Nexus 6 runs like a champ but in October it's no longer going to be supported? Rodeo time, time to get er on down the road.

It isn't going to be guaranteed to get major firmware updates after N. It might, it might not. It will get security updates. But that means it's current until approx. October of 2017.

This is why I will NEVER pay top dollar for any phone. Nothing but an endless money pit. I will negotiate till I'm and all parties involved are blue in the face before I blow money like a drink sailor on any device. Rodeo time, time to get er on down the road.

The Nexus 6 is still a solid performer and no where near obsolete. Some of us have only had the Nexus 6 for a little more than a year. People whine about Samsung devices not being supported or updated after a year and a half. Well how is this any different? After a year and a half of service my Nexus 6 will no longer be officially supported. F-cken scam from hell!!!!! Rodeo time, time to get er on down the road.

No, I think from this list the Nexus 6 will still get security and minor updates for a further year, so will be supported until October 2017. We Nexus 6 owners are just not guaranteed to GET Android O in autumn 2017. Posted via the Android Central App

I would be surprised if the Nexus 6 doesn't get Android O, it probably won't get the beta though. I also bet the Nexus 5 gets Android N. Google just said it is a minimum of 2 years. Unless hardware becomes an issue, I don't see them abandoning phones in under 3 years. Posted via the Android Central App

False. The Nexus 6 is getting Android N in 2016. It'll be fully up to date until the fall of 2017, when the 6 probably won't get Android O. So if you got it a year ago, and it'll still be up to date over a year from now, that's over 2 years of updates - and the update plan is based on when the device launches, not when people buy it 6 months after release.

What are you talking about? It isn't Google's fault you got yours that much later. People buy new phones all the time without knowing the new one is right around the corner. It's technology moving forward! Posted via the Android Central App

It should be 3 years os of updates. These nexus devices could easily handle that. Security updates for 5 years. Posted via Techmology

So is this article going to be updated with the reality of the situation? That'd be fun :)

Hope they come out with a suitable replacement for my Moto Nexus 6. Have not seen one as yet. Google should provide updates for 4 or 5 years for each device.

What did you like about the 6 that you don't like about the 6P?

The back curve? I absolutely loved the 6's design.

Since Google did a terrible job of explaining this, wrote this up in the forums to try to explain what's going on: http://forums.androidcentral.com/general-news-discussion/692737-how-nexu...

Guess I've got my Nexus 5 until October, when the security updates stop - then, who knows what I'll buy? Shame cause there's nothing wrong with it - hasn't missed a beat since the day I bought it, and a pity it won't get 'Nutella'. This is great info from Google tho - at least I now know when the cut off date for updates is.

So kinda it always has been - 2 major Android updates. And now 3 year support for security updates. Great job, Google.
Android Central Newsletter
Get the best of Android Central in in your inbox, every day!
Thank you for signing up to Android Central. You will receive a verification email shortly.
There was a problem. Please refresh the page and try again.