Tech as reward: The gadgets that keep me moving toward my weight loss goals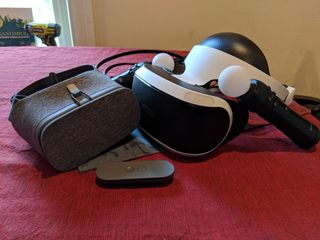 For the past couple of weeks, I've been sharing with you my plan to lose as much weight as I can. I first shared what I'd be doing physically, and then I discussed my diet plans. The cool thing about my plan is that it focuses on using tech to enrich my experience.
Until now, that enrichment largely came in the form of making my life easier by way of affordable equipment to support my workouts, apps to keep me informed and keep track of everything, and weird food that I don't have to actually cook (or eat, for that matter). We'll call this phase one of two.
So what's phase two, you ask? Phase two is all about taking the momentum from my early weight loss efforts into things I'm passionate about. The idea here is to add things to my daily routine that promote even more activity. It'd be hard not to do this stuff, because it's mostly stuff I already love or have a keen interest in.
For instance, did you know I used to be big into photography? When I first started learning, I had dreams of starting my own event photography business (here's the first event I ever shot), as well as a general passion for composing beautiful images. (I love still life and spontaneity!) I don't know where I lost my passion, but I want nothing more than to dust my camera off and start snapping shots again.
Once I'm physically able, I want to take my camera with me everywhere I go and walk to beautiful places where I can practice the craft. The weight loss will also help me with tricky shots where I need to get low or fit into an awkward space. As it stands today, my options for composition are limited, and that crushes me. Once I get to that point, I'll look to upgrade my aging Canon Rebel T3i (opens in new tab) for something of more substance (opens in new tab), and maybe one day I can afford that 24-70 2.8L lens (opens in new tab) I've had a decade-long crush on.
VR is another one of those things where weight can limit your enjoyment. I've had flings with Daydream (opens in new tab), Cardboard (opens in new tab), and Samsung's Gear VR (opens in new tab), but I've been reluctant to buy more capable systems (opens in new tab) because I knew I couldn't use them to their full potential. The great thing about this is that I don't have to wait on this particular goal. I'm planning on upgrading my VR stock very soon. Before you know it, I'll be dropping even more weight by playing great games like Beat Saber, just like our buddy James Bricknell here.
Well… maybe not exactly like that, but you get the idea.
And how about Pokémon GO? It's still a popular pastime here at Mobile Nations and all over the world. I wasn't able to fully enjoy the game when Niantic first released it as I was confined to my house, fishing for every little Pokémon I could find and begging my friends to gift me Poké Balls because I couldn't get to a Poké Stop (and I wasn't willing to spend money on a game I couldn't be fully invested in). So, I want to get out there with Rene, James, Russell, and the gang and start catching these shinies! (And ditto for Niantic's forthcoming Harry Potter game, whenever that's available.)
I want to get a bike. I don't know that I can go as far as Russell did, finishing 10K races and all that. But a bike would be doubly sweet for me since I don't own a car. I'd use it as my primary form of transportation, at least for destinations reasonably close to me. Should I ever get to the point where I can bike all day without stopping then I'll take it even further, but for now I just want to be able to get to a doctor's office or my local card shop (Magic: The Gathering, anyone? (opens in new tab)?tag=androidcentralb-20&ascsubtag=UUacUdUnU72346) without having to sell my kidney for an Uber.
The biggest tool of all, though, will be my desire to meet some of the great friends I've not yet had the pleasure of meeting. Travel is probably my single biggest motivating factor. I want to meet up with people and walk around amusement parks, go kayaking and skydiving, or maybe even just hit the courts for a game of basketball or tennis. I want to eat good burgers and go watch a movie. I want to go to my first WrestleMania event at some point after rediscovering my love for professional wrestling. I want to go to Japan to eat authentic ramen and check out a real life Pokemon gym.
That is to say, I want to have a life. I never want to stop moving again. It'd be a life I've never had, and that'll make me that much more appreciative of it. That's why I have to lose weight, and I'm thankful for all the great tools out there for people like me who can't go the conventional routes.
Be sure to follow me on Twitter if you want continued updates on my progress. And don't be afraid to reach out! If anyone else out there is going on a similar journey, drop me a line and let's talk. A strong support system is the key to success in anything you do, so find someone you can lean on or talk to if you ever find yourself slipping. Here's to a new us!
Very cool. I think I might try something similar.
Best of luck to you.

That is so awesome! I will say that travel is much easier after losing weight. Before my wife and I lost a combined 435 lbs, we would purchase 3 plane tickets for the 2 of us. Now flying is much easier, no seat belt extensions, and we purchase only 2 tickets. Best of luck on your journey, I have enjoyed reading your story, and reliving what I personally went through on my journey to a better life.

Great article and inspiring stuff to see your so passionate, DDP seems like a great way to turn your life around. don't lose your love for tech when your doing 10k runs :)

Hey, long time reader, just never been one to comment really. This was amazing to me though. Iv had to face personal mountains before, I know how challenging it can be, your determination to do this though is inspiring. Please keep it up

Now I'm curious about the reason for the Ryobi impact driver in the first picture.
Android Central Newsletter
Get the best of Android Central in in your inbox, every day!
Thank you for signing up to Android Central. You will receive a verification email shortly.
There was a problem. Please refresh the page and try again.