HERE Maps for Android updated to support Samsung Gear S2 smartwatch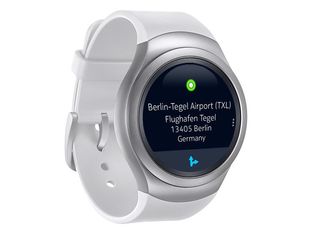 The Samsung Gear S2 may not be available yet, but some Android apps are already adding support for the upcoming smartwatch. HERE Maps has updated the Android version of its mapping app to support the Gear S2.
While the app's page on the Google Play Store doesn't offer any details on how the HERE Maps app will work with the Gear S2, a recent blog post from HERE has a lot of information on this subject.
The Samsung Gear S2 is scheduled to launch in early October and, here's where you will be able to buy one.
Check out our hands-on with the Gear S2
Source: HERE Maps
I'm so waiting for this watch as a gear neo user this will be a nice upgrade through Samsung pay on there and it's game on Posted via the Android Central App

I wonder if Samsung pay will work if you are using a non samsung phone. My fingers are crossed, but I don't think Samsung will allow that. Posted via the Android Central App

They've already said no. It won't work unless on a Samsung phone. Posted via the Android Central App

Hmmm. What about if you buy one of the standalone 3g versions? I was hoping I could just use the watch and not have to carry anything in my pockets :( eh. I'll still get the watch but eh. I really hope the standalone has full payment support eh?

HERE was awesome on the Gear S. Perfect when I was out cruising the country on my motorcycle. I think however it would be better with the rectangle display of the Gear S. Solid and you could STILL download the maps in the watch. Of course this changes with the GS2 since only the 3G version has GPS. Hopefully it doesn't lose that functionality. People can continue to say what they want about Tizen but Android Wear is just so behind what Tizen is capable of. Posted via the Android Central App

Developers are really getting over this. I wouldnt be surprised if this sold more than all of Android Wear combined. Especially now with support for all phones and soon iOS. Posted via the Android Central App

Not all phones like the Moto G. Needs to have at least 1.5gb RAM. Posted via the Android Central App

Should've splurged on the 2GB Moto G. Moto XPE

I have an android wear watch, and it is so going in a desk drawer when I can get my hands on the S2. Android Wear is SO boring compared to what the S2 is going to be able to do. The widgets alone are going to be my favorite thing. People complain about the lack of apps for Tizen, and I agree S2 needs to support the major ones, but in reality there are very few apps for AW that are worth using. I think this time Samsung is going to finally get it right, and app developers are going to want to write apps for the S2. Only thing that worries me about Tizen is that due to my declining eyesight, I use the triple tap to zoom on AW, and not sure that Tizen is going to support the ability to enlarge text, if even temporarily.

If I remember correctly it does support zoom Posted via the Android Central App

Thanks, yeah I do remember reading that in a tech review, just not sure how it would work. I'll be really excited if we can zoom literally everything somehow, like AW alllows. Oh, and I should have stated that I love having notifications on my wrist, just hope that the S2 gets Google reimagining what AW could be.

This is great news. I liked how Here worked on my old "s". The S2 is looking better and better. I saw a classic s2 at work today on an exec at a "serif" launch. It looks very smart. Though I how they release a stainless version. Posted via the Android Central App

Of course it looks smart, it's a smart watch haha Posted via the Android Central App

If they do release a stainless steel one expect $$$$ Posted via the Android Central App

Hehe! Smart indeed! The pricing I have seen is pretty much the same as the other generations but a stainless wouldn't be too much of a stretch. Posted via the Android Central App

Speaking of Here.. Anyone know what happened to the HQ voices and street name pronunciation? Thought I remember it was in there before? Maybe I'm wrong. Posted via the Android Central App

It was but for some reason they had to remove it
I'd say it has to do with copyright Posted via the Android Central App

Available now for pre order
https://www.youtube.com/watch?v=Q12fDAJY9gM
Android Central Newsletter
Get the best of Android Central in in your inbox, every day!
Thank you for signing up to Android Central. You will receive a verification email shortly.
There was a problem. Please refresh the page and try again.