Has your Pixel 3 pre-order shipped yet?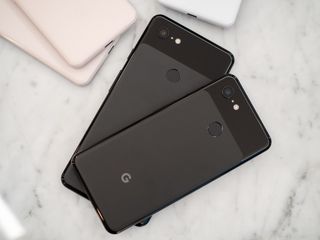 Google opened pre-orders for the Pixel 3 and Pixel 3 XL on October 9 following its big reveal event for the two new phones, and now that a little over a week has passed, people are getting shipping updates on their purchases.
Some early adopters already have their phone on the way, whereas others have a bit longer to wait.
Here's the shipping status of the Pixel 3 and 3 XL according to some of our AC forum members.
What about you? Has your Pixel 3 shipped?
Get the Android Central Newsletter
Instant access to breaking news, the hottest reviews, great deals and helpful tips.
Joe Maring was a Senior Editor for Android Central between 2017 and 2021. You can reach him on Twitter at @JoeMaring1.
Yes, shipped yesterday, ordered the 64gb Just Black 3 XL right after the event. Scheduled delivery is tomorrow, 10/18/18 by end of day. Original estimated delivery was 10/23-24/18.

Yep. FedEx says it will be delivered today but it's still in Chicago. I'm in Indianapolis.

same situation. different states! Will be interesting to see if they can pull it off

I am in Noblesville and mine left Pennsylvania yesterday. Scheduled for delivery tomorrow.

I'm also in Indy, and mine left on a delivery truck from Zionsville this morning. :)

Shipped Tuesday night 10/16 out for delivery this morning, Wednesday 10/17, a day before the official release date. Woot.

Expecting delivery tomorrow Thurs 18Oct

Yes, Shipped yesterday ETD 10/18/2018 original ETD was 11/8-11/9

On a FedEx truck for delivery today! :)

Mine was delivered about 90 mins ago. Setting it up but need to stop by my carrier and get a sim

Mine shipped, will arrive 10/18 originally said Oct. 24-25

FedEx says by 10-18-19. to NJ

Pixel 3, Clearly White 128GB is shipped and being delivered tomorrow (10/18). Today and tomorrow will be painful waiting.

Yup mine will be here tomorrow

Ordered Pixel 3 XL 128GB Just Black10/13 with expedited shipping, shipped via FedEx10/16 from IL, out for delivery 10/17 in GA.

Already arrived, today (10/17), delivered to place of business. [ FL ]

Mine is on a truck for delivery today! Not Pink 64gb, ordered during the event.

Delivered about an hour ago. It is absolutely fantastic. P3 Just black 64 shipped from IL to WV in 1 day.

Ordered right after the event on October 9th and shipped yesterday, but FedEx website says that will arrive October 22nd in Los Angeles :(

Pre Ordered mine on the 9th from Google Fi. Its scheduled date is Nov 14th. They are unable to tell me why its been pushed back so far. Project Fi Customer Service is the absolute worst.

Mine says Nov 9-10, support gave no reason for why my order was pushed so far out besides demand is high. Doesnt seem to be any rhyme or reason. Really disappointed. Why bother preordering on day 1?

Mine is coming tomorrow in the fastest color....white

I had Oct 18-19 first...then Oct 23-24 and now it is Nov 6-7. What a bummer - too much time to get buyers remorse. Purchased within a few minutes of the event starting when the purchase page went live. White 3 XL 128gb

I pre-ordered a just black 128GB pixel 3, a few minutes after they went up for pre-order. At the time of my order (and still currently) it says it will arrive by Nov 8/9. Still hasn't shipped yet.

Update: I've received 4 separate delivery date change notices
Oct 28: Pushed to Nov 12-13
Oct 29: Pushed to Nov 13-14
Nov 4: Pushed to Dec 3-4
Nov 7: Moved to Nov 15-16, With this newest one I'm hoping it ships within the next couple days, so that it can't be pushed back again

Ordered mine from BB soon as it was up on the site on the 9th, said would be here by 18th. Almost midnight on the 17th, get a delayed shipping email. Call today and BB Mobile says they haven't received any Pixels. I am on the top of the list of 20 pre-orders.......still waiting! White 128GB Pixel 3. "Google hasn't shipped any Pixels out" they say.....

I ordered my Pixel 3 Oct 9th. Originally expected Oct 24-25. Received an update that I won't receive untill Nov 6-7. I asked about why and they told me because of high demand. I told them on the website it says I can get the same model by Oct 30. They told me that's just an estimate and once you check out it will have an accurate date ( so they lie to get you to buy). I ordered another Oct 23rd and guess what... Expected delivery Oct. 30th, yet the one I pre-ordered still says I won't get until Nov 6-7. I proved them wrong and they still can't explain what's going on. This is not ok Google.