Hands on with the new Mophie and Incipio Moto Mods for Moto Z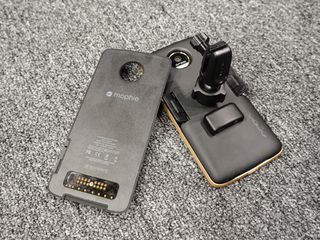 While we've already seen the first — a 3,000mAh battery add-on from popular accessory maker Mophie — we can confirm that it is available now in the U.S., at Verizon, for $79.99. That's the same price as those from Incipio and Tumi, except with a 36% premium in battery capacity. It's also slightly thicker as a result: 0.35 inches compared to 0.27 inches.
The Mophie Mod has another advantage: it can be separately charged via USB-C, which negates the need to have it attached to the Moto Z itself to juice it up, making it far more useful in a pinch.
Battery add-ons have proven the most popular category in the Moto Mods ecosystem, according to Motorola. Over 40% of those purchased to date have been batteries, and the company says that in an average week, 37 hours are spent with a battery add-on attached to the back of the phone. Many people leave their battery packs attached to the back of their phones on a semi-permanent basis.
Another new Moto Mod being introduced next week is an Incipio-built Car Dock, which leverages the magnetic back of the Moto Z series to make it easy to hold up the phone while driving. The dock itself uses a standard clip at the back to safely attach to a vent, but it overcomes the inherent problems of many of those designs by removing the weight-bearing clips in favor of a strong magnet.
At $64.99, the Incipio Car Dock is not cheap, and will only be useful for a certain type of driver, but because it automatically launches Android Auto upon connection, and has an Auxiliary cable to plug into a car stereo, its premium price does afford a few benefits.
Motorola is also committing to bringing four Mods to market every quarter going forward, which is an aggressive cadence for a nascent product category. That doesn't mean you'll see four battery packs, or even four Motorola-released add-ons every three months, but there's a confidence within the company we haven't seen since the first Moto X back in 2013. And it's infectious.
Image 1 of 4
Some of that confidence can be attributed to the Moto Mods Developer Kit (MDK), which Motorola is encouraging hardware creators to build for over the next year or so, incentivizing them through a series of hackathons and an Indiegogo campaign.
Right now, the new Mods are only available at Verizon, but will be coming to Motorola's own online store fairly soon. As for the future, expect more Mods in early 2017, including one that enables Google's nascent Tango tech.
Get the Android Central Newsletter
Instant access to breaking news, the hottest reviews, great deals and helpful tips.
Daniel Bader was a former Android Central Editor-in-Chief and Executive Editor for iMore and Windows Central.
More Mods!! Still hoping for Lapdock 2.0.

Funny, I was going to post I hope there is a mod to use my old Lapdock. Though a new one is a must too.

I used a DROID Bionic with the Lapdock. It felt like the future.

a lapdock would be awesome i loved mine, i am also hoping for a game pad that would be pretty cool.

Or maybe just a giant "dumb" tablet screen like a 12" to read Comixology and watch videos.

But thats what the projector is for. Whats needed, is some sort of remote for it that will work while the screen of the phone is off.

"Motorola is also committing to bringing four Mods to market every quarter going forward, which is an aggressive cadence for a nascent product category. " WoW ...maybe 128bit quadrouble DAC amp, fm radio

I like this. Moto mods have seemingly become popular and Motorola is taking advantage of it. I don't plan to buy into it anytime soon, but these are really cool options for those who want a little something extra.

Mods every quarter? Nice! c'mon DAC Posted via the Android Central App

Happy to see new mods pretty often. LG needs to step up its game.

LG is abandoning the Friends on the G6, it seems. I have faith that Moto will not abandon Mods any time soon. It really is an elegant solution.

I like this idea. Was about to pull the trigger on moto z play just a few weeks back when it was offered for less during preorder period. However the biggest mistake on motorola/lenovo part is that there is no phone case available for this phone that can work with battery mod attached. For me thats a deal breaker because I am planning on using this phone with battery mod permanently attached to the phone. With added weight I need a case more than ever.
Fix it motorola/lenovo and you will have a new customer.

But there are different sized battery mods.

I don't understand. I guess you are saying that since there are more than one kind of battery mods so its hard to make a case that fits them all. That's fine. At least they can make one for the battery mod that they are selling themselves.

No need for an always on battery mod with the Play.

For you I am sure its not necessary. My usage is on the heavy side. I have a note 4 with 6500 mah extended battery and it barely lasts from 6 am to 10 pm. Hence the reason for looking at Moto Z play with battery mod. Most other phones dont have an option to add an extended battery.

Just buy the black or clear bumper case from Verizon for what ever model you have. Simple as that. Or are you actually looking for a all in one case to cover the mod too? If so that will never happen since they are not the same size.

It's called a bumper case...

My unlocked Z comes with a bumper in the box.

I have been waiting for a car dock! I am curious to know if charger comes attached to that. I suppose you could assume so since it has the 16 pin connection, but you know where assuming gets you. (OK, since the AC app doesn't allow you to look at pics full-size I just now noticed it appears to have the aux and USB-C ports on the back.) Also I would like an option other than vent mount. The only vent I would be able to attach it to in my truck is the main center dash vent, which is also the highest flowing vent, so I would be blocking a large portion of airflow, and blowing hot air directly onto the phone. Would just like a simple suction cup option instead.

It looks like it has the standard screw/ball mount on the back. so if you have a dash bag/suction cup or similar for windshield it looks like you could just swap them out.

It does look that way. Miss the old device-specific docks. I'm definitely adding this to my Christmas list!

Can Android Auto be disabled on the vehicle dock? At least until it works with Waze? I've become quite comfortable with Waze and the Drive mode app.

I'm guessing you can just exit out of it like any other app. The Bionic used to launch into car mode when placed in the dock, but you could just hit back arrow or home keys to go back to main screen, then open any other app. I have a feeling this will be the same.

Wow. All these mods for my Z. Too bad I won't be able to have all of them, but it's really nice to see them continue to work on their standard.

Would be nice if someone just put out a wireless charging back that didn't require a tumi battery pack.

I'm with others here. It is time for a Lapdock. The processors can handle now, especially with a low res 1080p screen. Touchpad woukd be the tricky part. Maybe if they made the touchpad the same ratio of the screen, or maybe the Moto X woukd be the touchpad?

So if I want to use a moto z in the car, I need this dock.
I'd like to see a USB-C to 3.5mm jack+USB-C adapter, so I can charge the phone, and listen to music at the same time.

I was worried about this as well but honestly my battery on the Z Force has been outstanding. I use it all day for navigation and music and through an 8 hour work day I have about 40 heading home.

I really don't have that problem myself, I put a $90 aftermarket radio with bluetooth audio in and said goodbye to the headphone jack a long time ago

The Stock DAC of the moto z play is amazing, well done. But come on, powerful DAC Amp mod , blow away the LG V20's and everthing else on the market. Man, Levono Moto showing how it's done. Samsung, Apple, LG standing there , eyes wide open , heheh

Let's throw our money after them. Own the Z Play but buying the Z , too, for x-mas.
Yes I know the Play is the better smartphone, but want both :P Lovely pair of devices and ZERO competition :)

Eh, I think there's still a pretty significant list of devices that can give the Moto Z line a run for its money in one way or the other.

Hm, I don't know of any other one ( or two ) devices where I can use my style shells and mods even for 2-3 upcoming device generations. Yeah 400 buys you other decent devices, but meh, no mods.
Boring phones :)

To be frank, each device has its own unique selling point.

I love the mods. If you have a bumper the mods will fit. I have the JBL speaker mod and I keep it in my bag with me. I like the forward facing speaker on the force but the JBL mod is really nice. Picked it up on black Friday for buy one get one free.

I think you won't need a case or bumper at all. The frame is CNC made from one block of metal , this IS a bumber and a strong one, I dropped it so many times on concrete floor, just small dents, nothing more. Tank of a phone. Lovely built quality. Just use a moto style shell.

I love this phone and own all of the Moto Mods. It is really fun to wake up and say " Today I feel like a champagne Gold day" My co workers are always asking if i got a new phone. One Friday i got all of my co workers in my office and set up the Moto projector and showed some funny youtubes.(Terry Tate-Office Linebacker) We had our Holiday lunch yesterday and I blasted Christmas Carols with the JBL Speaker. I love this phone, In my case the phone performs flawlessly. 7.0 makes it fly.

The car dock is a great idea.

So you buy both and they work hand & hand with each other?