Hands-on with the Motorola Droid 3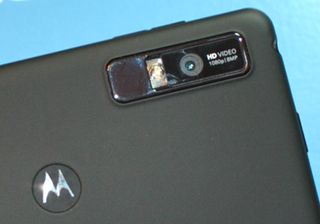 Youtube link for mobile viewing
Here she be, folks. The Motorola Droid 3 on Verizon. We're knee deep into this sucker right now. But our initial thoughts are that this is a pretty worth upgrade to the Droid 2, even if nobody seems to be making a big deal out of it. Fast with a dual-core 1GHz processor. A larger, 4-inch display at qHD (960x540) resolution. And Android 2.3.4 Gingerbread -- egads, the most recent version of Android! -- on there to boot.
Other specs to note:
Android 2.3 Gingerbread
5-row keyboard with dedicated number row
Display: 4-inch qHD (960x540)
Processor: Dual core TI OMAP at 1 GHz
RAM: 512MB
Storage: 16GB internal, support for up to 32GB microSD card
Front camera: VGA
Rear camera: 8MP with LED flash
Dimensions: 2.5 x 4.9 x 0.5 inches
Weight: 6.49 ounces
Cellular data: CDMA/Quadband GSM/Triband UMTS
Battery: 1540 mAh (up to 550 minutes talk time, 300 hours standby time)
3.5mm headphone jack
USB 2.0, HDMI, DLNA
Bluetooth 2.1+EDR
FM radio
Video: 1080p video capture (up to 30 fps), 1080p output via HDMI
We've got lots more on the way. For now, feast your eyes on the quick hands-on video above.
Update: And now with plenty of pics below!
Love the battery life estimate! 300 hours of standby time. I'm guessing that means if you remove the fully charged battery from the phone and put it into a drawer.

I'd love this phone if it had a Tegra 2 and was available on Sprint. I reckon the Photon will have to do.

This cpu is better on paper than tegra. Tegra also uses a lot of nonstandard instructions with its gpu, which is why there are a lot of apps made specifically for it; they need to be coded specifically for it.

That is a great phone for VZW. Best of both worlds. Maybe you don't want it but for any BB convert who doesn't want to mess with the on screen keyboard or the battery life issues apparently with all 4G devices this is a great choice. And it's global.

It's def an awesome device!

great video as always Phil.

After I finally made a switch from two years of bb use to the Atrix I will never go back to any physical keyboard devices :)

Wow.. another "Droid" with no lte? ?? Just wait for the bionic... This phone is no Buenos especially with all the pre-loaded aps!

You do realize they are essentially the same phone, right? They will both get the same preloaded apps as well. For those that want a keyboard, and better battery life, get the Droid 3. For those that want 4G and a tablet in their pocket, get a Bionic. There are other opinions than yours in this world, just an FYI.

That wallpaper is so hideous WTH is wrong with Moto! And can people change it when they do reviews!! No? AHHHH!!! Anyway, the phone itself looks BOSS! Wish I had an upgrade...

Is the background that bad to shout out about it?

It would be really cool if they put the Lloyd wallpaper on each phone they review. Lloyd sitting in the background all cool.

512 mb of RAM is fail. Motoblur is fail (even if you don't call it that anymore, Moto). I don't get it. Are they going for the mid-range market here? Some specs are flagship and others are previous generation (meaning a few months ago in Android time). All of the Droids seem to be incremental upgrades to me. Definitely not something to get excited about.

The new Motoblur is actually pretty awesome, you should check it out. If you *really* don't like it, any 3rd party launcher removes it completely. The big downer however is the preloaded apps though, which every VZW phone will have, not unique to the Droid 3. Not really sure what your mid-range market comment is though, it's clearly the top of its class. Hardware keyboard, dual core, Moto build quality, etc. For some, the current generation of 4G radios are just too large and battery draining to be worth it.

Anyone who proclaims they "hate" motoblur or it's a "fail" -- have obviously never used it. It is a small step down from Sense, and arguably superior to touchwiz. So to say motoblur is a "fail" is like saying touchwiz gets a D, and Sense gets a C-. BUT maybe everything is a "fail" to you.

I have used Blur and I hated it enough to "downgrade" from my free upgrade to a Droid 2 (via warranty replacement of a Droid) to a refurbished Droid. Contacts were broken, they tried to force Facebook access through their servers by breaking the account management (the official Facebook app couldn't manage accounts), and their UI was laggier than my Droid. If they want to have their own launcher and widgets, I'm fine with that - I replace the launcher and use whatever widgets I want. But they went and broke core functionality just for the sake of being different. As much as I've loved my Droid, the only way I'll be buying another Motorola phone is if the bootloader is unlocked/unlockable and it has support from ROM developers like CyanogenMod or Peter Alfonso.

Why does he say not to touch the auto-end list? Before I messed with this my battery life was maybe a half a day. Now it is a day and a half.

Same here! I tried to stop using task killers like everyone here says and my battery lasted half as long.

It's universally accepted that task killers on anything Froyo or newer are unnecessary, and that you will use more battery by automatically killing an app when it self starts. Now if this actually freezes the app so that it's proactive rather than reactive, that would change things.

Haha loved the City ID bit.

I noticed from the video that the phone has similar NFC contact points under the battery cover like those on the Nexus S. Can you confirm whether or not it is NFC capable?

..and also since this is running 2.3.4 is it compatible with the video chat feature on google voice, or no dice like the myTouch 4g slide?

I THINK those are the charging contacts for the optional (think Palm's WebOS phones) inductive charger/cover that is coming for it and a bunch of other VZW Android handsets.

Hardware CPU: The TI OMAP4430 dual core 1ghz per core processor is arguably the most advanced processor out in the market right now. Webpages load quickly, and home screens swipe with ease. Moto's blur seems to have an effect on going back to homescreen (more on that in a moment), but you can definitely tell that this beastly processor has power to spare. RAM: 512 of DDR2. Is it enough? Let's just say you aren't going to cry about it. Apps switch seamlessly unless they have been closed a while, but it will still stay in memory just enough to remember where you were, and the OMAP wastes little time in loading things back up quickly. Would be nice to have a bit more, but you'll hardly notice. 3g. Not having LTE on here is an omission to be sure, but the OMAP4430 will really speed up your downloads. And you are guaranteed to NOT have the battery problems that the other LTE phone have suffered thus far. So honestly, I've not been missing LTE, and it's probably a technology I'd like to see mature before I make the leap. Screen: Pentile display looks good. Better contrast and brightness than D1, and the Pentile tech saves battery better than D1. Pixels are juuuuust noticeable though, but only in a psycho-stickler sort of way, and only on certain colors (like pure green). Overall, without squinching your eyes and holding the phone right up to your face like a maniac, the screen IS an improvement over the D1 and pretty to look at with excellent viewing angles. Keyboard: Physical keyboard is a VAST IMPROVEMENT. No more reaching around with thumbs. Keys feel good, solid, differentiate-able. Having a number row is the cat's pajamas. Arrow keys instead of rocker is a definite improvement over OG Droid. I sort of miss having the "?" key NOT being an alt function, but this is such a minor niggle I can't even believe I mentioned it. Thoroughly loving the physical keyboard. Little tough to get loose initially, but in the last week of use it has loosened up a bit to a level that I am comfortable with. Soft keyboard and swype included, and great too additions. Camera: 1080p shooting and 8mp camera make this Droid vastly superior to its previous Droid installments. Shooting in 1080p can get a little choppy when shooting fast moving scenes, but nothing any worse than any other PHONE's. Picture clarity for video is very reasonable, even when hooked up to your big screen through HDMI mirror mode. Lines are sharp and artifacting is minimal. The camera stills look good in daylight, but at night is when you can really tell that an improvement has been made. The light sensor is able to gather significantly more light that previous models, and you can really tell the difference. Definite upgrade from hardware and the camera software is very stylish and intuitive as well. Camera sometimes kills the home launcher though, but the OMAP4430 makes little time of getting everything back in order. HDMI: Mirror mode works effortlessly. Just plus it in and go. There is a minor glitch that may have not been completely thought out though. If you want to listen to music from your phone (assuming your big screen is HDMI'd to your receiver), everything works great until you set the phone down and the screen times out, thus cutting the audio. So unless you have the screen timeout to "never", you will not have music playing. I have not found a setting to fix this. Hopefully this gets ironed out in an update. Battery: I have my apps on reasonable settings, aka I don't have them to autoupdate every 15 minutes. With this phone I am able to get about 15-20 hours of battery life with moderate use. With lighter use I'm betting I could get through a day and a half at least. There are some battery saving options such as turning off 3g and wifi radios when not in use after 15 minutes, which would theoretically propel the battery even further, but I have mine set to "performance" which leaves everything on all the time and I have not had an issue. Software Launcher: With the stock launcher I SOMETIMES notice a slight delay (honestly maybe like a half second versus instant for LauncherPro) when returning to the homescreens (which does not happen at all with the speedy LP), but the Moto widgets are so nice that it makes the stock launcher almost worth it. And the stock launcher is really stylish, nice screen transitions, a cool screens preview, but just simply is not as fast or customize-able as LP. If LP would come out with the ability to run some of these gorgeous widgets, or if stock was coded to be as speedy as LP, I'd be in Heaven. The stock launcher also does a cool lighting effect when you change screen, a subtle touch that just makes you feel good about yourself. If the stock launcher's code would improve a smidgen, and offer the ability to scroll vertically (instead of swiping side to side like a cotton picking i*hone) through the app drawer then we'd have a surefire winner. For now, I've settled into LauncherPro, spruced up with the honeycomb theme from the market for some of the excellent LP widgets. I've been a happy camper. Widgets: Moto has included some outstanding widgets that really add to the wow factor of the phone. The Quick Contacts widget is my personal favorite. Swiping down on the widget produces a nifty 3D effects revealing all your favorite contacts. The problem with some of Moto's widgets is that they don't play nice with 3rd party launchers. Which puts you in a choice quandary. Why can't we have out cake and eat it too?? One minor omission in terms of widgets is the stock Google News widget. Moto includes a news widget to replace it, which looks better, and has a nifty 3D effect, but you can't add custom topics like you can on Google's offering can add custom RSS feeds from your favorite website. Maybe it'll get updated for custom topics....maybe. Apps: The included gallery widget is a nice improvement over standard AOSP Android. It has the ability to pull in all your photos from your various accounts over the cloud (picasa, facebook, flickr, photobucket, etc) and all your friends facebook photos as well in addition to all the photos stored on your phone. The business class apps included here are very forward thinking and a boon to business types. GoToMeeting and Citrix, Exchange, Citrix, Motoprint, Quickoffice, are all included here, and really advance this phone as one that should be in serious consideration for those that need to do business on the go. There are two music apps included. Moto's music app, which is just a re-skinned AOSP music app, and ZumoCast, which is Motorola's cloud based music solution. You must create an account and then you can access all your music, video, and picture files from your home computer (assuming it's on) on the go. I would anticipate that you can upload some stuff to their servers in the cloud, but I have not verified this. Bloatware is upsetting. There is crap on here waking up and filling itself in memory that I've never even heard of. "Social Status?" Seriously??? Do I need a widget to update my FB status every 5 seconds??? Hundreds of megs of crapware, oceans of it really. The sooner we can get some sort of root access to get Tibu on here the better, and the better this phone will run, you know, assuming it's be loading up apps you ACTUALLY USE into memory to make the apps you ACTUALLY USE quicker to get to. But what do I know, I'm just a random idiot. BUT, some of the pre-loaded apps like the business class apps are stellar. So you are certainly taking the good with the bad in this department. You can uninstall Let's Golf 2 and Nova, but the rest is on there for the long haul. If they are too much of an eyesore you can make an app group through the stock launcher and only put apps that you use there. Or you can hide crapware through some 3rd party launchers, but the crapware still manages to load itself into RAM I've noticed. You can use the built in task manager to kill it off, but task managers generally do more harm than good, and it remains to be seen whether this one is an exception. Should you buy? If you like a keyboard this one is a no brainer. If you aren't dead set on LTE this is a no brainer as it will certainly best any LTE handsets battery life thus far by a country mile. Otherwise the Bionic is around the corner, the Galaxy S II should be arriving sometime this summer, and of course there are the rumors of the mega-showstopping Nexus Primer this Christmas. I am in a family plan that has multiple upgrades coming up, so I will have some options, but even when those options come up, I will have a hard time giving up the D3. It is definitely a hot phone and is worthy of your bucks.

You got my vote for the longest mini review/comment. But good of you to give all that info.

Dude, don't hijack Android Central. If you want to review phones, start up your own tech blog. Just my $.02

Bah,that was the single most helpful DETAILED impressions piece I've read about the D3 all week...and that includes some major sites/reviewers. I particularly appreciate his comparisons of the camera/Blur to previous Moto Blurified devices. Much appreciated!!

Hijacking Android Central?
I don't know what you're smoking or talking about you, but I really appreciate his comments and review. And that's what the comments are supposed to be about. It just about answered everything I wanted to know about the D3. So with that said, thanks to the OP for this through review.

Your welcome! PS, I added just a smidgen to the review...

Thanks that was an excellent mini-review. Very informative and on point. Much appreciated.

Thanks for the review. It is appreciated by those who want to know if this is a good updgrade. You covered a lot of items not even being discussed by other tech and main stream media sites such as mirroring and bloatware. (I am actually shocked at the low level of attention being given to this phone.)

This should have been in the review. Sorry guys! Calling: Audio quality is much improved over the D1. Voices sound much more natural and clear. With the D1, sometimes I would notice some muffle and and distortion. That is still here, but it is minimized to be almost negligible. This is the best call quality I've heard from a smartphone. The speakerphone is not as loud as the D1 though, and thereby more difficult to hear. Bluetooths connect and work just fine. Had no problems setting up my Google Voice (0.3.4 for those that know the value of this;) which installed seamlessly into the OS. The D3 also includes bluetooth voice command, which is a nice touch. Only complaint is that when holding the phone to the ear it can be uncomfortable due to the sharp lines, but this only becomes noticeable when in a loud venue and having to press the phone up to your ear.

I've had the phone since last Friday and I can say this review is accurate. I see a lot of the hate coming from people who have never touched the phone.

Thanks for the quick review! For the full review please include camera info: how fast does it take a photo and whether video chat through gtalk is available with 2.3.4. Thanks! Btw the Droid 2 global also has the task manager with auto end, and it comes with swype, volume rocker for zooming camera in/out, video modes like fast forward and slow motion. I came from the ogdroid and all of these were unique to me. They may be common by now, but if not I think they make this line of phones really well thought out.

I'm really not getting some of these comments that every phone has to be a tri-core, 5GB of ram, 8" screen with hi-def display, 5G LTE v3 with T3 line speeds and NFC that hooks into the Federal Reserve capability. It's a MOTO with probably a locked boot loader. It's got a custom skin. It has physical keys. So what to all of this. If you live in a non LTE area as a majority of the country does and will for the next 1-2 yrs this phone will be fine. And Verizon will sell a bunch of them even if they don't promote it heavily. You got to get over this obsessive need for more, more, more power. The software from Google on board is the key. This phone has Gingerbread out of the box so that's a HUGE win.

Agreed. And for people on a Verizon contract, if my choice is between the Thunderbolt (I live in 4G area) with disappointing battery life and the Droid3 -- I'll go with the one with ample battery life. I can already stream music and netflix/hulu/jetflicks no problem with 3G. I can download a song in 30 seconds. Am I willing to cut my battery life in half so that I can download a song in 12 seconds. NO. Not worth the cost.

And since 4G only contains to data speeds, connecting to Wifi will be like connecting to 4G anyways. And before anyone goes on the attack. Meaning connecting to Wifi will be faster than 3G.

bought this phone an hour ago

The TI OMAP4430 has the SGX540 GPU which is on par with the Tegra GPU. Nice to see someone other than Samsung using it. Looks like a great phone. Though there seems to be a lot more bloat than what's on my DX 1. I think Verizon should keep things like their crap Mobile IM client off it.

This is a great update from the past Droid, only problem with all the power sucking add ons running 512 MB of ram just isn't going to cut it. How can you only give a dual core phone with all those great features only 512 MB of Ram??? That will slow this phone down, guaranteed. They probably saved themselves about 50 cents and this phone will suffer severely due to that. You need more then 512 MB of freaken RAM.

Whats the point of 16gig if you only get 2gig for apps. they pulled a og incredible move on us. horses%&t....

three major fails on this phone. 512 MB of RAM, no SD card, and no 4G LTE = don't buy this phone.

Ugh. . . Is everyone not sick and tired of the copy and paste "I hate motoblur" or "motoblur is a fail" troll rants. Ok, not everyone loves motoblur. But it's hardly a reason to disregard a phone. Of course, when the Bionic comes out, those same know-nothings will popup again to chant "but it has motoblur-- FAIL" !

Have had this phone since last Friday. My last device, and first smartphone was the Incredible. I like the size a lot. 4'' seems to be the ideal for me, I don't really want a 4.3 or 4.5 device in my pocket. I never really understood the 'cheap plasticy' feel people were talking about the DInc until I got this phone. Very solid feeling. I used HTC Sense for a little but but a majrority was using Launcher Pro. I lasted about a day and a half with Motoblur or whatever they're calling it and downloaded LP again. Blur seemed to be a little laggy for me and I wasn't a fan of the lighting changes when you swipe across different screens. LP seems faster, and I like customizing the dock, and it can be in landscape without the keyboard out. Battery life is noticeably better than the DInc, I have no qualms with the screen resolution, the keyboard took some getting used to (T9 and only portrait virtual keyboards in the past) but it's great. Slider definitely loosens up. Music player was significantly better on the DInc in my opinion, but I'll probably download a different player. I live in a big city and 4G service is still bad so I don't care that it's not LTE. Let's face it, everyone has an SD with all their music and pictures on it anyway and I don't care that one didn't come with it. Not a big camera/video guy but it looks sharp. Calls are probably the last thing I use a phone for these days and it seems adequate.

You can't add an SD card to this? Or does it not come with one in the box?

Nothing in the box, but you can put one in. I used the 32GB from my Thunderbolt.

What did you do with the Thunderbolt?

I ordered mine as soon as it was shipped. It's great so far :)

This is not the greatest phone ever. If you are looking for the greatest phone ever, please keep looking. These are the elements that are state of the art or cutting edge: +Dual core processor
+Global phone
+qHD display (pentile) with very low power consumption and excellent outdoor visibility
+16GB internal memory
+8MP rear camera
+Front facing camera
+1080p video recording
+HDMI mirroring
+Gingerbread 2.3.4
+The best physical keyboard available on a phone There are the elements that are not state of the art: -No 4G LTE
-No unlocked bootloader
-No AOSP
-No bundled SDcard
-512MB of RAM
-Excessive, unremoveable 3rd party applications
-No physical camera button
-Slight pixelation inherent in pentile display Note these pluses and minuses may not be important to you. If the pluses are a big deal to you, and the minuses are no big deal, then this is probably a good phone for you. The reverse applies as well.

These are the elements that are state of the art or cutting edge: +Dual core processor - (Possibly the ONLY Dual core from verizon with a physical kybd)
+Global phone - (nice)
+qHD display (pentile) with very low power consumption and excellent outdoor visibility - (Good to know)
+16GB internal memory - (Very nice)
+8MP rear camera - (coming from a 5mp camera it's an improvement)
+Front facing camera - (not as important)
+1080p video recording - (nice touch)
+HDMI mirroring (love this feature can link my music and videos through the TV)
+Gingerbread 2.3.4 - (Awesome)
+The best physical keyboard available on a phone - (Thus far the only 5-row physical keyboard out there, very nice) There are the elements that are not state of the art: -No 4G LTE - (Still too many areas without it, and there is always Wifi)
-No unlocked bootloader - (was a let down, but rumor has it in future updates they will remove it *shrugs*)
-No AOSP - (Not really a deal breaker, I can live with or without it.)
-No bundled SDcard - (Again would have been nice, but who doesn't have a SDcard by now? I have 2 8 and 16mb cards)
-512MB of RAM - (Seriously were you expecting 768 or 1GB for 3G)
-Excessive, unremoveable 3rd party applications
-No physical camera button - (Huge let down, well at least for me)
-Slight pixelation inherent in pentile display - (no comment) Note these pluses and minuses may not be important to you. If the pluses are a big deal to you, and the minuses are no big deal, then this is probably a good phone for you. The reverse applies as well. For me the pluses outweigh the minuses. Especially when some of the minuses are so minimal that just about anyone could and should be able to leave with. Once the phone is rooted it will take care of the AOSP problem if anyone really cares and it will get rid of the excessive boatware.

With the keyboard out you can press the "OK" key to take a pic. Not a dedicated camera button on the top, but a physical button none-the-less

(Thus far the only 5-row physical keyboard out there, very nice) The Epic has a 5-row keyboard and an EXCELLENT one at that.

Just because there isn't a physical SD card doesn't mean there isn't plenty of storage. If 16GB internal storage isn't enough, there IS a slot for a micro SD Card which can fit an additional 32GB on top of that 16GB. People don't seem to realize the storage offered is superb, even if it doesn't come with the $25 micro sd card.

I Benchmarked my Droid 3 when I received it last Friday. The Droid 3 pulled 2500+ in the Quadrant Benchmark, it pulled 58.5 FPS in Neocore, in Smart Bench 2011 it was tied or slightly ahead of my Samsung Galaxy S2, and it was between 44-45 MFLOPS. This is a BAD ASS QWERTY packing Android phone.

Also please check out this article on screen quality I think it may surprise a whole lot of people:
http://www.infosyncworld.com/reviews/cell-phones/top-5-big-screen-phones... I have no problems with the screen quality of my Droid X2 or my Droid 3.

TAKE A CLOSE LOOK AT THE SPECS OF THE INDUSTRY LEADING HTC EVO 3D ON SPRINT AND COMPARE TO THE MOTOROLA DROID 3 ON VERIZON AND ASK YOURSELF WHICH IS TRULY CUTTING EDGE IT'S 2011 FOLKS... SIZE Dimensions
126 x 65 x 12.1 mm
Weight
170 g
DISPLAY Type
3D LCD capacitive touchscreen, 16M colors
Size
540 x 960 pixels, 4.3 inches
- Multi-touch input method
- Touch-sensitive controls
- Accelerometer sensor for UI auto-rotate
- Proximity sensor for auto turn-off
- Gyro sensor
- HTC Sense UI
SOUND Alert types
Vibration, MP3, WAV ringtones
Loudspeaker
Yes
3.5mm jack
Yes- SRS virtual surround sound (via wired headphones) And they sound great. MEMORY Phonebook
Practically unlimited entries and fields, Photocall
Call records
Practically unlimited
Internal
1 GB storage, 1 GB RAM
Card slot
8gb microSD in box , up to 32GB
WIMAX, 14.4 Mbps; WIMAX, 5.76 Mbps
WLAN
Wi-Fi 802.11 b/g/n, DLNA, Wi-Fi hotspot
Bluetooth
Yes, v3.0 with A2DP, EDR
Infrared port
No
USB
Yes, microUSB (MHL) v2.0
CAMERA Primary
5 MP, 2560х1920 pixels, autofocus, dual-LED flash
Features
Stereoscopic photos (2 MP only) & videos; geo-tagging
Video
Yes, 720p@30fps (2D), 720p@30fps (3D)
Secondary
Yes, 1.3 MP
FEATURES OS
Android OS, v2.3.3 (Gingerbread)
CPU
1.2 GHz dual-core processor, Adreno 220 GPU, Qualcomm MSM8660 chipset
Messaging
SMS(threaded view), MMS, Email, Push Email, IM
Browser
HTML
Radio
Stereo FM radio with RDS
Games
Yes Spiderman and Green Hornet movie installed
Colors
Black
GPS
Yes, with A-GPS support
Java
Yes, via Java MIDP emulator
- Active noise cancellation with dedicated mic
- TV-out (via MHL A/V link)
- Digital compass
- Google Search, Maps, Gmail
- YouTube, Google Talk, Google Voice integration,Picasa integration, Qik video chat
- MP3/AAC+/WAV/WMA player
- MP4/Xvid/H.263/H.264/WMV player
- Facebook, Flickr, Twitter applications
- Organizer
- Document viewer/editor
- Voice memo/dial/commands
- Predictive text input
BATTERY: Standard battery, Li-Ion 1730 mAh
Stand-by
/ Up to 620 h (3G)
Talk time
Up to 9 h 20 min (3G) / Up to 7 h 45 min (4G)

Stupid 3D gimmicky crap aside, that is a really super-hot phone. If it was on Verizon, it would be big news. But it's on Sprint. When you're up the sh*t creek, it isn't much comfort that you're on a yacht... it still stinks.

No one said that the Droid 3 was cutting edge. Sure the Evo 3D is probably a whole lot better than the Droid 3 but thats comparing apple to oranges. The Droid 3 is on Verizon, the Evo 3D is on Sprint. The Droid 3 is for users who don't really care about the specs of a phone and just want a nice physical keyboard, the Evo 3D is for the power users who do want the best specs out there. Different strokes for different folks man.

Sprint will always have the best devices at AFFORDABLE PRICES and people on anyother network plainly are fooling themselves if they are not on sprint by now.

ok i have use slurr in all its forms and revisions and im still in love with stock. my beef is not with blurr so much as with uncle googs. i feel mr moto makes great hardware even in the razar days but software is lacking but thats ok to each its own. for my hard earned money i just want stock and a keyboard and up to date specs but its in short supply when u consider how many android phones are in the world today. now my beef with uncle googs where is the support for the end users that love your products and your wonderful ui? clean,crisp,fluid,vanilla,stock ui? that dont wanna root or have never used a launcher? where is the support or love for us that early adopted the G1 and og Droid because it was pure and had a keyboard? where is our freedom from skins and carrier bloat? i know you got the nexus line but they dont come with keyboards. i would never root stock the only reason i did was the og Droid would never see a gingerbread update(btw was extremely difficult,folks rooting doesnt always go smooth)by you or vrz. thats why im upset about the new trend because everything that made android so anti icrap is disappearing. but look at us for a change we are all tied in to all google products(waiting on a google+ invite star2k2@gmail.com)tablets and such to only get overlooked for believing in the pure google experience. take a look at us the ones thats champion ur pure product over sense,touch wiz,blurr(motorola application platform), the true faithful that feel stock is flawless,sexy,free of lag(be honest it takes oems a months to get there skins to work on android updates)fluid. the reason i left tmo for vrz was becuase of android not because of service and definitely not because of pricing. i broke my contract with tmo to get my hands on the next android to slap icrap and brought many family,friends,co workers along for the ride only to be slapped with skins(many of my android selling or talking points only deal with pure google things not how skins make android better. FAIL!) and bloat. so where is the love or the selling points from the i dont ads? keyboard, micro sd, vanilla android,color notification leds? so yes im am little sensitive because after 3 years of waving the android banner,converting the minions,and sticking up for android from a wave of attacks from icrap fans i cant pay for the android phone i want. wow! every phone site swears icrap is the utmost standard all smart phones should be judged by and for all my arguments uncle googs is sort of ditching me leaving me in the cold with all the things that made android stand on its own now it seems like a keyboard and stock android is for mid to low range phones. so ill run my og into the ground and when my contract is up i hope there is an worthy option or i might have to give into the other platforms. its a shame too because many people dont care about whats at the core of all android phones they just want a droid lol(not knowing that that means only vrz). and lets all be honest there has never been another time in history were a gadget was so widely used for everything like in todays world. hell my og droid is my daily planner keeps my apts,keeps all my media,tells me the weather,keeps all my people contacts, all social networks,and when i turn the screen off before bed its my alarm clock. yes i love how stock android looks in dock mode at least in a landscape dock.

This phone is very tempting for me , loved, my D1 and after going to the DX I honestly miss having a physical keyboard. The bloat isn't too it of a deal breaker for me as I usually install GoLauncher or LauncherPro or something. I can hide the bloat. But might use that blacklist on apps that I would not use. The thing that really is the option that would have had me at the store right now trying to get one is the 4G that omission is going to be the main factor for me at least waiting for the bionic. ( I'd consider the thunderbolt but dual core is the way to go) its a pity that Moto and Verizon had to have their way with the Droid line. The OG Droid was perhaps a simpler phone but it was that simplicity that made it way better. oh BTW anyone else notice, this has the TV style screen lock animation? Its pretty early on, but its there. That was one of the things omitted from the DX's gingerbread update.

I love Android, but I honestly think there are too many fan-boys out there that demand everything to be well... TOO much. Yes there are people out there that use there phones for takes that require 4G speeds or giant 4.3+" screens. Okay so you don't like Blur, or Sense, or TouchWiz, that is all fine, but I'm telling you this is a wonderful device, so what if it isn't 3D, honestly 3D is just a gimmick to get more money out of consumers that need to be up to date. I love this phone it's speed is great, it's graphic quality is great, and it's overall friendly usability is outstanding. I recommend this phone to any ORDINARY phone consumer that needs a multitasking capable device at an affordable price.
Android Central Newsletter
Get the best of Android Central in in your inbox, every day!
Thank you for signing up to Android Central. You will receive a verification email shortly.
There was a problem. Please refresh the page and try again.