OK Google, make a hands-free call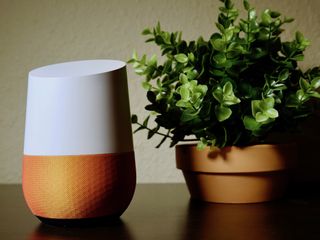 One big missing feature from Google Home when it launched was the ability to make phone calls with the device. Google promised a whole slew of new features at this year's I/O developer conference, one of which was the ability to make hands-free calls. That feature has now started rolling out to users.
Redditor andybaseclef shared a video of him calling the Alamo Drafthouse movie theater using his Google Home. The LED lights on top of the device lit up just like any other action, and the call went through. He was also able to say "OK Google, hang up" to end the call. Google has said the feature will available to users in the U.S. and Canada to start.
Has hands-free calling started working on your Google Home? Let us know down below!
Android Central Newsletter
Get instant access to breaking news, the hottest reviews, great deals and helpful tips
Not yet on my launch-day GH.

Would really like it if they implement notifying of incoming calls to Google Voice / FI numbers and answering them.

Just got home and it works. My call came in as "restricted" to the person I was calling, not my GV number, so I'll have to look into that. But the call worked fine, caller and I could hear each other fine as I walked around the room. It seems to be restricted to a single Google Home in that I walked upstairs to where I have a 2nd one and it was not also "on the call".

I needed to go into home app and select GV for calls. Now my GV # is shown to the caller. Still no luck getting the call to come in across more than one google home or casting to another during call.

I live alone so this will be very useful and convenient. Hopefully you can place a call on all units like you can cast music to all units. Less useful if you are tethered to just one device/room.

I just tried it and the call was only active on one of my Google Home devices. I'm still playing around with it though, so maybe I should have tried sending the call to my "all" group or initiating it by "Hey Google, call xxxx from all".

Cool, I'm home right now but it's early. Trying to think who I can test call now without having them swear at me :)

How does this work? Does it use your phone #? Do I have to set it up in the app?

Looks like outgoing calls will show up as coming from an unlisted number, unless you are a GV or Fi user, in which case you can link your Voice/Fi number to the Google Home, and then you will show up as usual on caller ID.

I think Google said it will link to your phone number so that it will show your number on the phone of the person you're calling. It should also support multiple users, so it will know the difference between me and my wife making a call, and show the correct phone number.

At this time it will ONLY link to your Google Fi or Google Voice number. But they are working on adding the ability to add your cell number.

I just noticed I have the option for Calls in Settings in the app. Not home to try it yet but it allowed me to connect to my Google Voice phone number. Anxious to see how well this works!

I will have to try when I get home.

I can see the value of a phone-free service, but I would have preferred a wifi tether to my smartphone (similar to Apple's Continuity feature), which would also enable incoming calls to be played over the speaker. I'm jealous of my brother-in-law every time he picks up a call from his Mac or iPad while his iPhone sits in another room.

Not working on mine even after a reboot and made sure calling was set/seen on the home app.

Doesn't work on my Home either. I even added my GV number to for the caller ID.

With the Google Home when I say call mom it just knows my mom versus when my wife it knows her mom and then my kids it knows my wife. It just knows and something the Echo can just NOT do for anything. I purchased my Echo in late 2014 and now had it almost 3 years and it still can NOT do this! What gives? Google Home has only been out 6 months and already has far more functionality. But all of this is rather moot. The HUGE issue is the Echo still requires commands versus the Google Home you just talk naturally. Really everything else is insignificant. At it's core the Echo is flawed compared to the Google Home. The fact the Echo requires commands is why it never integrated in our home and the Google Home is well integrated. I was motivated to sit down and memorize the Echo commands but my family never was.

The function is working on mine, but it says it I need to set up the permissions in the google home app. Any idea where that is? I looked last night with no luck. Now at work so can't play with it (Google Home) until I get home.

Can't wait to use this feature
Android Central Newsletter
Get instant access to breaking news, the hottest reviews, great deals and helpful tips
Thank you for signing up to Android Central. You will receive a verification email shortly.
There was a problem. Please refresh the page and try again.