Hands and eyes on native Android TV in the Sharp Aquos LC-70UE30U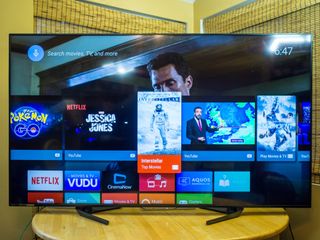 One of the more interesting aspects of the predecessor to Android TV (you remember Google TV, right?) was the few situations where it was baked right in to the television. Having access to the web no matter what input you were on, including the streaming apps that followed, had a lot of positive elements to it. While Android TV in set-top box form is cool, there's a lot of potential to be found in making this platform the base OS for any Smart TV.
To confirm these suspicions, we're taking a look at the Sharp Aquos LC-70UE30U. It's a 70-inch 4K TV running Android TV as the primary OS. Before we get too far into out thoughts on native Android TV, here's a few quick thoughts on the TV itself.
Sharp's panel seems a little dark and a little cold out of the box, compared to what I am used to but those things can be adjusted to preference and I am far from an expert on TV panel quality.
4K can be very cool, but there's still not enough content out there to justify rushing out and upgrading your set. It's nice when available, but far from necessary yet.
Streaming 4K is damn cool if your connection can support it.
WiFi and Ethernet built into a TV is great. Options are important, especially when streaming 4K.
The remote control Sharp includes with this set is embarrassingly bad. It's a big, ugly monster with none of the features that typically complement an Android TV box.
With that out of the way, lets talk about Android TV.
Sharp has placed a quad-core processor with less than 16GB of internal storage accessible to the user, and while that's more than enough for streaming video it's not hard to get this setup to struggle when playing games. It's clearly not running an Nvidia Shield TV under that glass, and while that's probably fine for folks who just want a Smart TV it's an important distinction to make when picking up a gamepad. This setup really isn't much for games.
When the core OS for your Smart TV is Android TV, you gain a few extra buttons. For starters, Android TV adds a row of icons for switching inputs, including a quick way to access those inputs and a setting for labeling the inputs with a few generic options. There's no way to use your own text to label an input, which is kind of a bummer, but you can use some generic labels to help out. Switching inputs from the remote works the same way you'd expect every TV to behave, but when you get to that input you still have access to all of the Android TV features. You can press the Home key on the remote or on your Android TV app, and have access to the full Android TV interface.
The most important part of this particular input experience is access to Google Cast from every input, and you can do so without leaving whatever it is you are doing. In a game, for example, you can pause your current activity, launch a cast from your phone or tablet, and when the cast connection disconnects you are immediately returned to the activity on that input. If you frequently cast things, this feature nearly justifies having Android TV baked into a television on its own.
It's probably a little generous to say this television is only running Android TV. Sharp does a decent job hiding it at first boot and when you're changing inputs through the primary interface, but the things that control the actual television leave Google's Leanback UI and move in to Sharp's interface. The end result is a confusing combination of interfaces that don't play nice with one another. If you press the physical input key on the side of the television, for example, Sharp's interface takes over instead of the Android TV input interface.
If you want to change things about the display itself, you're doing so through the Sharp interface and then returning to Android TV when you're done. The only indication that these Sharp settings exists at all in Android TV is though a "Jump to TV Setup" icon at the bottom of Settings, and at the same time Sharp's UI doesn't seem to communicate with Android TV at all. They exist side by side, but don't talk to one another at all. While it's easy for someone who has used Android TV already to get around and recognize the boundaries in software, it's not hard to see new users getting easily confused by how different everything looks from one set of key presses to the other.
While Sharp's implementation is far from the best Android TV experience out there, it's not hard from this example to see where Google draws the line for functionality. Sharp's software takes over in places where Google's software lacks the mechanism to interact with that function. Some of that is overlap, like when dealing with the physical input button on the side of the screen, but some of it is Google not being ready for Android TV to be the only thing telling a TV what to do. Things like brightness controls, color presets for different activity modes, and the kind of basic parental controls that have been standard in televisions for a couple of years now don't exist in the Android TV interface yet.
What Google and Sharp have demonstrated with this television is a solid step forward for Android TV. Casting from any input is awesome, having Google's Leanback UI as the default for the television is great, and with the grip Google is maintaining on software with this generation there's a lot less concern over software updates than the last generation of Google TV sets. It's a great first step to be sure, but after using it for a week it's clear there needs to be a few more steps before this setup appeals to more than just the Android faithful.
Leaving the Nvidia Shield TV behind for a week to explore this setup didn't cause an overwhelming desire to throw down cash for Sharp's 4K TV, but instead raised some questions about what a Smart TV built 100% from the ground up with Android TV in mind would look like.
Get the Android Central Newsletter
Instant access to breaking news, the hottest reviews, great deals and helpful tips.