GSM Moto X Developer Edition now for sale, same $649 price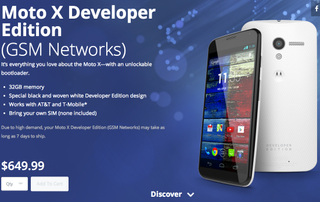 Although the product page went live alongside the Verizon edition earlier this week, those wanting an unlocked GSM version of the Moto X Developer Edition can finally place an order tonight. Just like that Verizon version you're getting a special color scheme of a white "woven" back and black front, along with 32GB of on-board storage and a special "Developer Edition" inscription on the back.
The full deal will set you back $649.99 and has all of the appropriate bands to work on AT&T, T-Mobile and various other GSM networks at home and abroad. It was a bit of a pain to see the page live without an actual "add to cart" button before, so we're glad its finally available.
Source: Motorola (opens in new tab)
Andrew was an Executive Editor, U.S. at Android Central between 2012 and 2020.
woohoo! lots of folks waiting for that announcement, thanks Martonik!

It wasn't built by Chinese slaves this time. But maybe it could be $100-150 cheaper,

...Ahemmm, you mean " Indentured servants"...

Super over pice for this phone. Full HD screen used. I will not go back to 720p.

On a 4.7" screen...you don't need anything greater than 720p when it's RGB stripe. 1080p is so over rated.

MID-RANGE specs for TOP DOLLAR$$$...? The upcoming NEXUS 5 will be half the price of this phone with WAY-BETTER specs...

Confirmation on either of those claims?
Didn't think so.

Hmm. No picture. Just a troll. Posted via Android Central App

Pahaha $649. Nice try. Posted via Android Central App

Really? It costs less than the iPhone 5S and the GS4, both of which are inferior in most ways to the Moto X.

It's the same price as those, but with more storage. If you don't need more than 16GB of storage, there's no option for a cheaper model.

No LTE band either. Just outright buy the phone from AT&T (or whoever) for like $550, and bet on the come for a full unlocked boot loader.

Its on par with the 5S and inferior to the SGS4.

In your opinion of course. :-) Posted via Android Central App

Please correct me if I'm wrong, but isn't the TMobile version capable of working on ATT? It is also unlockable too. So unless you need 32GB, or have to have the white/black color scheme, the TMobile version might be sufficient for most.

True but you have to pay full price for the tmo version of the phone. So basically you're in the same boat.

Yeah. I really almost ordered one. I have an att htc one I could unlock the bootloader on. Then the att Moto X I got I can't. So almost ordered this developer edition. Just not worth the price. That's 700 plus out the door. Take a hundred bucks off that price tag and I'd buy it. I'll wait for the new nexus. And then either the one max or the second generation one when it arrives next year. Posted via Android Central App

That's WAY too expensive for a mid range device, maybe $300

It's not a mid ranged phone IMO. It may have a dual core processor and a 720p display . But the software optimizations are awesome. Great features. Still over priced. Plus the contextual computing and natural language processing cores are near for the active notifications and touches control. Posted via Android Central App

@z0ph-I used to say this kind of crap before I actually used the x. Go look at all of the gs4, ONE and note 2 users who have switched to the x and let them tell you how mid range it is. Posted via Android Central App

Exactly. The x is awesome. Using it side by side with my one I like them equally for different reasons. I'm not generally into benchmarks however the X scored almost 19000 in AnTuTu Benchmark. Not bad. The new nexus 7 with a Quad core variant of the s4 pro scores around 20k. I realize there are several differences between the two but still. Impressive numbers from the x. It's a fantastic phone. Only complaint is the camera which the leaked 4.3 update seems to help according to most. Posted via Android Central App

iphone is still not worth $700 either.. so???

Yeah, I was gonna say, compare it to an iPhone and it's a steal. Posted via my thumb(s) and the Submit button

"they see me tRollin', TheY HateN, paTROLLIN'..." Posted via Android Central App

Haha, very well played, Sir!!! Posted via Android Central App

You aren't going to get any "midrange" device with the spec of this device for $300 unlocked, except from Chinese manufacturers, the closest is the Oppo R819 but even after importing and VAC it will cost more. The Nexus is only cheap because Google can subsidize it, other manufacturers can't do that. Don't hope for high end specs phones for $300 unlocked except Nexus, its not going to happen. Learn to pay money or stick with what you can afford.

I went to check the moto x out to see if I wanted to get a 32 GB model and bought a Lumia 1020 instead. I will give windows phone a spin to go with my androids. Posted from my bada$$ GT-I9505G

You just wanted that awesome camera. Posted via Android Central App

That's a good idea. Windows Phone has become pretty nice. I still wouldn't use it as my only device, but it's a great secondary device if you have room for one.

Don't get used to it getting better, Microsoft will muck it up somehow Posted via Android Central App

This! :) to an WP device to go with my S4 GPe and hopefully not "This" to MSFT mucking it up...

I like the Windows Phone OS, and I love the Nokia hardware, but the app store just isn't mature enough for me to give it a go yet.

This is exactly how I feel. Though, I still do see a Lumia 520 in my future. For the price (under $100 in some places), it can't be beat. Posted via Android Central App

Special color scheme and a special inscription on the back! Gotta get me one, lol v¡a ACapp njo¡!

Pricey... Posted via Android Central App

How? Costs less then the GS4 and iPhone 5S, and not much more than the HTC One.

People have become spoiled by the Nexus price point. The differences don't seem to be worth $300 extra to those folks, and I tend to agree.

On the Google Play Store the SGS4 I9505G sells for $650 which is the same price.

We this work in Europe? Posted via Android Central App

Paid $599 for g2 vzw best thing I ever did. Posted via Android Central App

The G2 has grown on me. It seems like a really nice device. I just can't get past that LG skin.

How is that the best thing you are now paying for a subsidy that you never got. Posted via Android Central App

I still think there's going to be a Moto X closer to Nexus pricing with the availability of customization. I think we are still riding out the exclusivity foolishness. The Nexus still has my main interest but the battery life on the Moto X makes this a strong contender for my next phone. Posted via Android Central App

Your breath, don't hold it Posted via Android Central App

Lol Posted via Android Central App

I agree with Kembry. This price is ridiculous and won't hold for long. Posted via Android Central App

This is the Moto X I'd want hands down. If I go non Nexus I kind of have my heart set on Z1 though. I don't think the X is mid range but the Z1 has everything I want in a high end phone. Posted via Android Central App

Finally but too late now. With the N5 leaks and it going through the FCC, those October 14th announcement date may be accurate and worth waiting for. Sorry Moto, I wanted one but you just came too late to this party. Posted via Android Central App

LTE on AT&T? Posted via Android Central App

Meh....better buy an iphone 5s for that price.

Does this have LTE capabilities ? Edit: Nvm I saw it does

I prefer my Nexus 4... Posted via Android Central App

All this hate over specs, price, and timing. And yet this will sell right out without any of your support. Keep hatin, if you must.

Yeah because like almost all developer editions they will make 5 of them and call it a sellout in 3 months or so Posted via your wifes, girlfriends phone

I'd probably buy one of these if I could customize with moto maker. I'm hoping the rumored price drop will come along with expansion of maker beyond AT&T--although by that time there will probably be the Nexus 5 with 8974 and the Moto X will feel like an ancient hunk of junk.
Android Central Newsletter
Get the best of Android Central in in your inbox, every day!
Thank you for signing up to Android Central. You will receive a verification email shortly.
There was a problem. Please refresh the page and try again.