Groupon offers a steal of a deal for 2012's Nexus 7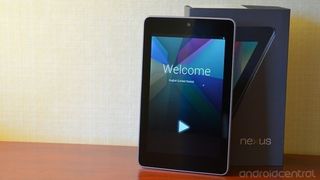 If you're interested in snagging the original Nexus 7 from Google, circa 2012, then Groupon has a deal for you for both the 16 GB and the 32 GB WiFi-only variants. The 16 GB is now selling for $119.99 on the deals site while the 32 GB edition is just a tad more for $124.99, which may be the better option for users. To sweeten the deal, the tablet comes bundled with a travel cover.
The Nexus 7 runs on a quad-core NVIDIA's Tegra 3 processor and comes with a 90-day parts and labor warranty.
Since it's release, Google has already updated the slate with newer hardware inside the 2013 Nexus 7, which is priced starting at $229 on the Play store. The flip cover itself costs an added $49.99 for this year's tablet through Google, bringing the total package price to $278.99.
If you want a solid tablet on the cheap, the O.G. Nexus 7 from last year may be a good value. Groupon says that there is only a "limited time remaining" to claim this deal.
Do you intend on picking up the original Nexus 7? At $125, the 2012 Nexus 7 may be a good companion for reading or watching Netflix or YouTube videos in bed.
Source: Groupon (opens in new tab)
For $10 more than the 16gb here you can get the 16GB 2013 at https://www.androidcentral.com/e?link=https2F2Fcli...

Came here to say this. 15 if you include shipping.

Exactly what I was going to say...

Thank you. I was about to be all over this because I've been meaning to get a Nexus tablet, but I'd much rather get the 2013 version.

Yawp. That one's listed in our daily post — along with a lot of other great stuff.

Hey Phil, maybe it's just me but those "top app, accessories, and deals" posts are kind of hard to read. I tend to skip them instead of wading through all the links. Just my thoughts. Thought I'd mention it to see if anyone else felt the same way.

Why are they hard to read?

I feel similarly. I think it is the boring bullet list of text in your face. I think adding images (for the best of the best deals) can help to grab the eye.
Lifehacker/Gizmodo/Etc had a similar format to the current AC format, but recently have jumped to this: http://lifehacker.com/recharge-your-batteries-make-your-own-soda-fly-a-q... The best of the best deals have an image associated with them. You can quickly scan and see "laptop" or "case" or "nexus" and it grabs your interest quicker. Just a thought... love the site!

Fair enough. Lemme see what I can do. :)

Very well explained. Better than I could have done.

Too much rational thought, positivity, and productivity in this thread. We better stop or the internets is going to implode.

I have to admit, when I see the post title "Top app, device and accessory sales for x/x/xx" my first reaction is to ignore it, thinking that it's referring to sales volumes and not sales/deals. Maybe I'm just working too hard...

Hahaha... Yup, sounds like your "work brain" is still running.

The original Nexus 7 is a pile of poop, especially at this price. Mine has been converted into a digital photo frame and it regularly shuts itself off or reboots. It also has an entire line of pixels out on the screen. I wouldn't buy another one at half this price.

I'm still trying to figure out how this is a "steal of a deal"...

I don't consider this to be a steal, although it is a decent price. Also this is refurbished. Something like the tab 3 which was $25 on clearance not too long ago would be a steal. If for some reason you were hard set on a Nexus 7, it was $50 not too long ago on clearance.

I picked up the 2012 nexus 7 right after the 2013 hit the shelves. They had it on clearance at Wal Mart for $99. Been using it for many months now. I keep seeing these deals for $119 and $129 and such everywhere long after I got mine. Guess I just happened to be at the right place at the right time. What a bargain!

I own the 2012 Nexus 7, and have had it since February of last year. It's has performed like a champ. No issues whatsoever. That is a pretty good deal for those on the fence. Posted from my Verizon Galaxy S III via Android Central App... And Don't Eat Yellow Snow!

You really shouldn't be recommending these when the 2013 model is that much better and has appeared at $110-130 very very many times in the past few months.

I paid 165 for my 2013 Nexus 7 Black Friday.who on earth would pay 120 for something 2 years old?
Android Central Newsletter
Get the best of Android Central in in your inbox, every day!
Thank you for signing up to Android Central. You will receive a verification email shortly.
There was a problem. Please refresh the page and try again.