Google's reportedly canceled its future tablets, now focusing on laptops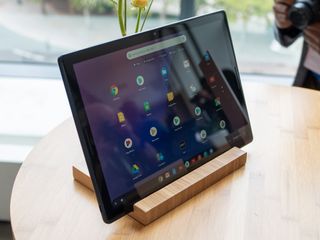 (Image credit: Android Central)
What you need to know
Google has reportedly stopped its plans for making tablets.
It's now focusing only on laptops.
Two smaller versions of the Pixel Slate were in the works.
Since Google ushered in its "Made by Google" brand in 2016 for the company's big focus on hardware, we've seen one laptop and one tablet released — the Pixelbook (opens in new tab) and Pixel Slate (opens in new tab). A few months ahead of when we're expecting Google to unveil its latest batch of hardware for 2019, a report's come out saying that Google has officially scrapped all of its plans to create tablets and is instead putting that effort toward just laptops.
Before we go any further, there are a couple of things to clarify:
None of Google's other hardware ventures are being canceled. The company's phones, smart home gadgets, etc. are all fine. Tablets are the only thing getting the ax.
Google's future laptops will still likely have touchscreens and 2-in-1 designs — just not fully detachable ones as we saw with the Pixel Slate.
This news comes from Computer World, according to which this was confirmed to them directly by a Google spokesperson.
As a result of this news, Google's apparently canceled two tablets that were in development. It's said that they were smaller than last year's Pixel Slate, but that's likely all we'll ever know about them. As for the laptop side of things:
Google will continue to keep the Pixel Slate updated through June 2024 as initially planned, but as far as we can tell, that'll be the last tablet we see from Google for a while.
Interestingly enough, this isn't the first time a report like this has come out. Back in March, it was reported that Google had taken employees that were working on laptop and tablet devices and moved them to new departments.
The Pixelbook is still widely regarded as one of the best Chromebooks you can buy, so it's exciting to hear that we should soon get a successor to it. The Pixel Slate, on the other hand, was met with mostly mixed reviews from critics and consumers alike. Google already stopped selling two versions of the Pixel Slate, so it'll be interesting to see if any other versions meet that same fate in light of this news.
Joe Maring was a Senior Editor for Android Central between 2017 and 2021. You can reach him on Twitter at @JoeMaring1.
While this is dissappointing, this is probably the best move until they really figure out how to deal with the tablet interface...on the flipside, they won't figure it out until they really try to make a great tablet. Personally, I was hoping for an 7 - 8" tablet running Chrome OS. The Pixel C was a great device even if it was really heavy, the Nexus 7 was also great.... Google: figure out the tablet space so we I don't have to consider the iPad as my only real option going forward.

Google cancelled something? I refuse to believe this outrageous libel!

Hmmm...what does that mean for the future of Android on tablets? It's a well established fact that MANY Android apps don't function as well on Android Tablets as they do on IOS... Android Central is always hyping Android app compatibility on Chromebooks, however, I find the Play Store on Chromebook's to be "wonky" and that's being kind.

"Survive together" Google and Microsoft should team up to make a proper iPad competitor. Seeing as how they struggle to do it on their own

It works well for Surface. One of the only brands in the market with an actual usefulness and market growth. Sure in volume it's lower than iPad, but it's also for a different audience.

That's too bad, I think the pixel slate really could have been successful if they had fixed all the issues and given it a more competitive price. I absolutely love my pixelbook, so I'm glad that's fine for now.

Exactly. At the same price point as an iPad Pro, or a Surface Pro, why would someone opt for pixel slate? I mean, I can see reasons for it in specific cases. But, for the average user? Either of the other two options would be a better product for the same price.

This is why I'm not buying stadia and why I hesitate every time google announces a new product. They just don't commit to their products for the long-term. I have a feeling that if the pixel line doesn't start selling better in the near future they'll abandon that too.

The products that get cancelled are complete failures. That's why they stop committing to them. Google believes without any support for that belief, that people want to use an operating system other than windows or Mac or Linux. No one wants that. It's like a startup company experimenting with new products and seeing what works, which is ridiculous. They need to research the market better to see if anyone wants half the projects they work on BEFORE they launch them.

Which tablet people recommend now? Wanna buy for my dad to watch YouTube. Would be nice to have decent battery, speakers, and large screen

If you want Android I'd go with any Samsung but if you just want it for youtube I'd go with an iPad. Let's face it, the support that Apple gives to its devices is still unmatched by any Android manufacturer.

Probably Samsung then, I haven't used apple for over a decade

Go to Swappa and get a Samsung tablet. Or wait until the fall holiday sales and get a Samsung.

Surprise surprise! Google killing hardware and letting down whoever still believes that Google is a hardware company.

Tablet os. Take a beat and follow Apple...

Here's my ranking of the best Android Tablets:
1. Nexus 7 2013: I still use this to this nearly every day, albeit with Magisk and FrancoKernel - it still works very well and is my favorite Nexus/Pixel tablet
2. HP TouchPad: Not an official Android tablet, but this ran CyanogenMod KitKat (4.4.4) better than many native Android tablets (and also dual-booted webOS 3.0.5, of course)
3. Nexus 10: Good hardware for its time, but needs alternative ROMs to perform at its best (LineageOS 14.1, based on Nougat 7.1.2 works really well - unofficial LineagOS 15.1 based on Oreo 8.1.0 is not stable enough yet)
4. Nook Color: Another unofficial Android tablet, but it ran CyanogenMod 7.2.0 (Gingerbread 2.3.7) perfectly
5. Motorola Xoom: This was a great tablet for its time but too expensive for its performance and features; Honeycomb 3.2.5 really was the best large tablet UI Google ever designed...
6. Nexus 9: This should have been a great tablet based on its specs, but in reality this thing never performed well and suffered from poor hardware quality - I sold it after Lollipop 5.1.1 and Marshmallow 6.0.1 results in worse performance...
7. Nexus 7 2012: Strange how the 2013 is my favorite Android tablet and the 2012 model is my least favorite - this thing was a dog for several reasons (tried Jellybean 4.3, KitKat 4.4.4 and Lollipop 5.1.1:
a. eMMC storage used was too slow and degraded rapidly (probably the most egregious issue, in my opinion)
b. Tegra 3 was not powerful enough for gaming
c. 1GB RAM was insufficient for multi-tasking
d. 216 ppi display was noticeably blurry, and contrast was poor
e. no 5GHz WiFi support
f. too heavy for its size (340g/12oz)
g. no rear camera (sometimes when video-chatting a rear-facing camera is useful)

Frustrating I have a huawei tablet and love it they must sell well otherwise they wouldn't sell them. I just wished Google put as much effort behind them as they have with pixelbooks. I like the tablet form and I know I'm not the only one so much better for consuming media
Android Central Newsletter
Thank you for signing up to Android Central. You will receive a verification email shortly.
There was a problem. Please refresh the page and try again.