Google's Instant Apps rolling out to some and Wish is first out of the gate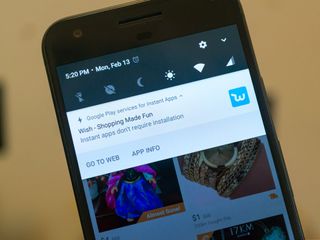 Some folks are starting to see Google's Instant Apps feature roll out to their phones and it seems like Wish (opens in new tab) is the first company to use them.
Back at Google I/O 2016 Google told us about Instant Apps. The idea is that you would find an app in your Google search results and be able to tap a button and start using it, much the same way you would use a web page. They are "real" apps with a component that installs on your phone and not a web-optimized or HTML5 app that lives completely in the cloud. This should be a great way for companies to expose people to what they have to offer from a native app without having to get us to leave the search and open the Play Store to download it. For us, it means we can get instant access to something like a shopping app instead of using a web page that might not be designed for a small touch-based screen. Everyone wins.
Up until now, everything about Instant Apps has been in a slow testing phase while everyone outside just watches. But we've heard several reports from folks saying they can install and use the Wish instant app on their phones with Android 7.0 installed. We're seeing the same thing here, and our pals at Audroid are, too. This is what the process is like.
Image 1 of 3
Open your settings and find Google Settings.
Find the Instant Apps setting and tap the switch to enable it.
Read the terms and agree.
Now when you're searching for something (in this case the Wish website) you might see a search result for an Instant App version. If you open it, you'll be able to install a tiny part of the app and jump right in.
Shopping sites and news websites will be able to benefit from these, and other companies are thinking about how they can leverage giving a user access without taking them away from their search. The idea is pretty cool, and we're excited to see how companies use it to lure us to them.
Anyone else out there seeing Instant Apps? Give a shout in the comments!
Senior Editor — Google Ecosystem
Jerry is an amateur woodworker and struggling shade tree mechanic. There's nothing he can't take apart, but many things he can't reassemble. You'll find him writing and speaking his loud opinion on Android Central and occasionally on Twitter.
I hope you always have to proactively choose to install the app, and that they can't be installed without your proactive action. Even so, this sounds like the ideal malware introduction channel. Route your browser to a clone website, get the user to click on the app button, and voila, instantly pwned.

Fake news, everything will be wonderful!

And I'm quite sure no one at Google could have possibly thought up this scenario so they took no steps to prevent it.

These apps are severely limited in scope. It would be much easier to build a regular app and upload it to Google Play using creative ways to say "this app doesn't really send you where you think it will, but it's totally cool and you're not going to read this anyway" in the description The bigger problem is the fake website needs to get around Google's Safe Browsing initiative that Safari, Chrome, and Firefox (and every browser that uses their respective engines, which is almost every single one not made by Microsoft) use to warn or block users before they get to a site that's "dangerous".

Meyerweb, that was my first thought, too. So, now you get people in the habit of clicking "install" every time without thought. What could go wrong?

Guess I will be jumping to an iphone after 7+ years on Android. They way Google et al curate their app stores, I will never put up with that.

Or you could just not enable the Instant App setting that defaults to disabled. But buying an iPhone is an option too.

Why do that when you can make an uninformed comment?

"Back at Google I/O 2017 Google told us about Instant Apps" I think you mean Google I/O 2016.

I have a time machine :P (fixed)

I guess I live in the future cos that event was actually held in the past... *smiles*

FYI, the instant apps aren't installed. They just give you the option to open the instant app or defer to the mobile site instead.

Pixel owner here. Google offered me to opt in to (or out of) instant apps. The way I read it, it does not install the app (permanently), but gives you the app view instead of the web view.

They install a few small components and some application data when you tap to open one. It doesn't install the app in the traditional sense, but does place things on your phone which require you to opt in. I don't see any lasting effect here if you go into the settings and delete the associated data.

I missed the part about security.
What can this app view read on a device?
Google id and more? Surely they'll have to access something. Google doesn't do anything for free and if it's not an app accessing contacts or memory cards or or or, there has to be something else it's reading/accessing.

Unique IDs are one of the things explicitly blocked. An instant app uses regular APIs, but has access to a very small set. And it follows the same permission model as any other app so in order to access any data it did not write itself you need to authorize it. Google does it to keep people in the search app. Companies will use it because it's a way to get more people to look at what they are offering.

here you go: https://developer.android.com/topic/instant-apps/prepare.html , 6th point in particular.

This is just plain dumb for so many obvious reasons

Why don't you lay them out?

The idea is pretty stupid, and I am not excited to see how companies use it.

7.0 Nougat only I guess I can't wait for Nougat!

you should have got a pixel or nexus in the first place rather than waiting

I'm very excited about this finally launching. As a professional Android app developer this fits very well with some things I want to achieve that just aren't possible on the web. NFC and Bluetooth transactions for example. This will hopefully further bridge the gap between website and native app

Don't see this on my LG V20

Really Interesting! I am excited to see developments like this and PWA's harnessing the power of the web. Looking forward to watching how this continues to progress.

I like the idea, but personally Adoptive Storage that goes back to at least Lollipop (5.x) is a better idea. Without it, Instant Apps will ultimately have the space limitations of most entry-level phones that aren't essentially late 2016 vintage. Disclaimer, that includes my K7, good phone, horrible OS, a worse network that lies about Marshmallow upgrade, despite the phone being able to handle it.

No mention of the fact that, at Google I/O 2016, they mentioned it would be backward compatible to 4.1 JB? Limiting it to 7.x seems strange.

I'm thinking they are being very limiting during this "testing" phase.

Oh boy. This will surely save me a handful of seconds the two or three times a year I open a search result that would be better in an app instead of simply going straight to that app from the start.

I'm not seeing it yet. I have the Galaxy 7 Edge. 😭

Alo has had this since release date.
Android Central Newsletter
Get the best of Android Central in in your inbox, every day!
Thank you for signing up to Android Central. You will receive a verification email shortly.
There was a problem. Please refresh the page and try again.