Google will reportedly announce a Pixel smartwatch alongside the Pixel 3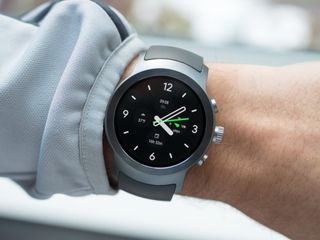 Just like the past two years, we're expecting Google to host a press event this fall to talk about its latest and greatest hardware. We're already expecting to see a Pixel 3 this year, but a new report suggests we'll get a couple of other welcome announcements alongside it.
According to Evan Blass, Google will also use its hardware event to announce a second-generation version of its Pixel Buds and a Wear OS smartwatch with Pixel branding. We don't have any specifics on these products, but that won't stop me from speculating.
For the new Pixel Buds, I imagine Google will adopt a truly wire-free design like we see with the AirPods and Gear IconX. This form factor is only getting more popular as time goes on, and it just makes sense for Google to head in this direction.
As for the smartwatch, this will hopefully help to get Wear OS out of the rut it's currently in. Smartwatches are tricky, and Google's going to have to find a balance of offering enough features in a gadget that looks good on male and female wrists while keeping the price reasonable. Qualcomm recently teased that it's developing an all-new smartwatch processor that'll "significantly change the Wear OS ecosystem" and said that it'll be debuting with a "lead smartwatch" before the holiday season. In other words, this is more than likely the year of the Pixel Watch we've been waiting for.
Google still hasn't announced a date for its fall event, but seeing as how it's occurred on October 4 for the past two years, I'd say early October is a safe bet.
What are you hoping to see from the Pixel Watch?
Android Wear needs way more than just a Wear OS rebrand
Joe Maring was a Senior Editor for Android Central between 2017 and 2021. You can reach him on Twitter at @JoeMaring1.
Looks like I'm getting my first smartwatch

What if it's ugly? What if it looked like Mickey Mouse and goofy had a love child? What if ...

It's a Pixel.
Will look like a Apple watch.

I hope the Pixel Watch ends up being an interesting, quality device. As it stands now, once I get tired of my Huawei Watch 2, I won't be getting a new WearOS device.

Put Tizen on it and I'll be interested

"a joke"? No, have you not seen or heard of Samsung's Gear watches? They're the most popular non Apple watches

That accolade would actually go to Fitbit.

Why? What' so transformative about Tizen?

I find it very clean and smooth and easier to have on my wrist. And coupled with the Gear watch's rotating bezel is just perfect. Wear OS just feels like it tries too hard, and tries to do too much.

I had both (still have my gear) and Samsung's watch beats every Android smart watch!

I'm not inclined to wear a watch at all, but a good Wear OS watch would welcome...

That is exactly how I feel. Going from a Gear watch to Wear OS is actually painful.

I have two Android watches and a Samsung Gear S3. I'm wearing the Samsung Gear S3 right now :-). Its better that the Android Wear watches in every way. Samsung Pay alone is reason to buy the Gear S3. I don't even have a Samsung phone any longer but I love my Gear.

Put Google Maps and Google assistant on Tizen then we might be interested. S-Voice and Here Maps? No thanks

Agreed but I don't use either... if I want maps I'm not going to look at them on a watch, nor am I going to talk into my watch

Every once in a while, my Gear S3 thinks I did something to invoke S-Voice and it talks to me. I've got to say that the voice is so bad, its almost embarrassing. Still, as you said, I don't really want to use it so its not a big issue for me.

If it is the first watch to have Qualcomm's new Wear chipset, I'll buy it. Otherwise, I'll wait for whatever device features that.

I think you'd be foolish to buy a watch from Google.

Why? Google makes great products.

Doubt the screen will be clear enough to see it

Why...Google makes a great phone and you know if they are going to make a watch it will be great.

Sounds really interesting
Not sure if I'd stop using my gear s3 and get a pixel watch, but certainly something I would love to see

We'll see. My Gear S2 is getting pretty long in the tooth, but honestly, if I'm going to buy another smartwatch, it's going to have to do more. I'm not exactly sure what that is, but the smartwatch experience has been rather meh for me.

I still have my S2 watch and wear it just about every day and it's as good as the day I got it. I haven't been compelled to upgrade to anything else yet

As long as if it's not total trash then I might bite. I also love using Samsung Pay on my Gear S3. If Google can somehow license that technology that would be perfect.

I thought the Samsung Gear S3 only used NFC, and not the mag stripe beaming technology that the Galaxy phones use? I think Android Wear supports Google Pay/ Android Pay. But the watch must have the NFC hardware.

The Gear S3 supports MST (mag stripe) payments via Samsung Pay. It is the only smart watch that does. And it's frickin awesome. (Source: I own one)

i don't think a pixel watch will pull me away from my fitbit versa to be honest. i've been loving this little guy

Leaning toward making the Versa my first wearable... good to hear you like it

1st version of anything from Alphabet/Google is always half ass. As usually the 2nd also. But will be interesting to see

I had zero issues with Pixel XL. Pixel 2 was the **** show.

I've been using a Pixel 2 XL for about 6 months, and haven't had any problems. I love the phone The screen issue was way overblown in the tech media. That being said, Google should've added the more saturated color modes from the beginning.

Still have my Pixel XL and the camera was a huge success for v1 and still one of the best phone cameras out there.

Finally. If this is true. I've been holding out hope that Google will release a Pixel watch as a Pixel watch is the only smart watch I'm interested along with a Pixel phone (2 XL).

Beno51079 the Pixel2 is already cheap what are you waiting for the phone to be free in a few months the new one would be coming out

I'm a long suffering supporter of Wear OS. It hasn't ever been perfect but it is so far, far from the turkey people make it out to be and it often "Just Works." What I want to see:
Health Tracking improvements on par or better than Apple Watch and Fitbit.
Sleep Tracking
Faster CPU (which it looks like we'll get)
At least 2 Day Battery Life (My Huawei Watch 2 Classic gets two SOLID day for me, especially since it got Oreo)

My wife has the Fitbit and an Apple Watch series 3. The Apple Watch destroys the Fitbit in every aspect she says.

Since my current smartwatch is a ZTE watch, I guess I'll be in the market for a new one soon. I'll for sure use something from Google.

It will be DOA without the new Qualcomm chipset. Even if it comes with an all new version of Wear OS, that terrible old chipset would be a showstopper for anyone serious about buying a new high end smartwatch. And you know if it's Pixel branded it will come with a high end price tag.

A "showstopper" is actually a positive thing, but we get it...

Good! Right now, I think there are only two Wear OS watches worth considering. The Huawei 2 and the TicWatch E. Neither are anywhere close to what they could be for their respective price range because of the lousy infrastructure Google has saddled them with. Also, right now, the best OS for Android phones is Tizen. That's a sad state of affairs.

Hopefully, Google doesn't do anything dumb like include a Flat Tire Notch™

A pixel smart watch? count me in :)

I'll buy it if it gives me the same features and sensors the Apple watch LTE has. All other watches have some of the features but nine have them all in one package on the Wear OS side.

I'll wait and see. My vivoactive HR has been doing a fine job for now. I generally only have to charge once a week. It would be nice to be able to load music on it (no streaming, to save battery). I don't care to have a map on my wrist, as there simply isn't enough screen space to make that worth the trouble.

Looks like finally something I can have with my Android phone. Everytime I use iPhone X it's so awesome to use my Apple watch with it. Miss it with my Android phones. Current wear OS watches suck partly because of no new snapdragon chip which will change with the Pixel smart watch. And no I'm not interested in the the gear watch (it's great) but tizen is not for me even on the watch.

If it has Google Pay I'm in. If the only way to get Google Pay is with an LTE model, please have Project Fi have a plan. Thanks.

While I agree that payments is one of the main use cases for a smart watch, Samsung Pay is sooooo much better than Google Pay.

*Samsung Pay is so much better IN THE US. Google Pay on my watch and phone and I'm a happy man

Good, and about time. The updated chipset is a must.

I'm actually excited about the next version of Earbuds - yes sir...

3-5 days battery life. Waterproof. Sturdy build. I am open to a square display, but would prefer round. Really, just remake the Moto 360 and go from there. That is perfect for men and women. Currently I am using the Huawei W2 Sport, and LG Style. Prefer the sport because of the sensors that the LG lacks. Plus battery life on the Huawei is a solid two days easy. Ohh, and a much improved health app that notifies of heartbeat irregularities.

I have 3 smartwatches, the Samsung Gear S1 (with a camera on the band), the LG R (first version, but with the most recent wear OS) and the Samsung Gear S3 Frontier (black). Both Samsung have a better interface that the LG, not only the software part, but Hardware also, you have a dial around the screen that let you navigate the menu, no need to use you big fingers to choose the wrong item. you have 2 (two) button to choose action, and you have an nfc and wifi that actually do something usefull.

I've needed a replacement for my Moto 360 2nd gen for a while!

Of course, unless they are actually investing resouece into Google Fit to go with this, it's going to be a non-starter. The market has decided that "smartwatches" are not a thing.

Very good point. Most smart watches as of late have been fitness related. I would still like to have a smartwatch on my wrist again... I miss my OG Pebble. But they've gotten awfully expensive lately. Can't justify a watch that costs as much as a cheap smartphone when they will both be obsolete in a couple years.

I got one then returned it (gear 3). I truly don't need it. Smartphone covers everything.

Hopefully they will call it Pixel Wear. The whole Android Wear line is losing its flavor, and if anything is supposed to revamp the line then calling it "Pixel Watch" is just going todraw comparisons to Apple Watch instead of refocusing g attention on Wear. But do what you like, Google, you've been really good at making really bad choices lately.

I'm still waiting for a smartwatch small enough to look good on a girl. But since this is Google, I assume it'll be practically identical to Apple. Sigh. :-(

The rose gold 38mm Apple Watch watch looks great on my wife wrist. She's a thin girl and it I must say, it looks better on her than her bulova.

Should have done that at the start. Android wear(Google) has ruined it for me with android smartwatches. Don't care for it anymore.

It should look at least as classy as the original Huawei Watch

Personally I'm hoping it's an improved iteration of LG's Watch Sport. It never got released here in the UK but I'd have snapped one up if it had. If I could have imagined an official Pixel watch then that would have been it

Ill stick with my Fossil Q hybrid for now. Was tempted by the gear 3, but is now a bit old with new version coming out soon So hopefully when that happens I can compare it to a new google smartwatch.
Will still keep the fossil, it looks awesome and I got a good deal on it ($149 AUD) compared to the gear 3 which still retails here for nearly $500AUD.

I think google has lost it's mojo.

I have been a Samsung/AT&T girl for a long time. I hate bloatware so I opted to purchase a Pixel 2 XL. It's great, when it actually connects and works as a phone! They really need to up their game as far as design, screen res because it is embarrassing when held up close to Apple (gag) or Samsung but mainly, I'm just worried about Google. Anyone else feel like they're slipping? If they do make a smartwatch, it needs to be a decent "phone" and "computer" but what I really want is for a smartwatch to track like Fitbit and look like my Gear S3. I'm fat and I feel like I would be highly motivated by getting a notification that states I only need 148 more steps this hour. That may sound crazy to others but it's really a need/want of mine. Also, just because you pay high dollar and create this stuff, that just doesn't equate to people being able to afford said stuff when it comes out. Prices need to be comparable or it's too easy for people like me to just go back to previous models.
Android Central Newsletter
Get the best of Android Central in in your inbox, every day!
Thank you for signing up to Android Central. You will receive a verification email shortly.
There was a problem. Please refresh the page and try again.