Google Wallet update now available with bug fixes and privacy enhancements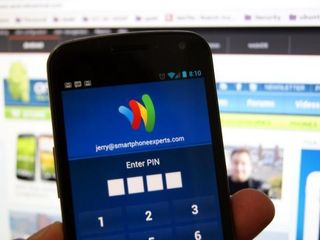 The latest Google Wallet update has now appeared on the Google Play Store and is rolling out for some folks. Switching on over and checking out the change log shows a few things have been cleared up within the app including some bug fixes and privacy enhancements:
Prepaid Card top up forms more flexible
Citi Mastercard management improvements
UI improvements
There's a link after the break to the Market, but keep in mind, it only will work if you've got a Sprint Nexus S 4G or an unlocked Galaxy Nexus with an AT&T SIM card in it. You'll have to use some other methods to get it working if you're not on one of those devices specifically.
Android Central Newsletter
Get instant access to breaking news, the hottest reviews, great deals and helpful tips
I was able to get it from the play store with my tmobile nexus s. Used a qr code and let me install it.

Update showed up in the Play Store for me and installed with no issue on my Verizon Galaxy Nexus. Have to test it tomorrow.

Same here. I had the previous version sideloaded and I was able to update through market today.

And what about a rooted GN any news?

Works fine. Ignore the warning.

I can't see it in Google Play on my rooted GN, and if I ope the app & select update it tells me it's not allowed by my carrier.

Same for me. Doesn't show up as "installed" in My Apps section of the play store; hence can't update from there. And within the app, the "Updates are available" is grayed out. :(

This is crap! I side loaded and it doesn't work. I'm trying to install from the market using Market Enabler, and and I can't load from the market. I'm rooted on CNA1.5.

Verizon Galaxy Nexus...unlocked bootloader but not rooted...had to use the trick way to get it updated in the market last time. This time sent me straight to the update with no hassle downloaded and working fine. Odd?

it works on a nexus s with att sim as well..

has anyone heard any more information on when they will add more cards other than Citi?

There was a whole press release about it, but then nothing happened. :/ http://www.engadget.com/2011/09/20/polyamorous-google-wallet-adds-visa-t...

I updated mine (VERIZON Galaxy Nexus) and when I went to run the app, I got a message saying that Google Wallet hasnt been certified on my device/carrier and then the app quits. I am bone stock running 4.0.2.. not rooted or anything. I uninstalled it and re-installed the leaked version and it looks like everything's back to normal.. I dont know if it's just me and my phone or what. I guess ill refrain from updating it for awhile :( Am I the only one having this problem?

Mine says that the app is not available on my carrier through the web link and the link to the play store on my phone says it can't find anything. I think some people are mistakenly able to update and then the app checks and fails.

Well here's something crazy... I went to try the update again after re-installing the leaked version.. The update went throught and now I can actually use the app and it's apparently up to date.. Im not getting the error message this time. So, I guess ill leave good enough alone now.

My Verizon GNex is completely stock as well, but it updated through the Play Store and still works perfectly. I'm not sure what's going on with yours. How did you originally load it? I originally loaded mine through the Play Store glitch.

I originally had the sideloaded version from months ago when the phone first came out. Then awhile back I used the "glitch" to get the 1st update from the market. Then I was able to update this time with no special tricks. That's when I got the message about Wallet not being certified for my device/carrier Like I said though, after uninstalling completely and then installing the sideloaded version again from xda forums and then applying today's update, it's working.. I guess just FYI if anyone else has a similar issue..

Anybody with issues, here is the apk for today's updated Wallet. http://db.tt/hReX4ekX

thanks this worked great for me!!

I'm late but thanks for doing this!

since i installed it on my nexus with an AT&T sim, i get the updates normally with my Tmo sim.

Rooted Gnex, running bugless beast. The QR code gives me a "not found" error, but opening the app and clicking update from the pop up worked, and that hasn't been the case before. Seems to have updated and running fine.
Android Central Newsletter
Get instant access to breaking news, the hottest reviews, great deals and helpful tips
Thank you for signing up to Android Central. You will receive a verification email shortly.
There was a problem. Please refresh the page and try again.