Google Wallet to launch soon? RadioShack is priming employees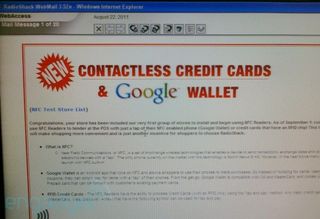 Google has been pretty quiet recently about Google Wallet, a new payment service announced back at the end of May. But that is about to change soon, folks. Engadget has received an image taken from a Radio Shack computer indicating that Google and Radio Shack are prepping for an upcoming launch in stores. Usually in large retail rollouts like this, retailers send out info before it's about to go public. According to the image taken, the service is set to go live sometime in September. If Radio Shack is already receiving info about the launch, maybe we'll see some other info from more retailers soon. Stay tuned and ready those NFC-enabled devices.
Source: Engadget
Sweet! Thanks for the heads up. I've been checking the "Google New" and "Google Blog" pages every day now to see if there is any update. Of course the google wallet page has just been the "notify when available" email thing.. so I just check Android Central every day, and what do ya know, I find it here first. Thanks again!

hm, and might we be getting a new google authorized device with an nfc reader for this great new product?

Can't wait whend I can use my phone to pay if I forget my wallet. Go Google wallet go...and bring me back money. Lol
Android Central Newsletter
Get the best of Android Central in in your inbox, every day!
Thank you for signing up to Android Central. You will receive a verification email shortly.
There was a problem. Please refresh the page and try again.