Google TV starting to show up in Android Market device listings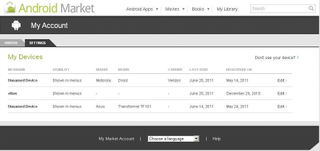 If you're a Google TV owner, you're no doubt still waiting to see when, exactly Google will be making Android Market access available. The good news -- it looks like today was a small step toward that as some people are now seeing their Google TV systems show up in the Android Market device listings. The bad news -- we still don't know when the 3.x update and Market access is coming but we're hoping this is a sign of it being soon. Also, Google just scooped up SageTV in a deal that will bring SageTV features to Google TV -- so alas, things are still moving on the Google TV front, and that pleases us.
Thanks, Samlehman90
Things could be about to get better for Google TV. Lots of potential as an app platform.

This actually started to happen at least two days ago. http://www.googletvforum.org/forum/logitech-revue/2193-my-revue-started-...

My GTV box needs help. Crossing my fingers that HC will be sweet. Just having the Market would make this box useful. I'm ready for adb.

great aericle, good info for me http://zvix.pl
Android Central Newsletter
Get the best of Android Central in in your inbox, every day!
Thank you for signing up to Android Central. You will receive a verification email shortly.
There was a problem. Please refresh the page and try again.