Google publishes Nexus 9 LTE Android 5.0.1 factory image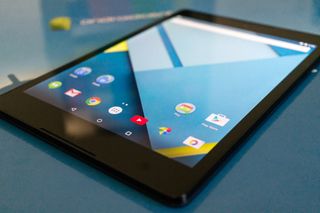 Hot on the heels of the launch of the Nexus 9 LTE to the Play Store, Google has also released the Android 5.0.1 Lollipop factory image for the 4G-connected slate. The Android 5.0.1 LRX22C image has been posted to Google's developer page. Since the slate is just now available to buy from the Play Store and through T-Mobile in the U.S. nobody yet really needs the image, but it's great to have it available from day one.
If you've ordered a Nexus 9 with LTE, be sure to visit our comprehensive guide for flashing factory images if you happen to need it.
Download Nexux 9 LTE (LRX22C) factory image
Source: Google
....while the Nexus 5's factory images are somewhere in cyberspace... Magenta is the new Yellow

Lost in time and space Posted via the Android Central App

How about a Nexus 7 2013 LTE OTA? That would be nice..... From my T-Mo Note 4

I am waiting too. Posted via the Android Central App

Perhaps this means the 2013 Nexus 7 will be updated soon.

Sigh........ first they discontinue the N5 now we get updates after every other device out there. I feel so alone :(

While the nexus 7 2013 LTE hasn't even seen the first Lollipop release. It might be Googles bastard child but still Posted via the Android Central App

Exactly, we bought their top of the line hardware at the moment. You'd think they'd show us some love.

So? I bought a computer with top of the line at the moment in 2003 and i don't get updates for it anymore Posted via the Android Central App

Even though support for that computer lasted for how many years?

@thatguys97 - Simple solution - Stop buying computers

Ya that's a practical idea /s Posted via the Android Central App

Great News!
Great features in this app.Thanks for sharing awesome post.Keep sharing in future.

I will never buy another Nexus LTE tablet if the support remains as bad as with both cellular N7's

Is the Nexus 5 getting this update? 'Cuz I'm still on 5.0. Posted via Android Central App on The Nexus 5

http://www.clicksandroid.com/2014/11/android-phone-with-stylus.html cek it
Android Central Newsletter
Get the best of Android Central in in your inbox, every day!
Thank you for signing up to Android Central. You will receive a verification email shortly.
There was a problem. Please refresh the page and try again.