Google Play Services 12.2.09 fixes Android's 'Check for Update' feature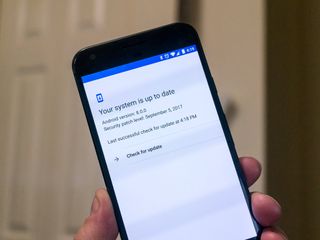 The 'Check for Update' feature in Android has been a real piece of work for some time now. It was announced in September that this was being reworked to actually pull in new updates rather than just seeing if one was available in your area, but the rollout was delayed due to a bug with Google Play Services.
Thankfully, it would appear that things are now working as they were intended.
A few Redditors recently shared that the Check for Update button wasn't doing anything with Play Services v11, but updating to v12.2.09 actually started to pull in the latest February security patch that Google just released.
Play Services v12 is currently limited to those enrolled in the Google Play Services beta, and if you're not currently enrolled in this, you can do so here (opens in new tab) and get access to the latest beta version when the next update drops.
Alternatively, you can skip the line and go straight to downloading the APK file for it. Some users have reported that they've gone through this process successfully, but if you're not careful, you could end up breaking Play Services and needing to factory reset your phone.
There's no exact timeframe as to when v12 of Play Services will be made available for everyone, but seeing as how it's already in a beta form, I'd expect it to roll out to the general public within a matter of days.
Google Pixelbook, 3 months later: Still the best, still frustrating
Joe Maring was a Senior Editor for Android Central between 2017 and 2021. You can reach him on Twitter at @JoeMaring1.
I'm on the beta and downloaded the update. I'm getting media volume issues since. The volume will just stop working without warning. This happens when I wake the phone up.

Google giveth and Google taketh away.

I have version 8.8.xxxx on my Pixel 2 XL. Seems like there should be some version #s in between 8.8 and 12.2.

That's the Google Play Store version. We're talking about Google Play Services. Go to Settings and list all your apps and search for Google Play Services to find the version you're running

I tried the beta on my 6P this morning. It didn't work.

100% just worked for me! Pixel 2xl...
Checked for update ,nothing...
Checked for Services v12, nothing...
Downloaded the apk (the right one) and installed....
Checked for update 5 minutes after I did previously... downloading and installing

Still not working on Samsung devices

Is that s serious response? That's because Samsung devices do not have any updates waiting. This will impact Nexus and Pixel devices.

And I'm having trouble getting it working on my iPad Air, unfortunately

Pixel 2XL, now receiving update. I checked several times this morning and nothing until I downloaded the Google Services apk.
It is a bit confusing but absolutely fixes the update feature.

Locked my Google Play up and now I have to fix it. Thx

keep getting message popping up on my 6p "google play services keeps stopping"

Yea. That happened to me too. Turns out I downloaded the wrong apk. I installed the correct one and it went away.

Works 100% on pixel phones

Worked great for me. Battery life on my 2 XL since the Feb update (only this morning) seems better so far too

Pixel 2 XL apkmirror 940 file. Working with no issues and update was successful.

You just need to download the right APK. There's an explanation on the mirror site for what version is for you. Installed and got the update straight away.

If you happen to install the wrong apk and get the annoying "google play services keeps stopping" messages, what I did was went into the device admin and deactivated whatever was in there then went to the Google services app in my phone. Forced stopped it then uninstalled updates and after that I checked for the software update and it worked.

Worked for me following instructions thanks

Did the beta, nothing, tried the APK, nothing and had the added bonus of crashing play services in to an infinite loop. Good thing is that the restore service worked well

My Pixel XL is enrolled in the Google Play Services beta, but it hasn't updated to v12. I am still on v11.9.76 and has an update date of February 06, 2018. Strange that I haven't received the update.

Same here. I signed up for the beta this morning and it updated.. but apparently to the version everyone was already on and not to the v12. Oh well, I'll just wait it out.

That is strange. I joined the beta last night, and mine updated to version 12.

Same here. After enrolling in beta, my play services went from 11.9.75 to 11.9.76

11.9.76 installed after signing up for beta. No joy here on my 2 xl

Have you tried the the newest apk from apkmirror?

I was able to grab the Dec patch update on my MZ2P after doing this.

I got it updated on my Nexus 5x but still 'check update' is not working.

Still not working on the V30.
Android Central Newsletter
Get the best of Android Central in in your inbox, every day!
Thank you for signing up to Android Central. You will receive a verification email shortly.
There was a problem. Please refresh the page and try again.