Google Play now shows a watch icon when an app supports Android Wear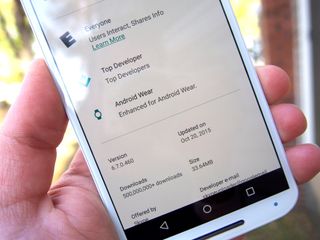 It looks like finding Android Wear compatible apps on Google Play is getting slightly easier. A new set of icons have begun popping up, for at least some app listings, that denotes Android Wear compatibility at a glance. While it isn't showing up for all Android Wear compatible apps just yet, the new icon appears once just below the "What's New" section, and then again near the age rating after tapping "Read More." Accompanying the icon in the "Read More" section are the words "Enhanced for Android Wear."
While it's been possible for a while to browse Android Wear compatible apps through a link in the Android Wear application, these new icons make it less of a guessing game when you're simply browsing Google Play. It's a bit hit-and-miss right now with which apps actually include the icons, but hopefully we'll see them start to show up on all Android Wear compatible apps in the near future.
Nice idea! Hope they do the same for Chromecast (besides showcasing in the Chromecast app)

Nice gradual edition to the store. I think that is a logical evolution to the store's front end. And it stops the separation of the apps for both. Posted From my Verizon Galaxy Note Edge via the Android Central App... And Don't Eat The Yellow Snow!
Android Central Newsletter
Get the best of Android Central in in your inbox, every day!
Thank you for signing up to Android Central. You will receive a verification email shortly.
There was a problem. Please refresh the page and try again.