Google Play Gift Cards are official, rolling out over the next few weeks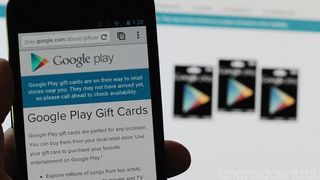 Google's just made it official. Google Play Gift Cards (opens in new tab) are rolling out in the next few weeks.
We've known these were coming for about a week now, of course, first with some code in an update to the Google Play Store app, and a short while later when we were the first to get a peek at the official product. Now it looks like Google's really spinning things up.
According to the Google Gift Card page, you'll be able to redeem codes for music, movies and TV shows, books and apps. However, app subscriptions (we're not 100 percent sure what that means), hardware and accessories are excluded. Cards will be available in denominations of $10, $15, $25 and $50. You'll scratch off a part of the card to reveal a code, which you'll then redeem at play.google.com/redeem (opens in new tab). A Gift Card's balance will be visible in your Google Wallet account.
Gift cards will be available at Radio Shack, Target and GameStop, according to the page.
More: Google Play Gift Cards (opens in new tab) | Help Page |
Magazine subscription maybe?

After reading the terms and conditions, pretty sure magazine subscriptions are not allowed.

The code redemption page is live too. Scroll to the bottom of the Play store and you'll see a link to redeem your codes.

I just downloaded an app, then canceled the purchase. Then after a little hiccup from my play store the redeem button showed up. I have a screen cap for proof.

So did your refund get put into your account? Or did it go back to your registered card like normal. I certainly hope they don't simply refund the purchase price into your Play account.

Very glad this is finally here.

Any word on whether or not these are coming to Canada?

Sweet! Also think you meant that second $25 to be $50 Phill : )

With as long as it took Google to figure this out, kinda figure they'd be only available through ordering out of the back of comic books. Right next to Sea Monkeys.

This is great! Now all they need is app gifting...

I would be more likely to use Google Wallet or set up a Nexus 7 for a child with this feature.

From the gift card help site: Restrictions Google Play gift cards: •Are only available in the United States at this time.
•May only be used on content sold in U.S. dollars (i.e. if you bought a Google Play gift card and then travel to Germany, you won't be able to redeem your Google Play balance since content is sold in Euros).
Google Play balance: •May not be combined with other forms of payment.
•May only be refilled by purchasing and redeeming a gift card.

Thanks, I didn't get a chance to check the link since I'd to leave

Can I use Google Wallet at Target, RadioShack, or GameStop? I want to use my Google prepaid card in Google Wallet to by a Google Play Store Gift Card. Hopefully I don't accidently make Google servers divide by zero.

Target does not support Google Wallet. I think most RadioShacks have paypass so you could use it there. I don't know about GameStop. I don't think it has paypass so i dont know.

Does this mean they are scraping the Google Wallet idea for most of us?
Why waste the materials if you will eventually accommodate?

Ah, so this is their plan to force people into GW. No thanks.

I just got back from checking my local Target, Gamestop, and Radio Shack after leaving class. When I asked a Target employee about them, she looked like she didn't have a clue what the cards were or when they would arrive. No luck there. Went to the Gamestop down the road and asked they guys there, and again, at first didn't know what they were until I explained about them. They also didn't know when they would arrive. My last stop was Radio Shack and I had a better experience there since the kind lady knew exactly what I was talking about after I had asked her about them. As far as availability, she asked her manager about them and she said that they might get them on the next shipment, which arrives Friday afternoon for my local store. I will eagerly wait til then!

Now if only Google Play could increase they media offerings to rival iTunes.

I think this is the step in the rite direction and the only way they will increase their media is if they make more money off of it which this will deff do so the more money peeps poor into the Google app store for movies and music the higher the revenue the more the content producers see it as a viable outlet and there fore will invest into the play store opening the door for more producers cough *warner-bros* cough the more those greedy sobs will enter the play store as an outlet :) dear god I want some of Warner bros music and movies in there watching bat man and vetting avenged seven fold (newer albums) in the same day assume!!! But it seems Warner bros hates Google over that pesky you tube war that happened a few years ago seems they wanted a high premium and Google said hell no and they butted heads
Android Central Newsletter
Thank you for signing up to Android Central. You will receive a verification email shortly.
There was a problem. Please refresh the page and try again.