Google Pixelbook hands-on: Who wants this?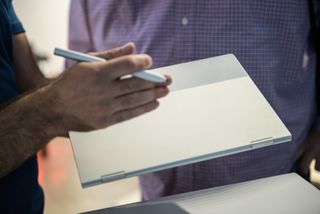 Does anyone want a $1000 Chromebook? We asked the question in 2013, and then again two years later, in 2015. Both of those laptops were exactly that — bulky, heavy notebooks that, while powerful, felt like overkill for the capabilities of Chrome OS.
Today, we have the spiritual successor to those laptops, the Pixelbook, a $999 convertible that promises to do a lot more than just make Chrome beautiful.
On the Surface
I got to spend a bit of time with the Pixelbook at Google's October 4 event in Toronto, and came away immediately enamored with the hardware. Built with a unified body of aluminum, the Pixelbook is solid and carefully designed to feel like something modern. It looks a bit like the Surface Book, but without the crazy jewelers hinge — and, being a convertible, the screen doesn't disconnect.
Instead, the Pixelbook has a hinge that flips the 12.3-inch display all the way round, into either a tablet mode with the keyboard on the other side, a tent mode for airplanes and tight spaces, a movie mode with the keyboard hidden, or a traditional laptop. The modality isn't new — we've seen this from countless Windows partners, from Dell to HP, but Google makes it seem fairly natural on Chrome.
Furthering the Surface comparisons, there's also a $99 Pixelbook Pen which, when combined with the Wacom-optimized touchscreen, allows users to write, draw, and navigate the OS. As Jerry pointed out in his excellent editorial, Chrome OS has come a long way to making Chrome touch- and pen-friendly, but we're going to have to wait for developers to design apps to explicitly take advantage of the enviable 10ms latency in the pressure-sensitive pen.
At launch, only a handful of apps will be optimized for the Pixelbook Pen (Evernote and Google Keep among them), but more should be around the corner. Unfortunately, there's no way to charge this thing — it uses a replaceable AAAA battery, and like many other powered pens out there, there's nowhere to put the damn thing once you're finished with it. At least Microsoft's $99 Surface Pen has magnets.
Intro to input
A laptop is always as good as its input mechanisms, and while it's possible to go pen-only, you'll likely be typing and navigating using the built-in trackpad and keyboard. While some Chromebooks have been bogged down by problematic trackpads, Google's own Chromebooks have never been among them — fast, smooth and accurate mouse navigation was present in the 2013 Chromebook Pixel, and it's back in 2017 with the Pixelbook.
The keyboard is slightly different, though, if you're upgrading from a previous-gen Pixel. Shallower than before, with less travel and notably less noise, the Pixelbook's keyboard may take some getting used to, but it should do the job.
An assistant
On that keyboard you'll find a dedicated Google Assistant button, one that can be used to bring up Google's take on the omnipresent contextual helper at any screen.
As on its phones and tablets, Assistant on the Pixelbook works both as a search tool and a screen reader, providing additional details on what you're reading, watching, and listening to.
Assistant can also be called using the "OK Google" command at any time — just be prepared for all your other devices to light up at the same time — or with the Pixelbook Pen, which lets you circle anything on the screen to ask Assistant for a bit more information.
Software
It's hard to really evaluate the software on a particular Chromebook, since it's basically the exact same experience as on any other, from the $158 Acer CB3 all the way to the most expensive Pixelbook. Of course, this one supports Android apps out of the box, which is nice, and combines that functionality with Assistant and the mature, capable Chrome browser to deliver as robust a Chrome OS an experience as you'll find today.
But it's still Chrome. Most productivity apps come in the form of browser extensions or, at best, finely-tuned Android apps that have been tailored for the larger display. I'm not writing off the idea of using the Adobe Creative Cloud suite on a Chromebook, but it's a certainty that the experience isn't going to be as robust as that of a Windows or Mac, whose native versions have been in development for years.
Hardware for days ... or years
The Pixelbook comes with a battery that should last 10 hours, and two USB-C ports that let you recharge up to two hours of use in 15 minutes. That's pretty great, but Chromebooks have never wanted for longevity.
At the same time, this is definitely the most power bestowed upon a Chromebook to date: the cheapest $999 model ships with a seventh-generation Intel Core i5 processor, 8GB of RAM and 128GB of SSD storage — more than enough for the average Chromebook user, who has been trained to rely on cloud services to mitigate traditionally low storage counts.
An extra $200 brings the storage up to 256GB of storage, for a $1199 price, while the most expensive model, a $1649 version with 512GB of NVMe SSD and 16GB of RAM, will be available later in the year.
Dual speakers, four microphones, a headphone jack, two USB-C ports (both of which accept charging) and a 720p camera round out the specs, which should bode well for those who want to make the most out of the Pixelbook as an entertainment device.
Should you buy it?
A $999 Chromebook is a less divisive proposition today than it was a few years ago, but it's still interesting that Google's only branded laptop sits near the high end of the category. Like its phones, Google is trying to showcase the best of its software with this hardware, and in my short time with the laptop, it seems like that's exactly the case.
It's a beautiful piece of aluminum, with the exacting standards that the Chromebook Pixel line came to stand for. I doubt Google intends to sell millions of these, but I hope it gets more people on the Chrome OS train, because in it Google has one of the most versatile, power-efficient, secure, and enjoyable operating systems out there.
Now it has the hardware to match.
Sign up for Black Friday email alerts!
Get the hottest deals available in your inbox plus news, reviews, opinion, analysis and more from the Android Central team.
Daniel Bader was a former Android Central Editor-in-Chief and Executive Editor for iMore and Windows Central.