Google Pixel 2: Which storage size should you buy?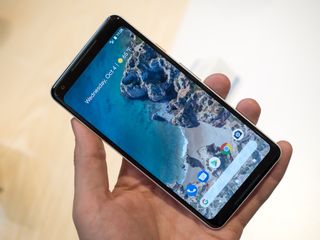 Google's Pixel 2 and Pixel 2 XL are both great phones ready to deliver an excellent Android experience. When it comes to figuring out which storage size is the right one for you, though, there are a few questions to ask yourself. What will you be storing on your phone? How long will you be using your new phone?
You've got two options for the storage on your new Pixel 2 or Pixel 2 XL, and we're here to help you pick the right one!
Two options: 64GB and 128GB
Whether you've been eyeing up the Pixel 2 or the Pixel 2 XL, you've got the same options for storage size on your phone. You'll be able to choose between a 64GB model or a 128GB model. While both of these are solid options, there are definitely some differences.
While 64GB is the smaller of the two options, it definitely isn't a size that is going to fill up in a few short weeks. It'll give you plenty of space to store your apps, photos, videos, and schedules without having to worry about anything. Of course, the 128GB option gives you access to nearly twice as much space for everything that you store on your phone.
It is important to keep in mind one of the big perks of having a Pixel 2 is that sweet, sweet, photo storage with Google Photos. Unlike with most phones, Pixel owners get to upload an unlimited number of full-resolution photos — at least until December 2020. This means that considering how much space your photos are going to take up on your phone is less of an issue since you can back all of them up automatically.
Choose wisely
The Pixel 2 and Pixel 2 XL maintain a few controversial design decisions from the last Pixels, namely a lack of microSD expansion. This means that once you have purchased a phone you're locked into the size that you pick up.
Features like unlimited photo storage can help, but knowing what kind of space you'll be needing in the future. If you're one of those folks who tend to update their phone every year when a shiny new device is announced, then the 64GB model should be solid. However, if you prefer to stretch out the life of your phone for as long as possible, then picking up the 128GB storage size is the better option in the long-term.
It's also worth keeping in mind that even the 64GB model will only have around 54GB free out of the box, since Android itself takes up a fair amount of space.
Which size are you considering?
Both the 64GB and the 128GB models of the Pixel 2 and Pixel 2 XL deliver tons of storage space. This means room for everything that you need to get through your busy day, and then some.
In the end, this is a personal decision that nobody else can make for you. Does storage size make a big difference when you are considering a phone? Let us know about it in the comments below!
November 20, 2017: We've updated this post with all the info you need to make a decision about the storage size for your Pixel 2!
Get the Android Central Newsletter
Instant access to breaking news, the hottest reviews, great deals and helpful tips.
Jen is a staff writer who spends her time researching the products you didn't know you needed. She's also a fantasy novelist and has a serious Civ VI addiction. You can follow her on Twitter.