Google Pixel: A real-world review, one week later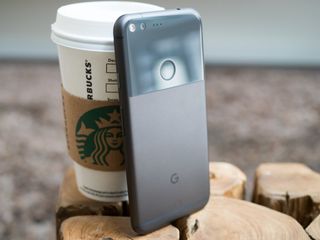 Google's Pixel phones have been out for just over a week now, and some of us have had them for far longer. We've written three reviews and ten times the number of editorials, and yet there's more to say about these amazing devices — so we convened a roundtable to do just that.
First, Pixel or Pixel XL? And Why?
Daniel Bader
I have been enjoying the smaller Pixel more than I thought. It has the right combination of size and power for my liking, and it's extremely usable in one hand.
More than anything, it just works. I know that's overrated in a market that values features over function, but for what I use my Android phone for, the Pixel does the best job right now, period.
Jerry Hildenbrand
Pixel. With the same service and the same apps, it actually has better battery life for me (though not really enough to make a difference) and it's easier to carry. I've mentioned it before, but riding around in a wheelchair all day means keeping my phone in a shirt pocket works better for me, and the Pixel works better for a shirt pocket.
Andrew Martonik
I used the Pixel XL first, and I actually found it much more comfortable to use than I first expected, though it pushes the upper limit of what I can safely manage in one hand for my usual tasks. After receiving my smaller Pixel, that's the one I've settled on. Having the same great experience in a smaller size is wonderful, and battery life has just been ever so slightly less — a worthy tradeoff for me. Going back to the XL isn't completely out of the question, but I'm just enjoying the Pixel more right now.
Russell Holly
For me, it's all about the Pixel XL. While I appreciate a good small phone, and the PIxel is exactly that, the slight difference in daily battery life means I can do things like drop a wireless hotspot for 45 minutes while finishing a thought on my laptop and never have to worry about my phone making it through the day. I'm very much over feeling like I need to carry a battery backup or my quick charger with me places. This phone lasts me all day, and that's what I wanted.
Also, Daydream View is going to be awesome through the larger Pixel.
Harish Jonnalagadda
I really liked the in-hand feel of the smaller Pixel, but the added battery life and the denser display of the Pixel XL won out in the end. The Pixel XL is much more usable one-handed than the 5.7-inch Nexus 6P, and the battery easily lasts a day even when connected to a cellular network throughout, with Bluetooth and location services enabled. After using the LG G4 for most of last year and the G5 for a few months earlier this year, I now look for all-day battery life when buying a phone. And in that regard, the Pixel XL delivers.
Marc Lagace
I got my hands on the smaller Pixel and haven't had the opportunity to hold the Pixel XL. But after using some bigger phones for a while (RIP Note 7), it's been really nice coming back to a phone that's a bit more compact and easy to use one-handed. While I'm sure I'd enjoy the extra battery life and the crisper display found on the Pixel XL, I'm more than satisfied by what the Pixel has offered so far.
What's your favorite thing about the phone so far?
Daniel Bader
That would be a tossup between the software itself — the day-to-day goings-ons of bug-free, smooth-as-butter experience, plus Nougat's excellent notifications and multi-window support — and the camera.
The camera was surprising. It went from, "Oh, this phone takes great photos," to "Holy crap, look at this photo. And this one. This is one I took in near pitch black that came out amazing with little grain."
I'm not saying it's the best camera on a smartphone today, but it takes great photos almost every time and I have to give Google props for that.
Jerry Hildenbrand
All of the things that aren't there.
I don't want IR blasters or iris scanners or SD cards. I want a piece of tech that lets me stay connected with "my people" that has a great way to use the services I like to use when doing it. The Pixel stays out of the way and lets me do that.
Andrew Martonik
It has to be the overall fluidity and consistency of performance. I've never used an Android phone that's this quick to open and switch apps while also never slowing down or skipping a beat. Everything is super stable, and so smooth it's remarkable.
Russell Holly
It's just so damn fast. The camera is fast. The launcher is fast. Switching between apps is fast. I've been using the phone for over a week and my Pixel hasn't lagged or visually dropped frames or completely frozen in place. The same can't be said of my last three phones, a list that includes the iPhone 7 Plus, the Galaxy Note 7, and the Nexus 6P.
Harish Jonnalagadda
The performance. The phone just flies! It's remarkable how seamlessly the Pixel handles everything you throw at it. There's no lag anywhere, and I never got the feeling that I was waiting for an app to launch. I'm wary of switching back to phones with manufacturer skins, even those in the high-end segment. Once you get used to the Pixel, everything else feels slow.
Marc Lagace
It's a toss-up between Google Assistant and the camera. I've enjoyed using Google Assistant so far, and am pretty excited to see Google develop it further as time goes on — but mostly I'm just a big sucker for hilarious easter eggs and random fun, and Google Assistant is chocked full of both.
But the camera — my goodness, the camera! It's lived up to the hype and then some in my books. Every time I've shown someone a photo or video i've taken with the Pixel, they've been blown away by the quality. Every time. It's that good, folks.
Where do you think Google could have improved?
Daniel Bader
On the smaller Pixel, battery life has been an issue. In Toronto, during my normal daily routine, I typically get to 9pm before I need to top up, after taking the phone off the charger at 7am or so. That's pretty good.
But I've been traveling for the past few days, and have been penalizing the battery with roaming and constant hits to Google Maps. That really annoyed the Pixel, and I was almost empty after five hours on one of those days. It's not the end of the world — the Pixel charges quickly, and I have quite the collection of portable battery packs — but it is something to consider for the average road warrior. This is a daily driver, not a day-and-night driver.
Jerry Hildenbrand
I know thin flat phones are trendy, but they aren't the most ergonomic thing in the world. A bit of curve in the rear would make the phone feel like it was a better fit in the hand. It might not actually be better, but things we can see or touch trump facts. The HTC 10 nails this, and I wish that had been the phone Google was chasing instead of the iPhone.
Andrew Martonik
On the hardware side, missing waterproofing is a real downer — a phone this expensive should have the feature. In terms of software, Google really has to figure out how it's going to combine Google Search, Now and Assistant into one cohesive product. The parts are there, but they have to be combined in a smart way.
Russell Holly
Assistant is cute, but needs some muscle behind it immediately. It's barely able to keep up with Google Now when it comes to basic commands, and as much fun as the follow-up question system is in concept it barely works in practice. This is a big step forward for Google because of what it means for the future of personal assistant software, but it'd be great if it was useful all the time.
Harish Jonnalagadda
The Pixel gets all the basics right, but it's missing fringe features like water resistance. It's a tough ask to convince customers to shell out over $600 for a phone when there are very capable handsets for under $400, and Samsung has done a great job of distinguishing its flagships with curved displays, wireless charging, and water resistance. The Pixel makes up for it through sheer performance, an excellent camera, and Google Assistant, but an IP68 rating would have definitely made it a more compelling option.
Marc Lagace
I would have really liked to have seen better water resistance to match what Apple and Samsung are offering with their flagship devices. Also, the lack of an SD slot is disappointing. I'm rocking the 32GB Pixel, so I'm slightly paranoid about running out of storage space. Other than that I've found the build quality and performance to be on point.
The camera: is it as good as they say it is?
Daniel Bader
Yes, I'm rehashing here, but the Pixel's camera is impressive. One thing to note that is that smaller phones usually get punished in some way compared to their larger counterparts, often by lacking optical image stabilization or featuring a less capable sensor.
The Pixel's camera is identical to that of the Pixel XL's, and has proven to shoot great photos in almost any condition. I spent a lot of time talking about this in our latest podcast, but what's impressed me most is how usable the low-light photos are given the lack of OIS, proving that software is perfectly capable of minimizing noise and shake with the right engineering work. And Google has that in spades.
Just look at the speed of HDR+. Google has been touting this feature for years, but it's only now proving its mettle in the camera department. This is evolution at its best.
Here's one of my favorite photos:
Jerry Hildenbrand
It's better. Almost impossibly better. Reason says there is no way the camera can be this good without the traditional means to keep pictures from blurring when the light is low or you're moving too much. Yet it is. I had little faith in seeing any real improvement over the Nexus 6P, but I was wrong. So wrong.
Here's one of my favorite photos:
Andrew Martonik
It's as good as they say it is, and it's better than I ever could've imagined. You see, Google has talked a big game about its Nexus cameras for years … and now, it has delivered entirely. The Pixels not only take excellent photos, they take consistent photos and they do it quickly as well. That's just the perfect combination.
Here's one of my favorite photos:
Russell Holly
This is, without a doubt, the best smartphone camera I've ever used. At least, in full auto anyway. I wish Google would implement a proper manual mode so we could have some extra fun, but in full auto the camera is outstanding. It pulls light in from basically nowhere, everything is nice and crisp, and the slow motion is absolutely beyond belief.
Here's one of my favorite photos:
Harish Jonnalagadda
I have a knack for taking out-of-focus images from phones that have great cameras. I usually resort to taking several shots, out of which I get one that's passable. That isn't the case on the Pixel. I consistently got great shots without putting in any effort, and the ability to create GIFs in burst mode is an added bonus. Easily the best camera I've ever used on a phone.
Here's one of my favorite photos:
Marc Lagace
Man. As I already mentioned, the camera is probably my favorite part of the phone. It's super quick to load and takes great photos and videos regardless of the conditions. I went to a concert the day after getting my Pixel and yea, I'm one of those guys who likes to take videos at rock shows. I was blown away by the quality when I reviewed them the next day!
Here's one of my favorite photos:
What about battery life? Is it in line with your expectations?
Daniel Bader
I'm going to talk about the Pixel XL here, because I also have that one. It's really good, better than the Nexus 6P with the same battery size, and certainly good enough to get through a whole day. As I said above, I'm worried, not disappointed, with the smaller Pixel's uptime, but that it pulls 12-14 hours on a 2770mAh battery is no small feat.
But the Pixel XL's cell is 25% larger, and that shows in practice. I've never finished the day short of 10% battery life — even long days, when I stay up editing these wonderful people — and that's encouraging. I find the XL a bit big for my liking, otherwise it would easily take the place of the smaller Pixel in my pocket, but you shouldn't have any qualms opting for the more expensive model if size is a concern.
Jerry Hildenbrand
It's better than the Nexus 6P or BlackBerry Priv with the same apps and services running. I can't say how good it is other than it's not yet been dead when I go to bed and plug it in. That has happened before with other phones. Battery life does take a bit of a hit when I'm somewhere with a bad mobile signal, but that's to be expected. No complaints so far!
Andrew Martonik
The Pixel XL offers all I need and more in terms of battery life, making it through my full day with some 20-30% to spare. If I push it hard, I'll end with at least 10% left. I never had to scramble to a charger on the XL. The smaller Pixel isn't as great, regularly finishing the day about 10% lower than my XL did — most of the time that's fine, but on a tough day I really needed Battery Saver come 9 p.m. to make it until bedtime.
Russell Holly
I can regularly get through a 17-hour day with four hours of screen on time and still have 15% remaining when I plug in before bed. I've never had an Android phone without a 4,000mAh battery onboard deliver that experience. After Google's promises of Doze on the go, this phone meets my expectations and then some.
Harish Jonnalagadda
I've been using the Pixel XL for nearly a week, and I haven't had to enable Battery Saver yet. I'd call that a win.
Marc Lagace
I've been using my Pixel pretty heavily throughout the day and it typically reaches 15% battery life by the late evening end of the day. I also appreciate how quickly it charges for the times where I've forgotten to plug it in overnight.
Let's talk software: do you think Google did everything it could to separate itself from its partners?
Daniel Bader
I think there's something to be said about simplicity. In my experience, Android is better when Google calls the shots, since it has always, with some exceptions, had users' best interests in mind.
If you look back on examples where companies like Samsung, LG, Huawei et al. decided to augment Android with their own interpretations of features yet to launch on "stock" Android, they've either been abandoned after a generation, or had little developer support. Samsung's Multi Window is perhaps the only example of a feature that developers adopted in any great number because the API was mature and easy to integrate with. But even then, now that Google has a multi window API of its own, developers will like default to that one when Samsung launches Nougat on its battery of devices.
All that is to say I believe Google wields far more influence over the Android developer community than its manufacturing partners (rightfully so, since it builds Android), and on the Pixel those features are showcased as they were intended.
It could even be said that the Pixel software's lack of affect, its simplicity and polish, alone separates from its partners, and now that Google is marketing a phone designed and engineered in-house, there is even more reason to think of "stock" Android as the canonical version.
Jerry Hildenbrand
Look at an LG V20 and ask me again.
Yes. Something like a Moto Z will have similar software, but that's because Motorola chooses not to alter Google's design too much. The Pixel software follows the K.I.S.S. (Keep It Simple, Stupid) software design they've used since the G1. With Android 7.1 it's refined to do the relatively few things it does remarkably well. Sometimes, less is more.
Andrew Martonik
Everything? No, I wouldn't say so. You can tell that Google has put some extra work into the Pixel's software experience that it didn't (or couldn't) do in previous Nexus phones, and that goes much deeper than a new launcher and Google Assistant. Google did a lot to make the software fast and extremely cohesive, and that helps differentiate itself from most phones — aside from any discussion of what that means for its partners.
Russell Holly
Yes and no. When you pick up this phone, it's clear you're using something different in the launcher and the wallpapers and the audio tones. That said, there's still very little that makes "Pixel" particularly different from "Nexus" in day to day use. I guess an argument could be made for the way you can access Assistant everywhere being the big thing that separates this phone from everything else, but as I covered earlier it's not a huge feature for me yet.
Harish Jonnalagadda
Google has significantly added to the software experience when compared to the Nexus line, and that's evident from the second you start using the Pixel. That said, Google Assistant needs a lot of work before it becomes the all-encompassing virtual assistant that Google envisions.
Marc Lagace
Well, it's unlike any other Android phone I've used. I like the tweaks they made to the app drawer, and everything runs smoother and faster than anything else I've tried. I also really like the way Google Assistant was integrated into the OS and look forward to see it evolve over time.
Is this really the iPhone of the Android world?
Daniel Bader
That's a dumb question, Daniel. But seriously, yes in some ways this is the Android community's equivalent of the iPhone — if you mean updates from the source, a focus on imaging, and the proper marriage of hardware with integrated services.
Google is even trying (and failing) to recreate iMessage and FaceTime with Allo and Duo, respectively.
The Pixel will never actually be anything like the iPhone, at least this round, since Android is so vast that Google relented much of its fate long ago. But by trying to take back at least a small semblance of the messaging, the aspirational side of Android, Google has created something iPhone-like, and I think that's a good thing.
Jerry Hildenbrand
Yep. Outside of the appearance, the Pixel is a conduit for the apps and services it provides and nothing more — exactly like the iPhone. No bells, whistles or gizmos added to distract attention away from the one thing on the screen you're looking at is a decision, not an accident. Like the iPhone, the Pixel brings you a core software experience designed to be augmented by the things you want rather than the things the company who built it says you want. And it does it in an unassuming package.
Andrew Martonik
In terms of this being an in-house made vertically integrated phone experience, sure. There are clear differences in philosophy and execution between Google and Apple — this isn't an iPhone, it's Google's version of the iPhone "model" of making a phone. It controls the whole stack: sales, hardware, software, apps, services, and even the carrier.
Russell Holly
Sure? I'm not sure how it matters whether this phone is like an iPhone or not. There's a market out there for a phone made by Google with dedication to software updates and actual product support by Google. If that makes this an iPhone than sure, whatever.
If your reasoning for calling this an iPhone is that it's expensive and locked down to Google's experience, consider this me laughing directly in your face followed by continuing to enjoy this phone.
Harish Jonnalagadda
In the sense that Google controls both the hardware and software side of things, yes. In every other aspect, the Pixel is like any other high-end Android phone. It represents Google's vision for Android, but you're free to tinker with it any way you like to make it truly yours. Try doing that on an iPhone.
Marc Lagace
I feel like comparing the Pixel to the iPhone is supposed to be like throwing shade Google's way. But if the Pixel is Google's ideal vision for an Android phone, and that feels reminiscent to Apple's iPhone, then so be it. At least I didn't have to replace all the stock iOS apps with the Google equivalents as I've done with every iPhone I've ever owned.
Any final thoughts? Is it worth the $649+?
Daniel Bader
No waterproofing is a serious knock against this phone, and you can be damn sure the Pixel 2 will have it. But when I consider the price I paid for the Pixel against the value I perceive it brings me, I don't think $649 is asking too much.
Would it sell more if it were $549, or $399? Sure, but then it wouldn't sit in the same category as the Galaxy S7 and iPhone 7, and that's the market Google wants to pursue, and be seen pursuing, with the Pixel.
Jerry Hildenbrand
No phone is worth $600. But if that's the price put on the best phones, then yeah. There is nothing built by anyone else that has these features or this hardware, and if they are worth that much, it's hard to argue the Pixel isn't. $600 is also what the Nexus One cost after tax and shipping. And the Nexus 6 cost me $700 before either.
In any case, only you should care how you spend your money. The Pixel is worth as much or more than anything else out there.
Andrew Martonik
I absolutely understand the hesitation from a lot of people to spend $649 to $769 for a phone — be it a Galaxy S7 edge, Moto Z, LG V20, iPhone 7 or Pixel XL. There are tons of great phones out there that will set you back $2-300 less, and they'll give you a solid experience. But if you're willing to spend $649+ on any phone out there today, you'd be crazy not to consider the Pixels.
Russell Holly
Like the HTC 10, I feel like these phones are about $100 off the mark. Samsung earns their price tag by stuffing every feature under the sun in their phones, and the law of diminishing returns abides. This phone is very nice, and I'm happy to pay slightly above my perception of its value for the experience I've gotten so far, but this phone would be damn near perfect if it were either $100 cheaper or included things like waterproofing and wireless charging.
Harish Jonnalagadda
I have no issues with the Pixel XL's $769 retail price. That's a significant discount when compared to the phone's asking price in India, which is $1,010 (₹67,000). Google is pushing the overall experience with the Pixel, and that commands a premium. One that I'm willing to pay.
Marc Lagace
Honestly? Probably not. It's a fantastic phone, but unless you're comfortable with re-upping on a carrier contract for a discounted price, I don't understand how people can justify spending so much on a phone. Then again, we're living in a world where the latest flagship phone from any manufacturer is going to run you upwards of $700 or more, so it is what it is. And the Pixel is arguably the best of the best right now.
Daniel Bader was a former Android Central Editor-in-Chief and Executive Editor for iMore and Windows Central.
Wow I can't believe that comments are actually enabled on this article. Seems like most of the articles you cant comment on anymore. Smh

Good comment. Seriously, though, we only close comments when there are good reasons for it. The vast majority of the time it is because these posts are constantly updated and the comments would get stale quickly. See this post for more information: www.androidcentral.com/introducing-android-centrals-smartphone-buyers-guide

Alot of articles(fluff pieces) have their comments turned off. If you want traffic to your website leave em on. Lots more ad revenue that way.

That's because people only comment on the fluff articles to ***** and moan about them (myself included). Honestly I'm glad they've turned them off for the fluff pieces.

Really? What's more entertaining than allowing Android fans to debate over what THEY feel is "The Best Android Phone Under $700"? Yet you close comments on all those articles. It feels like a real slap in the face of your reader base - "here's our opinion, we don't give a flying f what your opinion is." Torques me afresh every time you do this.

It's because they're an advertisement, not an article. Check out the reason down below that Flo didn't have any input on this article.

I'd love to know which company is paying us for these pieces.

Seriously, Daniel, how can she author both articles on best Android phones under $900.00 & $700.00, yet didn't contribute to this article, because she has no experience with the phones, according to fellow author, Andrew? I saw your answer below, I still think it's funny. Have a good one.

My check from Monsanto didn't come this month Dan.

We absolutely want to generate conversation on those articles, but the comments aren't the place for them, as I've explained. Those articles will get refreshed every few weeks which will make the comments quickly outdated. Instead we encourage you to move to the forums which are better designed for these kinds of long term chats.

Tbh, clicking an article that was just refreshed and floated up and setting year old comments that aren't remotely relevant IS pretty annoying, so I have no issue with them handling it this way. Comment sections tend to be flame city anyway... Specially as the scope of the article broadens.

Yeah but "under $700" is such a dumb category. Might as well just say Best Overall.

how about when the articles are updated you add a link to the better designed long term chat forum? (and remove the previous, no longer as applicable link, but that forum can still be found if someone wanted to read old stuff)

Yeah, this should be fun comment wise. This is the best Android phone as of right now . Period.

Noooo, it's a fact. I saw it on TV and the internet a bunch of times. Really though, pixel leads...others follow!

No SD card? No thanks, moving to a new phone is excruciating without it.

SD card is also a deal breaker for me but then again I got the LG g5 and I can't put one app on my SD card which sucks as i have a grove account and wanted to put all my music on my 200gb sd card like I had with my lumia 950xl about it won't let me. I've seen a work around to enable the all in one storage so going to at doing that but it is a bit pants the way some phones are setup with sd but you can't do a lot with them.

No adoptable storage on LG g5?

Really? It's that hard to transfer files to your PC and onto the new phone? Enjoy your slow SD performance, dinosaur.

Nah, some prefer not have to have a need to take out a laptop or desktop to do simple things on a phone. You dinosaur :D

If you think the only way of transferring things between phones by physical means is thru a removable mSD or with a PC I really gotta question who's the dinosaur here... It always seems like half these arguments exist in a world where USB OTG isn't a thing and 200MB/s flash drives aren't <$50.

With games hitting 3-5GB, many of us want to keep our internal storage for apps and games and use Micro SD for media for the hours a day that we aren't around wifi. The 128GB Pixel is just not worth the price. I spent $421 for a phone with 128GB of internal storage AND support for Micro SD. It's just as well bullt for hundreds less. Google priced this too high.

that's great but for people like me that don't use their phones as a mobile video game console, and streams everything from music to movies, I won't come close to maxing out the phone's storage. Had a 64gb sd on my 32 gb galaxy sE7 and never used it, and I would only take pictures in raw mode as well as 4k vid.

But ... you just commented.

In fairness you can't post a truly blank comment. He could of, however, just typed a period.

Thanks :) I was probably up too late to be posting grammatically accurate comments.

This review makes me feel warm and fuzzy about my choices. Great comments.

Thank you for these kind of varied / mixed reviews especially after 1st impressions. I'm waiting until next year for the Pixel 2, still in love with my 6p. AC is a quality place to read for my Google bible.

good review. i have to say i agree with everything in here. not much more to say.

"but that it pulls 12-14 hours on a 2770mAh battery is so small feat" typo guys

I simply love my Pixel XL!

The more I read about this phone, the more I'm tempted. But I'll wait for the price to drop at lest 100-150, or buy a used one on Swappa.

Keep your eye out for a Black Friday sale.

Yea, my guess is you'll see it for at least $200 less in a few months. Heck Tmobile is already giving you $300 credit to activate with them.
I might pick on up on Swappa in March for $400.

I say around spring when the new ones come out from different OEM's

I would guess later, Google doesn't need to drop the price until next year's Pixel is released. I'm even gonna guess these are the first Android phones that may retain more value, too soon to say for sure but I have a feeling.

Prices will always go down over time. The question is how long you're willing to not have the phone while you're waiting for the price to come down.

I ran a big red Galaxy Nexus for over three years, then bought a N6 just as the N6P was coming out. I think I can wait a year or more on the Pixel.

Not like you can easily get one right now unless you go thru VZW, seems like everyone and their mom has a Thanksgiving ETA for their Pixel orders, including some people that ordered on launch day.

And yeah, I'm just bitter that my launch day order got cancelled TWO WEEKS after the fact thru no fault of my own and with no warning. The fact that Play support couldn't come up with a better solution than making me put in a new order also left a sour taste, still looking forward to it tho...

That's the whole idea, that's why you read about this overpriced, ugly, irrelevant device all the time in androidcentral!

Or, because we (and look around and see this applies to every other tech blog) have access to every phone, have used them all, and this one is just better.

I've had the XL since the 20th and I love it. The only thing that really bothers me is the bigass chin.

Off topic, but Harish has the best surname I've ever heard of...Jonnalagadda. Tuff!

Hahahahahaha. It is certainly unique.

No probs with battery life on my Pixel. I unplugged about 8:30 this morning. At 11pm I was down to 30%. This is easy better than I ever managed on both the Nexus 5 & 5X... and by some distance. But devices tried top ups at around 5pm

Love my s7 edge with amazing features and 2 days battery life

Either it's hooked up to a car battery or you do not use it very much.

I wish MY S7 Edge lasted for two days.

Haven't had to charge mine since August.

..... and after you turn it on ... ? xD

I'm over my S7 Edge. Preordered a Pixel 7 months in. ANd I'm getting nowhere near 2 days battery life on my S7 Edge. Battery life was incredible the 1st couple months, now I can't even get a day.

Great reviews... I had my Pixel XL so far since Tuesday morning so 4 days for me so far and I absolutely love it and hands down the best android phone I have ever used. All the comments on this review is exactly how I feel as well it seems as if Android Central read my mind and my experience or maybe indeed this truly is a great phone. Sure it does't have water resistance, but other than that I feel like Google nailed this phone especially as it's their first try. I can only imagine at what a Pixel 2/ XL 2 will be like.!!

I still say water resistance is just fine. It will withstand a good rain, which is just fine for the majority.

Ohhh.. would probably not test it. Would an expensive brick.

"But if you're willing to spend $649+ on any phone out there today, you'd be crazy not to consider the Pixels." Hi...my name is crazy. Nice to meet you.

I mean....look at your pic.

The pics were great. I agree with jerry's perception of the pricing, if the pricing it has is the pricing flagships are supposed to have, then it is worth it. And it comes down to whether you want to pay a premium for this sort of flagship over the zte axon 7 or oneplus 3. And there was some reluctance to admit to being closet iPhone fans. :P
But on that I don't really mind iPhones, what I hate about iPhones is ios. The android version of ios that the pixel brings seems like a win to me. But I don't value it more over oxygen or touchwiz.

Though it seems to me tech editors/blogger have the tendency to show off photos that look like they were testing the phone's camera. Then again, I am a complete photo snob so you have take my observations with a bag of salt.

I think the pricing is fine, it is what it is, standard flagship pricing... Not like they're even the most expensive flagship models. I have more of an issue with the storage and totally aping Apple in that regard when they've actually charged less for more storage in the past. I feel like they could've done $50 for 128GB or 64GB as base, either would've made me much happier than forking over an extra $100.

Really liked this shared viewpoint. All the right questions were asked here. I think it's very interesting that most preferred the smaller Pixel.

"Look at an LG V20 and ask me again." - LMAO Why did I hear that in Samuel L Jackson's "Jules" voice?

Glad you like it, but LG has the worst skin of them all.

Its software on the V20 is better than anything they ever did on Marshmallow ... but yeah, it still needs some work.

"The HTC 10 nails this, and I wish that had been the phone Google was chasing instead of the iPhone" If they had, I would have bought it.

Why would they chase a phone no one bought?

Yeah, that was the reason for low sale numbers

I always thought the HTC M7 was the best phone ever made. It got so many things right, it just needed updated internal specs, better camera.

128GB Black Pixel XL Would've been in my hands now had it not been for the delays....

Hey, same here. But at least they send us extra Google Play credit with it :D
I can't wait to touch it coming Tuesday..

I wish I could touch one. But I guess the HTC 10 will do. Would really want a Pixel now, though. But I need a phone now and the delays just didn't work in the Pixel's favor for me.

What extra Google Play credit? My launch day order got cancelled thru no fault of my own and I'm still waiting to hear back from a rep on whether they'll honor the Daydream offer (for which I had already been notified that I qualified)...

My only two issues with the phone is not having better headphone jack audio. Especially considering the OEM they used to make the devices, HTC we need your help! And why is this phone not shipping with a minimum of 64gb of storage???

Purchase Poweramp and all worries go away. I'm dead serious.

Yup, that's what I've used for the last 4 years.

Is it solely a music player or does it improve audio quality while using other apps like Google Play Music?

Snake oil. The only way to truly improve audio coming out of your phone is to switch to using a DAC if it has the feature or to go into a decent dedicated amp.

Every phone has a DAC. A dedicated AMP would not work if a phone did not have a DAC.

I primarily use bluetooth headphones and speakers, so I should be fine, right?

Bluetooth devices have their own DAC/amp so whatever the phone is using has 0 impact.

But seriously you can not go wrong with this phone... I've owned all but three Nexus devices nothing has been this fast, nothing!

Looks good and can't wait to get my pixel xl, which I paid more than 900 for BTW.
Not sure how many more categories we can come up with that the pixel can win. Don't forget the best android device that begins with a P and ends with XL...:) a bit tounge in cheek, but you get the idea.

Whatever else they do come up with, the pixels will come out on top. Best Android device EVER MADE!!!

No comments about the lens flare/halo, bluetooth issues (more related to 7.1 i read), and the screen flicker while charging (only saw that for the XL). I am looking forward to a Pixel (small one) to replace my 6p, and those things bother me.

lens flare: listen to the latest podcast, we go into it a bit bluetooth issues: I've yet to see a phone that doesn't have various Bluetooth "issues" — disconnects, weak signal, problems pairing. I haven't seen anything about flickering screens. My Pixel and Pixel XL certainly don't do it

I have no issues on my p (even on 7.1.1), but i saw something bout issues for the pixels and old nexus now on 7.1 and car stereos. I also read about the XL screem flickering while charging. Will look for the podcast, i kinda left that world almost 3 years ago with my new job with almost no commute time.

In MHO, no phone on the market should have less than 3800 MA of battery life. Yes the phone will be thicker. SO WHAT!! I need longevity. The Pixel should be at least 3800 and the XL at least 4800. It can be done the technology is there.

There's always a tradeoff to every component choice. And that means there's a reason why you don't see every phone with a 4000+ mAh battery inside.

bigger problem is efficiency of the chip and code. Qualcomm can't compete w Apple in high performance area. 820 lags laps behind and still draws more power.
What I get in Z Play is exactly what 3500 mAh iPhone stamina would look like - full 2 days and nights of moderate to heavy use and a bit juice for morning in the 3rd. I think that iPhone 7 plus is said to have almost 2 day battery of moderate use. So, it's not just "stuff running in the background in Android" excuse

How do you know the power draw?
And the die size of Apple's CPU cores is supposedly huge. Gsmarena has a battery test of moderate use and the iPhone 7 plus doesn't even compare to the s7 edge in terms of battery.

It's pretty easy to drive efficiency up when you can tailor your entire OS for only a handful of SoC over which you have complete control and you don't need to worry about broad compatibility... Same reason Macbooks have had better idle and light workload battery life than comparable Wintel laptops for years (even tho they both run on the same Intel hardware), when pushed with a heavy load or if you boot the Mac into Windows the gap narrows.

Great breakdown on why the pixel experience matches apples polish finally with a better camera.

6 contributions from men.. Where are those from Flo and the other AC women?

Unfortunately Flo just received her Pixel yesterday and didn't feel she'd had enough time to write something up compared to the rest of our 1-2 weeks. Don't worry, she has thoughts and will be offering them up on the blog soon :)

Yet, both articles(with closed comments), carry her name: 1.Best android phone under $900.00 2.Best android phone under $700.00 Hilarious.

These are collaborative pieces, and are not the opinion of a single person.

My point is, the two articles carrying her name, that I referenced, were put forth as her opinion. I'm not going to beat it to death, have a good one.

It's like you're reading what Daniel says and then just forget it and reply with the same thing over and over again.

I understand what you are trying to do with articles that will be updated. But surely you see the problem here. Someone asks about the diversity of the review, and it's pointed out that Flo didn't have her Pixel yet. However, two articles posted have her declaring Pixels the best phones in two different categories. If that's truly a collaborative piece, why not create a new author for AC called simply "Android Central" or something like that? Then it doesn't matter if it gets updated, or if staff changes over time (which it will). I'm going to have to agree that it looks really bad, and has me somewhat questioning the journalistic integrity of AC. Even though I know that's probably not the intention.

The problem here is, "best" is subjective and therefore the PERFECT pieces to comment on, but oh well...

Gee, now my lowly S7E seems, well, lowly. If only I had an S-Pen to wave around like a sword.

Galaxy S7 edge is still a solid phone. Just a different kind of experience from the Pixel.

I'm honestly enjoying it. Still I wouldn't mind if the Pixel and the S7 had a baby.

S7 hardware with Pixel software. Mmmmmmm....

S7 edge exynos rooted no adware note 7 rom with goodlock. Installed pixel launcher and google assistant. Fastest setup i have used, so far, with waterproof.

seems like the play store used to do something like this... https://en.wikipedia.org/wiki/List_of_Google_Play_edition_devices

They did, poor thing died at birth, RIP Google Play Editions. I honestly would buy a GPE S7 in an instant, but as things stand it's Pixel for me.

There is always something that has to be sacrificed or a compromise made but usually there is still enough of the good stuff to enjoy the better phones. I wish I had a Pixel XL to trade back and forth between it and my S7E. I think that would be the best way to determine what features, day in and day out, are really the most critical for me. If GPM is buttery smooth and fast on a the Pixel, that might be the clear winner. The app is a DOG on my G3 and noticeably better on my S7E though still not as zippy as all my other apps. It is the one Google app that is in the most need of an overhaul (ugh, so tired of posting that statement). Anyone have Sundar's email?

Jerry, if the phone sold out at a minimum price of $649, it is, by definition, worth the price.

Pleased with the Pixel XL so far...the phone is as advertised and it is fast.

I wish Marc would have posted a photo from the concert he went to. I go to lots of shows, so I'd like to see how the camera performs in those conditions.

I took a bunch of pictures at a Cheap Trick concert in Virginia Beach when a friend had a Pixel for testing. It was pre-release software, but the pics were really good (or looked really good on the phone screen). I'll see if he can't send me copies of them.

This is something I'd be interested to see. I have the 6P now but want the Pixel for the size and better low light camera performance. I tried to take pictures during a GnR and Metallica concert but was a little disappointed.

Jerry are you from Virginia?

I live 12 miles north of Winchester, just as you enter West Virginia. I love that imaginary magic line that makes my taxes drop by 300% :D

Haha I hear you. I lived in Harrisonburg most of my life and I'm sure you've probably been there.

Taking photos at a concert with a phone seems like an exercise in frustration... Don't get me wrong, I'm not the sorta snob that thinks smartphone cameras are outright terrible... But even if you're at the front row you aren't getting very close unless it's a tiny venue/stage. Panasonic GM1/GM5 + Sigma 60mm f2.8, small enough to sneak into any concert, and it'll get you closer and better low light performance than anything else at that size IMO. Plus it doesn't cost much more than a phone, if at all. I'm glad the Pixel I've got on the way has raised the bar (particularly compared to past Nexus), but there's things where a dedicated camera still blows a phone away *without* having to drag big gear around or spend over a grand (or even over $650).

I played with the two models in store, and I actually like the smaller one more than I thought I would.
;)

Was looking to change my Galaxy s7 for the Pixel Xl or an iPhone 7 plus. I played with the Pixel Xl in a few stores and had totally decided that was the one I wanted then found out my carrier wasn't stocking it so had to go for my 2nd choice of the iPhone 7 plus. Pretty gutted tbh cos it's gorgeous even though I hated it when I first saw the renders online with that huge chin. I'll maybe have to wait for the Pixel 2 or swap the iPhone in a few months

The Pixel is great, but I also have a S7 and iPhone 7 alongside my Pixel, and factoring in the whole package I'd still take the S7 or i7 over the Pixel - and yes I'm including the camera in that preference as well.

This is my thinking. Google Assistant and fast updates aren't enough to just its price, we had fast updates with Nexus phones.

What it comes down to is this: if I want an iPhone, I'll buy an iPhone. Not an Android phone disguised as an iPhone. I'm happy with my iPhone 7 Plus and I'm glad I chose it over the Pixels. I feel the iPhone 7 Plus offers way more hardware features than the Pixels.

So you're just into an iPhone disguised as a Samsung Galaxy Note?

Without the note features of course

Uh, not at all. My iPhone 7 Plus hasn't been recalled due to fire/explosion.

"At least I didn't have to replace all the stock iOS apps with the Google equivalents as I've done with every iPhone I've ever owned."
I did the same with my iPad! hahahaha, I love this!

Now, I haven't heard anything new so please correct me if I'm mistaken... Are we going to get anything over two years support going with a phone designed, built and maintained by Google? Not a complaint, just a question. Thanks in advance!

3 years is what Pixel tech support told my bother when in contacted them through the phone

I believe it's 2 years OS, 3 years security updates guaranteed.

Those support windows are the only thing that give me pause. I just updated my wife's iPhone 5 (2012) to iOS 10.1. Four years is twice as long as Google is promising for future OS upgrades. And I do take Google at their word - my 2013 Nexus 7 officially became ignored by Google in September. For an iPhone-like price, I was hoping that Google would finally match Apple's OS/security support length, but we're still looking at Nexus-like support levels. This has implications for resale/trade-in value a couple years down the line.

I think a lot of that comes down to chipset manufacturer's continued support. Apple makes their own, so control that decision. Unless Google contracts longer term support or similarly starts building theirs in-house, I wouldn't look for longer term guarantees.

That's next. I can totally see Google and TI working on an ARM chip with a very capable coprocessor for Assistant and environmental features.

Would they even have the market share to do that though?

Gotta start somewhere in order to gain marketshare and leverage...

They spent 10X as much to design their own processor board for the computers that help Assistant "think". Google is made of money and loves to spend it.

Hate to say it, but it is the most Appley phone I've ever had outside of Apple. I mean that in fluidity and build, as well as how it feels in the hand. Really a great phone and the camera cannot be commended enough. Thanks Google for giving us a truly high quality phone. Loving the battery life on the Pixel vs my 6p.

Yeah now it's just needs imsg...kidding!

Okay So I was a Nexus user until the Google decided to go from a 5 in screen to 6 in. I just cant get with really big phone. Had the Nexus 6 for a day , the 6P for 3 day and just couldnt do it. The 5X felt like a downgrade from my 2014 moto x. After trying multiple phone I settled with a S7( hate samsung software) because of the camera back in may. Fast forward to the google Pixel... google finally is making a 5 in high end phone and I had to have it. Like all the reviews above it is a great phone. The problem is at $800 (with insurance) I wasnt gaining much over the S7. Felt like a expensive wash, even tho I could get around $400 for the S7. Just couldnt justifying $400 and not gaining much , so I sent it back. Also the ambient display is really bad. Only blinking one time, youll never know you have a message waiting.... does that not bother anyone? Sorry about the long message. Was just so excited about finally getting back to nexus/pixel

Google definitely needs to fix ambient display on the Pixel. Have you been using the notification light?

Yes I turned on the notification light but its recessed and very dim. I have to look at it at the right angle to see it. I sent my pixel back. Just couldnt justify the price. I will probably buy it again in a few months when the price drops and ambient display is fixed. They need to copy Moto with active display, which I loved

This. I'll say that if Google had partnered with Motonovo or Huawei instead I probably would have bought the pixel.

Yes a 2yr old Moto with Moto display that in practical daily use still blows ambient display away into the oblivion of uselessness that ambient display belongs..

I'm gonna miss the notification light on my Nexus 5,-it's nicely diffused (almost more of a glow) but visible from every angle as long as you can see the phone's chin... Everyone should do notification lights like that, I believe it just sits under the chin's glass and shines thru. That being said, I don't really rely on it anyway, just a nice perk... If I really need to be on top of incoming notifications I wear my watch or pick up the phone.

Hearing more and more about the lens flare. Concerned that software may not be able to correct it. Any current owners experiened it in their pictures.

A few times but it really hasn't bothered me. If they can lessen it that would be great but for me, personally, it has been a non issue so far.

There is a review guy named Jeff Springer on youtube that was talking about just that this past week. He has a couple of vids covering Pixel/XL variants with the issue.

Form what I see, battery life is quite disappointing on Pixel. Disappointing to expectations, better to say. Pixel's barely making through a day is unacceptable.

I have zero battery anxiety with the XL. It's very good.

I can see that - w 3500 mAh would be hideous not to make it. I was referring to Pixel.

Did google solve Bluetooth and lens flares and Bluetooth connectivity issue ?

I've had no Bluetooth issues, not to mention that seems like a 7.1 issue. The halo effect has also been a non issue for me, YMMV.

Man, I am digging this phone like I haven't dug a phone in a long time. It just works. I have quickly realized I don't need a million features in a phone that I might use half a dozen times over the course of two years. I need a phone with good battery life, a great camera, and fast performance. This phone ticks all those boxes. It won't be for everyone and that's the beauty of Android, but it's fits me perfectly and I can see this phone lasting me for two years easily.

So it seems that this phone is very much the iPhone of the Google world. But if I'm looking for a phone that's like an iPhone I figure I'd rather just get the iPhone.

"All of the things that aren't there. I don't want IR blasters or iris scanners or SD cards" Oh, yeah, your favorite thing is the lack of features? Jerry? You gigantic tool?

HurrDurr he doesn't like what I like so I'll call him a tool. My heart is broken.

At least you're a gigantic one! I'd like to be gigantic... In a puny troll squashing kinda way.

He doesn't subscribe to the theory 'better have it and not need it than to need it and not have it" apparently. Posted from my unlocked S7 Active/ matte black iPhone 7/ peerless Note 4/ or iPad Pro 12.9

Glad you like the Pixel so much..
I'm just not ready to pay for Google's multi million mainstream advertising campaign.
It's overpriced by $200.. It maybe a great phone but it's design and software is still very version 1, almost beta...
even with a price drop next yr there's nothing that will give me $500 worth of upgrade on my current UX

It's funny. When Android was about features we made fun of iPhones. People would justify all the things an iPhone couldn't do. " I don't need an SD card" etc. Now that Google's made the pixel it's people saying those same things, people suddenly coming to this Epiphany that they "don't need" this or that, as a justification of the fact that they spent so much money on something that flatly does less than its competition.

You're absolutely spot on!

Some of us have been saying it for years. I don't want the baggage that comes with a tiny floppy disk. You're still allowed to want it.

I hear you on the SD card, that was just the one example that came to mind.

A lot of other features are just common across the board now... I pretty much never took my cards out when I had phones with removable storage (the fact that they didn't make it easy didn't help) so I was fine losing that on Nexus phones from the start, specially since internal UFS storage is currently so much faster. USB OTG was far more valuable to me the second it became a thing and I believe even Apple enables something similar now... Similarly, increased water resistance isn't crucial IMO, I'm not gonna go dunking my phone with or without it. I'm definitely gonna miss wireless charging tho, I do hope they bring that back at some point... Tho having a standards compliant Type C port/charging is as much of a do-want feature as anything in my book.

You have good points. My main point was that the evolution of it all is just humorous. We used to poke fun at iPhone users saying oh I don't need widgets, I don't need swipe keyboards, I don't need a different lock screen, I don't need different font choices. Now it's a lot of pixel users saying the same type of thing to other Android users as justification for the price tag. I don't need water resistance, I don't need dual cameras, i don't need SD card, I don't need wireless charging, I don't need ir blasters, I don't need a DAC, I don't need working ambient display, etc. That's the funny bit to me.

Oddly enough, I also don't need (or want or use) widgets, swipe keyboards or squirrelly fonts. :)

Absolutely. That's probably my favorite part of Android, all the choice we have. Just like how I decided I didn't need what the major brands were offering feature wise or bloat wise and opted for something like the OP3, for 300 less new. I get what Android should be imo, plus the same flagship specs that matter to me, CPU, GPU, battery, and ram. The fact that the camera is pretty damn good is icing on the cake. This is what makes Android great to me.

And i thought i was all alone with that

That's because they believe a great software experience is more important than hardware. Great software doesn't work well without great hardware as well.

The only thing I need out of all the things you listed is a swipe keyboard.

You're absolutely right, Nevpaurion.

Glad im not the only one noticing this haha

Here's what I don't get. The AC editors were praising the Note7 when it came out because it had a ton of features. Now they're praising a phone that doesn't have very many features? I don't know how anyone could try justifying the price of this phone when it lacks many features that other phones have that cost just as much.

This article may tempt me to upgrade to Pixel XL when my contract comes up for renewal in early 2017. Fortunately EE in the UK offers this phone on contract as the outright price is just too much for me.

I'm currently using the Nexus 6 which is still great so will have to cope with a drop in screen size to what I'm used to.

Best phone ever is subjective. Every year I get the newest phone and say "best phone ever!!" Then say the same thing the next year. We all do it. With that said.... The pixie at its price point is expensive for what you get. Wireless charging and water resistance should have been standard on this phone as they have become common place amongst phones this expensive, or flagship if you will. There's really no excuse. Why should I buy a phone at this price when I can buy another phone for a little more and have great features that doesn't hinder the phone, or experience? Like buying a car. Why would I buy a car that's missing collision avoidance, Bluetooth, HD radio, 18 inch rims, and etc. for X amount when I can buy a car that looks just as good with all those features for about the same price?? (This is of coarse that I like both cars handling features, warranty, and etc.) I just can't justify the price of the pixie. This is my opinion and only my opinion. I won't disparage anyone who likes this phone as beauty is in the eyes of the beholder.

You have 2 cars, one has all the bells and whistles but is slower and kicks you in the gut every time it shifts. Then you have a car that is smooth as silk when shifting and the power ban got you on the highway without issue. Which one would you take? Me, the one that JUST WORKS!! I understand the argument but..
This is the point in the pixel. It's not that it's supposed to hang feature for feature, it's that it's optimized to work flawlessly for what you need in a smartphone for everyday people Ala iPhone. Until you've used one, you won't know.

https://www.youtube.com/watch?v=QWBkfW6yE9E
Some phones work better and have all the bells and whistles. Stop acting like every android device but the pixel works slowly and hangs all the time.

Word of advice. There is a built-in command called "time" that will allow you to test exactly how long it takes to do things on a phone, accurate to the millisecond (actually accurate to the amount fo time it takes for one CPU clock cycle, but millisecond is easier to display). If the person showing you how fast a phone is compared to another isn't using the time command, they either don;t know enough to be making videos about process speeds or did not like the result.

That's besides the point really. It was apparent that games loaded slower and it was apparent that there was no discernible difference for anything else.

Yep. Loading time is just as on any 820 chip. This one shows how much slower it is when put up against iPhone 7+ https://youtu.be/Na0JRDMAoKM Just curious how it fares against OP3.

They taste goooood in chocolate!!!! ;)

I agree. But you missed the part where I said that's assuming that I like both cars, handling, warranty and etc. That means how they run too.

I don't understand your analogy. A Galaxy S7/S7 edge "just works" just as well as the Google Pixel/Pixel XL, but the S7/S7 edge has a better hardware experience and they both cost LESS. Your argument is very weak. But most Pixel owners are trying to justify the high cost of their devices even though they know they're being screwed on their hardware.

Kinda like everyone else gets screwed on updates and non-compliant Type C implementations that require proprietary chargers.

It's the best Android phone ever because no Android phone has ever functioned this well. It's all about basic functionality and no Android phone has perfectly pulled that off until now.

I guess I'll see you next lifetime....

I've owned so many Android phones over the last 10 years that I've lost count. I've had my Pixel for over a week now and the honeymoon period is long gone. I can honestly say I no longer have any interest in following new phone releases. This phone is so good that I can see myself buying only Pixels from now on if they're all going to be this good. Well done Google/HTC.

Next years Pixel is what I want. Google needs to fix everything that is a problem and evolve the assistant, then it might be worth the money. The next iteration of the Sony camera combined with the Google software is going to be world changing.

I hated the look of the pixel when I saw it online but when I actually managed to get hold one, it's a really nice phone. Just gotta decide next year now whether I get this or the S8...!

Great one-week-later followup to the well-written reviews. Three things surprised me about what was written:
- The battery life of the XL sounds phenomenal. I am SO tired of carrying around chargers and external batteries on every business trip due to battery anxiety with my N6. I'd love to have a phone that I don't have to worry about.
- The general commentary about the waterproofing. Gee, is that really such a big deal? I guess I'm just careful with my phones and don't expect them to get wet in the first place. Never lost one yet.
- Then, despite the roaring positives about the phone, I read the "Is it worth it" summary at the end to say "NO, it's overpriced." I understand that this is a lot of money for a phone when you can get a functioning smartphone running Android for less than $100. And who wouldn't love to buy this Pixel for $500? I totally get that you guys - who know more about Android phones than I ever will - are saying it's a great phone - the best Android yet - and can still say that it is a bit overpriced for what it is... it just comes out funny after such glowing praise.

See the waterproofing, you said you "don't expect it to get wet". That's the thing. You don't expect it to. We all don't expect it to. But there might be just that "one" time you say "dang it Jim!!! Why did you bump me like that???" As your phone is sinking to the bottom of a pool...,,

Well looks like I'll be hanging on to my beloved M8. This thing is my daily driver and I still get 20 hours of battery life out of it.. I am not a gamer, I don't watch movies maybe a occasional YouTube vid, or facebook vid. My M8 handles my tasks very easily with no issues being that it is 2 years old.. I love this phone! I'm saying all of that to say that I was hoping the pixel would bring some freshness to the smart phone line up and in my opinion it has not! Nothing this year has caught my attention to upgrade. I really don't like that the pixel does not support wireless charging, no SD card slot and the design. To me it's too much bezel with dead space and it looks cheap, so I'm gonna pass on this year's pixel unless something happens to my phone then I'm forced to make a decision. That will be a sad day! I really hope my M8 makes it until next year, nothing is wrong with it and it gets me through my days with school, work and internship.

An M8 owner dissing another phone for having big bezels?

I was a little hesitant about getting the Pixel XL. Taking a look at it the look wasn't innovative, the Google Assistant sounded like Google Now transformed and while the camera was supposed to be great, I already had a great camera with my 6P. It took all of about hours of using it to convince me that my hesitance was unwarranted. The phone is just smooth. It takes photos quickly, it scrolls without any stutter, it transitions to from app to app quickly, It just does everything well. The 6P would occasionally do things that annoyed me, this phone after using it for a week hasn't done a single thing that annoyed---not once. The battery life is excellent. The battery life on my 6P was hit or miss but often miss. The Pixel maintains connections on the subway and decent speed. In contrast the 6P would lose the connection or keep the connection with exceedingly slow throughput. Keep in mind I loved my 6P. It was the best phone I ever owned. The Pixel simply beats it without working up a sweat. Good phone.

Agh, please stop posting articles telling us how awesome you think the Pixel is! You're making it hard for me to tell myself that keeping my Nexus 6P for one more year is the best plan! :)

I'm happy with my 5" Pixel. However, I'd say it is more of a $500 phone. The only unique things are software and even there it's missing things the 5X/6P have like lift to wake Ambient Display and Now on Tap isn't as useful anymore. Assistant is ok but feels like beta software and if you don't or can't talk to your phone it's really not very good. The hardware is lacking at $650+ (No waterproofing, no FM radio, no sd slot, no IR blaster, no OIS, gigantic bezels etc...) At $650+ it should have those things even if you don't personally use them. At $500 those things can be missing and I think it would be the best phone on the planet. At $650+ it's like a Sony but since it is from Google it is getting somewhat of a free pass as far as the price for what you get.

That's the thing. All these demos and videos act like we're suddenly in a world where it doesn't look absolutely stupid to be blabbering on at your phone about your personal plans in public lol.

That's kind of how I feel. They are priced equal to iPhones, and if I stand back from the fanboyisim, I just don't see iPhone level value here. It's obvious Google just bought an upcoming unreleased phone from HTC and scrambled to turn it into the Pixel we have here today. I still bought one though, the software experience is incredible. I was so tired of Samsung jank that the pure speed of this phone is such a breath of fresh air I don't mind overpaying a little this time around.

Mr and Mrs Pixel are nice. But next years will be much much better. One to miss this time.

+1. Reading this article just made me happy that I bought an HTC 10. Pixel isn't worth the price tag. If Google wanted to put out a high end phone to compete with Apple, they should have included features found on the iPhone such as waterproofing and stereo speakers.

lol really . pixel does compete much better. nothing wrong with htc 10 though

I agree with the HTC 10 comment. That phone is the most ergonomically friendly device. I wish pixel had a curved back.

Great review. The Pixel phones seem like a good option but can't justify the hefty price tag. Still not iPhone lol.

Anyone else seeing their glass scratched on the top?

I've seen quite a few hands on and initial impressions, where they are saying that rear glass is prone to scratches. Yeah.

One thing that doesn't get mentioned, but is rather an odd little fact.... Is that the Pixel has got to be the first phone to have cloth as part of the exterior hardware. Right? The earpiece, as Zach from Jerryrig showed, is covered in cloth. Little strange and very interesting for sure. We'll see if there are any issues months down the road with that.

Mines already white with lint/dust...looks awful.

$649 is just the starting price for the smaller model. If the base model came with 64 GB then I would be happy. Google got smart just like Apple when it comes to storage options. Thanks for the great multi-person article. -Rich

Too much $$$ and they are so ugly! Not for me!

Yeah I'm not motivated to dump my $249 32GB Nexus 5x via PF deal for either of these. If Google would permit other Android phones on PF I'd probably go Moto Z Play. My days of spending $700 or more on a phone are over.

I have had my google pixel xl over a week. Great battery life but, will not pair to car via Bluetooth or Galaxy gear so I will be returning it.

Um... the only phones that will pair to the Galaxy Gear are are Galaxy phones. As for Bluetooth, that's clearly a pilot error on your part. Oh, yeah, username checks out.

the Pixel, and possibly 7.1 in general has documented issues pairing to automotive bluetooth, and newer Gear watches do pair with any android phone. So, thanks for the informative post.

Being that I purchased a 256GB 7 Plus I didn't jump to upgrade my 6P. I tell myself I'm not going to get the Pixel but I don't know. Even if I do upgrade my 6P it might be to something else like the newer OPO that's coming. Or some other device.
The Pixel is a great device. It's just that Android has a lot of great devices. Some of which cost way less.

No micro s/d slot, no wireless and ip53. No thanks, I'll take a pass!!

Did jerry really say that no phone is worth 600 dollars? What's he doing here writing articles if he thinks no amazing pocket computer is worth that paltry sum?

These days when you get over about $400 dollars, diminishing returns kick in hard. At $600+ you're paying at least 50% more for MAYBE a 10% improvement in features and quality. It's worth asking if it's worth it at that point. It seems like a reasonable position from someone reviewing a lot of phones and seeing those differences in person

But he did not say the are slight less value. He said NO phone is worth a mere 600 dollars. Which is an inane assertion. If no phone is worth that then no laptop is worth 2k,or desktop 4k.

Again, diminishing returns kicks in. You can get a very capable laptop for $600-$700; spending the extra money might get you better reliability, more power, and better features, but is it worth it? And that's the question everyone has to ask themselves, Jerry speaks for himself and likeminded individuals when he says "no." Also, $600 may be a paultry sum to you, but to many, that's a significant investment in a technology that ages very quickly.

It is an awful lot of money per se. But for something that is my only connection to the outside world, the device I use to watch all my movies on, to listen to all my music on, to use with a keyboard to do all my work on, the only thing I use to browse the web web. Something that I spend at least 10 hours a day looking at. The 700 quid my s6edge plus cost was, I think, relatively speaking a bargain.

I loved Jerry's answer to the "best thing about" it question, which was essentially "all the features this phone is lacking!" Yeah, I understand what he was going for, but I actually did laugh when I read it. Full disclosure: I jumped off the Nexus train when Pixels came along. Just got a V20 WITH an IR blaster and SD card slot:)

One question. Why wasn't Michael Fisher not included in this article?

He isn't an employee of Android Central.

But he does wrote articles for AC. And it would have been amazing to get an opinion from one of the best tech reviewers on the Internet

After giving up two Samsung Note 7s (I loved and still have my Note 4), I bought the Pixel XL. I have to say that Google gives my 14 days before I can return it, so I figured it would be returned as I await the new Note in Jan 2017. Wrong, this phone is awesome. It is clean, fast and totally a smooth wonderful device. Yes, it cost a bunch, but if I get two or three years out of it, per month amortized it is ok; price is not an object. The battery is great and the wifi, features that it does have and 3D are all better than I expected. Its a winner and I am keeping it for the long-term. I will keep the Note 4 as backup with a second T-Mobile number. I bought this unlocked and use T-Mobile for their global services. All is good.
Android Central Newsletter
Get the best of Android Central in in your inbox, every day!
Thank you for signing up to Android Central. You will receive a verification email shortly.
There was a problem. Please refresh the page and try again.