Google Pixel 2 XL vs. Samsung Galaxy Note 8: Big phones, big prices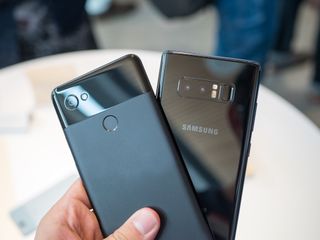 Google's Pixel 2 XL is the new hotness, and with its fresh specs and features it's picked up a price bump that puts it on another level to compete with only the most expensive phones available today. Starting at $849 it's darn close to the price of the just-released Galaxy Note 8, but that's not where the similarities end. These are two big, high-performance smartphones, and they'll surely be going head-to-head in a few people's minds as they go to buy a new phone.
So we're here to talk about how the Pixel 2 XL stacks up against the Galaxy Note 8, and hopefully give you the information you need to know which one is right for you.
What's the same
Image 1 of 3
The Galaxy Note 8 is often referred to as being a really big phone — and that's because it is. The Pixel 2 XL isn't actually far from it, though. The Note 8 is 4.6 mm taller than the Pixel 2 XL, but roughly 2 mm narrower and about the same thickness. The difference in screen size is negligible, with the Note 8's 6.3-inch display mostly just adding a little bit of usable height with its 18.5:9 aspect ratio to the 6-inch 18:9 screen on the Pixel 2 XL. The 2 XL's screen looks really good, but it's too early to know how it stacks up to the industry-leading panel on the Note 8 — chances are it'll be close enough for most people, but come up short.
The only real difference in the feel of these phones is weight, where the Note 8 tacks on a hefty 20 g — and it's very noticeable. Weight aside, if you think you can manage it, you're getting a big 'ol phone with either of these. In order to get that extra screen to look at and interact with, you have to take the trade-off of not being able to easily reach the top of the screen with the phone in one hand.
The similarities continue internally, with both phones having the same Snapdragon 835 processor (though the Note 8 has a comparable Exynos in some regions), and while the Note 8 does have more RAM at 6GB it's hard to say how much that's actually noticeable in daily use to the Pixel 2 XL's 4GB. Perhaps 18 months down the road we'll have a better idea of that. Storage is also about a wash, with 64GB plus an SD card slot matching up fine for most people to a choice of 64 or 128GB of storage without the complication of an SD card slot. And in one area you can't see, thankfully Google has matched the water-resistance rating Samsung has been offering phones for years.
The Pixel 2 XL has a slightly larger 3520mAh battery, just 6.5% bigger than the Note 8's 3300mAh. But any difference in battery life will be coming from the software rather than the raw capacity of the cell — don't get hung up on 220mAh difference.
What's different
Image 1 of 2
The biggest differences to be found in this comparison come from looking at the software and seeing Samsung's consistent core features come through.
Samsung, as we know, loves to have a huge volume of software features and changes, punctuated by its insistence on having all of its own apps and services loaded on the phone. Those often conflict with Google's (required or otherwise) services, and it can be jarring to users who want a simpler layout. At the same time, if you're coming from a Samsung phone currently not only will you feel right at home but you'd also be a bit miffed to find there aren't direct replacements available from Google's phone. The S Pen and all of its great associated features is a perfect example of this. Does everyone — or even a majority of people — need a highly precise stylus? No. But those who do can only find it on the Note 8.
Starting from scratch with no preexisting notion of what you want from your phone's software, it'd be tough not to pick Google's experience on the Pixel 2 XL. The level of polish, speed and integration with its core services is unrivaled in the Android space, and that's something you can appreciate no matter where you land between the "novice" and "expert" ends of the spectrum. There are just fewer variables and opportunities for frustrations on the Pixel 2 XL, and that's a big selling point even when you factor in the inherent limitations of having a more barebones set of features.
Samsung took a big leap in camera technology on the Note 8, moving to dual sensors both supported by OIS and some special software to put them to work. It's hard to argue with what the Note 8's cameras can do, even if the "Live Focus" portrait mode could use a little work. Google may have just leapfrogged it, though, even with just a single camera. First impressions are that its own Portrait Mode, handled with just one lens, can do much the same job as Samsung without the extra room required for a dual setup. And Google's image processing paired with a new brighter aperture and OIS should at least match but more than likely surpass what the Note 8 does.
The final two differentiators here come down to audio. The Pixel 2 XL clearly has the lead here with dual front-facing speakers to the Note 8's single down-firing driver. They're louder, have stereo separation and aren't easily covered up with your hand like on the Note 8. On the other hand ... there's no 3.5 mm headphone jack, even though it's a big phone. Samsung may not offer the best audio quality ever, but being able to plug into your standard headphones and speakers without an annoying dongle is a huge plus.
Bottom line
Much like when we compared the standard Pixel 2 to the Galaxy S8, there's a whole lot shared between these two phones. If you're in need of a big phone with lots of screen to work with and high-end specs to power it all, these phones are the right place to start.
If you already have a Samsung phone, your default choice will be the Note 8 just from a familiarity standpoint. The same goes for anyone who is drawn in by the precise input and tools associated with the powerful S Pen. Aside from its sheer size and weight, there are very few trade-offs to be had here — and you get nice-to-have features like wireless charging and a headphone jack, plus just about any software feature you could imagine.
Coming in with no predisposition to one platform or another, Google's software and services on the Pixel 2 XL are king. You a get simple, fast and clean experience wrapped up in an equally beautiful and sturdy body filled with great specs you expect for the price. But hey, you don't get a headphone jack or the mounds of features found on other phones that you could find useful. You do, however, get a fantastic daily experience of using what Google thinks is the best representation of an Android phone.
Get the Android Central Newsletter
Instant access to breaking news, the hottest reviews, great deals and helpful tips.
Andrew was an Executive Editor, U.S. at Android Central between 2012 and 2020.