Google Pay in Canada: Everything you need to know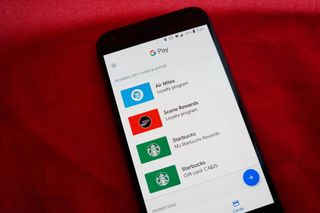 Last year, Google started rolling out Android Pay in Canada, and earlier this year it rebranded Android Pay and Google Wallet into one brand: Google Pay.
Google Pay might just change the way Canadian Android users pay — both in-store and online. It's also the place where you can digitally store all your loyalty cards and gift cards, so your wallet isn't bursting at the seams. Who doesn't love that?
Here's everything you need to know about Google Pay in Canada.
How does it work?
Google Pay is a new way to manage your primary credit and debit cards digitally, allowing you to pay for things securely online or use your phone to make in-store purchases using NFC technology. Once set up, you can use your phone to pay at any store where you see the Google Pay (or outdated Android Pay) logo (basically wherever tap is available).
Using Google Pay is as simple as using the tap technology built into most Interac terminals you already use with your debit or credit card. Simply unlock your phone and tap it where you'd typically tap your credit or debit card and wait a few seconds — Google Pay will pop up with your preferred card and confirm your purchase. You'll then receive confirmation via notification.
The intention behind Google Pay is to avoid the 'friction' of having to pull out your wallet at the checkout. Google Pay can also handle any gift cards and loyalty cards, so you can sign up for unlimited loyalty programs without carrying a pound of plastic in your pocket.
Google Pay will also allow you to conveniently and securely pay for things online and from within a growing number of Google Play apps.
Which banking cards are supported?
Currently, all the major Canadian banks offer products that support Google Pay. Most, but not all, debit and credit cards issued by the major Canadian banks are supported:
Bank of Montreal (BMO)
Desjardins
Banque Nationale du Canada (NBC)
President's Choice Financial
Alberta Treasury Branch (ATB)
Canadian Tire Financial Services (CTFS)
Canadian Imperial Bank of Commerce (CIBC)
Scotiabank
American Express
Canadians who bank with a credit union are out of luck as credit union debit and credit cards are not compatible with Google Pay at this time.
Where is Google Pay accepted?
Google Pay can be used in shops that offer tap-to-pay terminals and display the Google Pay or tap pay symbols in store. You can expect more merchants to adopt Google Pay, but for now, you'll be able to test out Google Pay at Loblaws grocery stores, Petro-Canada gas stations, and at fast food chains such as McDonald's and Tim Hortons.
You should also start seeing more "Buy with G Pay" buttons popping up when browsing around online using Chrome or in Android apps such as Skip the Dishes (opens in new tab) and others.
Android Central Newsletter
Get instant access to breaking news, the hottest reviews, great deals and helpful tips
Marc Lagace was an Apps and Games Editor at Android Central between 2016 and 2020. You can reach out to him on Twitter [@spacelagace.
Can Americans now use a U.S. G-Pay account when visiting Canada?

It's almost a year since it started in Canada. I wonder when (if?) is it going to support RBC cards.

Bug RBC about it, although if they're anything like TD Canada Trust, good luck.

The stupid thing is that both TD Canada Trust and RBC support Apple Pay, yet both are trying to push their own mobile payment system on Android. TD's mobile wallet on Android only supports visa credit cards (no interac debit or Visa debit cards) and they make you create a 5-digit pin and no be able to use your fingerprint to login (even into just the app) Meanwhile TD Bank (US) supports Google Pay. It's really anti-consumer of TD Canada Trust and RBC to not support Google/Android Pay They both need to get their act together and add fingerprint login support and Google Pay support.

You have echoed my beef with both TD and RBC exactly. I pointed out the exact same things to TD and they didn't sound remorseful, presuming they cared at all. MBNA also supports Apple Pay like a good puppy, but Android users get a mobile website and THAT'S IT. In Canada, the only bank that has its stuff together is CIBC. Otherwise they either have great pay support but a crappy app (cough, Scotiabank) or a decent app but crappy pay support (TD, RBC).

"Currently, all the major Canadian banks offer products that support Google Pay." RBC and TD (two of the big 5) do not support Google Pay, or am I missing something?

Feels like that sentence was supposed to be deleted and replaced by the that follows it.

When this pay by phone thing first started, we was told that lots of people will use it and yet I have watched people at checkouts and i have seen very few people pay using their phone, Maybe they do in larger cities like London, but they do not seem to here.

RBC, TD and Tangerine. Heavy hitters with no Gpay in Canada. Lame-O Funny, all of them consider themselves to leaders in the digital space and "forward thinking" and yet have no fully comparable service to offer customers this simple payment convenience.

Thankfully, Tangerine got their act together last month. It's nice being able to tap my phone instead of pulling out my wallet. Now if I just had a digital driver's license ...

Canadian banks are ass-backwards when it comes to supporting mobile pay solutions. I still cannot use basically any of the major banks with either Samsung Pay or Google Pay. Thankfully at least Apple Pay works. I suppose the banks could not say no when the company pushing for it could practically just buy them outright :p

RBC took forever to get a tap app, and a decent mobile app before that even if RBC doesnt support it , Id like paypal support to come to canada , that would be a great work around
Android Central Newsletter
Get instant access to breaking news, the hottest reviews, great deals and helpful tips
Thank you for signing up to Android Central. You will receive a verification email shortly.
There was a problem. Please refresh the page and try again.