Google is dropping Daydream VR support on Pixel 4 and killing the headset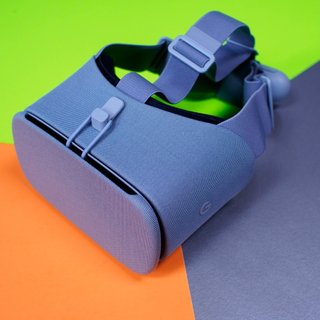 (Image credit: Android Central)
What you need to know
Daydream VR is (or was) Google's platform for pushing virtual reality content using just smartphones.
The company's Pixel 4 series does not support the platform.
Google's first-party Daydream View headset has also been discontinued.
Google has all but abandoned Daydream VR, it seems. After dropping support for the platform on the Pixel 3a earlier in the year, the company has now confirmed its newest flagships, the Pixel 4 and 4 XL, won't feature Daydream compatibility either. This is in stark contrast to the last Pixel flagship, which was "Built for VR to work with Google Daydream View headset."
On the subject of the Daydream View headset, it's also interesting to note that the company has stopped selling the device in its store. Navigate to the headset's store listing, and you're met with a large 'No longer available' banner that signifies the final nail in the nascent VR platform's coffin.
In a statement (via VentureBeat (opens in new tab)), the company pointed to the "clear limitations constraining smartphone VR from being a viable long-term solution" as part of the reasoning behind the move. The company does have a silver lining for current users of the platform:
So, what's next for Google? Apparently, AR's all the rage at Palo Alto these days, with the company throwing its full weight behind its ARCore platform. You can also count the number of times it mentions AR in the conclusion of its statement to get an idea of where the company believes the future of digital experiences is headed:
The change has, in fairness, been long in the making. Third-party vendors, like Hulu, have been dropping support for the platform in recent months and Google itself had pulled its Movies & TV app from Daydream. Alas, we will be daydreaming no more — at least, not in a high-tech virtual reality.
All-new Pixel
(opens in new tab)
Google's latest flagship aims to impress.
The Pixel 4 was designed to be Google's best and most impressive Pixel yet. It has an all-new 90Hz display, Motion Sense hand gestures, powerful face unlock, and dual rear cameras. There's also a revamped design and upgraded internals, all of which come together to create an enticing overall package.
Android Central Newsletter
Get instant access to breaking news, the hottest reviews, great deals and helpful tips
Daydream is having a nightmare.

Too bad I use my daydream everyday

Porn is a horrible addiction

Samsung dropping there vr and a few others looks like this is the start of the end of vr. Interesting to see how it plays out on pc and on console. For me it's a good tool for some things but AR is what needs pushing more imo.

Think of it less as the death of VR, and more as the death of VR on mobile devices. It was always incredibly flawed, and the introduction of a headset like the Oculus Go sealed its fate.

It's just the death of those implementations or "vr".
The real VR is on the up ever since the Oculus Go, and Quest. OCULUS, HTC, and Valve are the experts at the VR industry and the tech and content are there.
So don't let Google and Samsung side experiments colour your view of the vast wider world of VR.

It's way better to have a separate device for VR anyway

I wonder how much it would have cost Google to make the Pixel 4 compatible with Daydream VR.

Daydream on Pixel 3 sucked anyway. It would overheat my device after 5 mins of play, couldn't even get into Arcslinger with the Pixel 3.

The year is 2016, Facebook introduced their chatbots to the world. A few months before that Samsung did the same with its gear VR. Later that year we got "Project Ara" and "Daydream," Microsoft also introduced "surface Studio." Slowly a narrative began to take shape in some corners of tweeterverse, which made its way to the blogs, youtube and eventually the rest of the media picked up on it. The narrative was this, the company in Cupertino was boring, not innovative and simply staring at the same fate as BB. That narrative went around for months and it costs said company a ton of money (in stocks valuation) while those who were championed as innovative were rewarded in the form of their stock prices going up. As a user of technology, I was mystified/puzzled by all this, I could not see it. "What is happening? why can't I see it? What am I missing?" I became frustrated by my inability to understand the herd. Today, I decided to go back and review all those innovative products and ideas people and companies championed back then which affected company stocks in the billions. What I learned is simple and John Wooden said it best, "Never mistake activity for achievement."

AR is better than VR on Android, and it's usable directly on the phone screen. It's going to become like the portal-ble app from Brown University, where you just hold up your phone.
Android Central Newsletter
Get instant access to breaking news, the hottest reviews, great deals and helpful tips
Thank you for signing up to Android Central. You will receive a verification email shortly.
There was a problem. Please refresh the page and try again.