Google hardware event confirmed for October 9 in NYC, Google Pixel 3 (and more) expected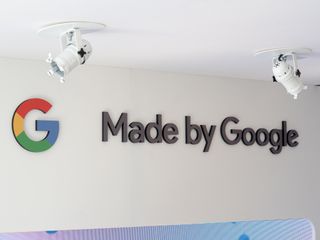 (Image credit: Android Central)
Google has just sent out invites to the press for a hardware event in New York City, and just as rumored it will take place on October 9. The invite came in with a delightfully designed (and very swiftly swoopy) animated gif that honestly doesn't give us any hints as to what we'll be seeing. But there's no reason why this wouldn't be the launch event for the Google Pixel 3 and 3 XL.
The only question is whether we see more than the two phones. Last time around, Google had a blockbuster event that was ostensibly for the Pixel 2 and 2 XL, but also included the launch of the Google Home Max, Google Home Mini, Pixel Buds and Pixelbook. If Google pulls out all the stops once again, we could be in for a huge hardware launch event.
Google Pixel 3: News, Rumors, Release Date, Specs, and more!
Last year's event was in San Francisco (and on October 4), but it's hard to read too much into a venue switch to NYC — it's an easy place for press from all around the world to get to, and Google maintains a large presence in the city. Google will be streaming the event live, as well.
Andrew was an Executive Editor, U.S. at Android Central between 2012 and 2020.
There's been so many leaks they may as well not bother lol

Exactly. I usually tune in to see, but won't waste my morning this year. Nothing of interest I've seen. Maybe they will surprise us, but I doubt it.

I'm more interested in what they will say it does, than what we've seen. I'm definitely tuning in.

While i won't be getting this years hardware , I have a Pixel 2 XL and a Pixelbook still excited to see everything.

Pound the Pixels! I want to see that detachable Pixelbook make an appearance. But "I ****** NY"? That's rude!!

Are they releasing any new pixel computers? Or is it just phones?

Do I really believe it is worth upgrading my Pixel 2 to a Pixel 3? What am i going to gain? If it makes the tea I'm in ! 🙄

You're going to gain a black chunk taken out of your screen for no reason whatsoever.

Sort of weird, I think this will be the first year that I'm strictly an observer and not a customer waiting with baited breath and tensed fingers to slam the preorders. Nonetheless, good luck Google.

Idk, it IS weird, for some reason, I'm more excited for the oneplus 6t announcement than the pixel.

Same. That phone looks great. We shall see. The pixels look terrible.

if all the leaks are true I'll definitely wait for OP6T. haha

Please surprise us with the most epic of well kept and red herring'd of secrets: a brand new watch!

The smaller 3 will be the 1st Google phone I've even wanted since the Nexus 5.

Shut up and take my money! No....just kidding, I am picking up P3 for free suckers!

Still interested. I want to hear about the new Pixel Buds too...

They're just going to tell us pricing and availability and show off the camera. We'll already know everything else.lol

Google will be unveiling a bucket unironically. Come back Marcel Duchamp, all is forgiven.

Any word of a refresh on the Google Wifi mesh kits?

I got an email from the Google store yesterday about discounted daydream views. I'm guessing we'll see a refresh of those.

What about this? https://youtu.be/wNXXHJeejpI
Android Central Newsletter
Get the best of Android Central in in your inbox, every day!
Thank you for signing up to Android Central. You will receive a verification email shortly.
There was a problem. Please refresh the page and try again.