Google flexes machine learning muscles with new features for Gboard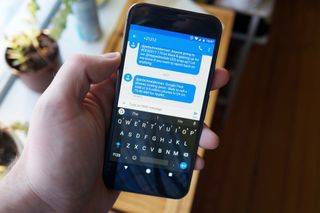 (Image credit: Android Central)
Google has added some fun and helpful new features to Gboard, which highlight its latest machine learning capabilities. In a blog post, Google showed off a new doodle-search function for emojis, predictive phrase suggestions for texting, and enhanced results for searches made from within the keyboard.
Look for the enhanced feature to pop up in the latest update for Gboard in the Google Play Store (opens in new tab).
The feature you're likely to use most often is the new predictive phrase feature, which is integrated into the same space as word predictions. It is currently exclusive to the English keyboard and offers up logical phrase suggestions to help complete your current sentence. For instance, if you type "looking forward" Google will suggest "to seeing" or "to it" as popular options to complete or build on the thought, and saving you the time of having to type it all out yourself.
Search integration has also been improved and will now display multiple search results making it easier to use the Gboard to find and share information on the fly while in any other app. Since it's built into the keyboard, you have access to smarter search results from Google, including better integration with Google Maps and YouTube where applicable. The intention here is to make it easier to pull up information from Google without having to back out of the app you're currently using.
Last but certainly not least is the new drawing function for searching for emojis. When you tap to search for emojis with the latest Gboard, you'll find a drawing pad underneath the search bar that allows you to quickly sketch out an emoji. While it's clearly the most fun feature added here and might feel a bit gimmicky to some, it's also one of the clearest examples of how Google has been using its A.I. Experiments projects to develop smart new tools for users. In this instance, the fun little drawing game Quick, Draw! has transformed into a fun way to save time searching for the perfect emoji.
It's cool to see how Google can package an interactive machine learning experiment into a fun, viral game and then turn around and use all that data to create an intuitive new feature that's both fun and useful. Google announced that Gboard now supports over 200 languages and is bringing features like suggestions and gesture typing to more and more languages, including Azerbaijani (Iran), Dhivehi, French (Belgium), Hawaiian, Maori, and Samoan.
See at Google Play Store (opens in new tab)
Android Central Newsletter
Get instant access to breaking news, the hottest reviews, great deals and helpful tips
Marc Lagace was an Apps and Games Editor at Android Central between 2016 and 2020. You can reach out to him on Twitter [@spacelagace.
First! AC could you guys please do a comparison between this latest version of Gboard and SwiftKey. I been thinking about switching. Thanks. U guys rock! Keep up the good work!

Just install GBoard and see what you think. It's free. From my experience, SwiftKey used to be king, but then MS bought it and things went sideways. GBoard is way better than it used to be, but still does stupid corrections sometimes.

I totally agree with this. After Microsoft purchased SwiftKey, it has been a totally mixed bag, prediction still on point, but I found it lagging pretty badly. Been using Gboard a little over a month, and I don't see myself going back.

SwiftKey predictions are a bit better in some cases, but not a massive difference between the two there when typing. Swiping, SwiftKey is better. For some reason Google can't do the swiping as well yet. There are little things that are annoying. Like in Gboard, you have to hit the space bar after a comma, where in SwiftKey you don't. In Gboard, the popup punctuation menu on the period key is far less smooth on Gboard because you have to long press then drag. With SwiftKey you can just drag from the period and it opens the popup menu. Gboard popup has more options though. And annoyingly, if you use the symbols on the keys, there is no forward/slash on any of the keys. You have to go into the symbols menu or use the long press then drag menu on the period. You know what character Google found to be more important than the forward slash? |The|pipe|. Because the pipe is more common than the most common character on the web? Silly Google. Gboard does have some nice features over SwiftKey too. Using the system personal dictionary is one, which means you can create shortcuts to words or phrases. So I can type myem and it predicts my email address. Or for when I comment on disqus, if I want to quite someone, bq expands into <blockquote> and bqq closes the tag </blockquote>. Also the integrated gif search is neat. And the editing keyboard is really nice and easy to access so, unlike SwiftKey that has the arrow keys on or off, and buried in the settings. Also Gboard lets you glide left or right across the spacebar to move the cursor as well. And the integrated search is now useful, and the integrated Google translate is really awesome. So if you can put up with the minor annoyances, there are a lot of benefits to Gboard. I used SwiftKey since it was launched, and only finally switched to Gboard in December. After I got used to the things like the no automatic space after a comma, I haven't looked back.

Ok, the emoji drawing tool is great. A real use for their experimentation.

Not that I use them but all it needs​ is stickers and this keyboard would have everything.

Next update, the camera reads your facial expression and suggests the emoji... ..and I wonder why it keeps showing me the clown face?

I need the keyboard to get better at word prediction... It was doing ok for a while but now it's a lot of misses...

Same here. And every time they try to update their keyboard, it gets noticeably worse.

Same here. It also gets confused among different languages and keeps suggesting install the Portuguese pack ...

I thought it was just me. Apparently machine learning and my typing style don't mix well. LOL

Phrase suggestions has been in Swiftkey for some time now. Couldn't care less about emoji. Integrated search could be useful, but probably not something I'd use a lot. And I've yet to find a better prediction engine than Swiftkey's.

I really like Gboard overall, but it needs to space itself after a comma, instead of having to do it manually, and it needs to capatilize the letter i by its damn self, when appropriate.

I really used to be a fan of swiftkey, replaced swipe with it, I heard through other forums that board had gotten pretty good. Today I installed gboard, and put swiftkey on the sdcard. Gboard seems pretty good, and I have a fluency to it, that I don't have with swiftkey. I never paid attention to the sale of it to ms. I have noticed that response times would slow down, every once in a while(from one letter to the next). I thought the slowdown was browser, or website ad related, so I kinda lived with it. This site would be hard to type, without semi-freezing when I typed. All that went away with gboard, so I figure Microsoft did something to swiftkey, that reduced it's performance on android.

I wish the spelling correction was better. It's so bad as to be almost useless.

Been using the BlackBerry keyboard for ages now. Love it.
Android Central Newsletter
Get instant access to breaking news, the hottest reviews, great deals and helpful tips
Thank you for signing up to Android Central. You will receive a verification email shortly.
There was a problem. Please refresh the page and try again.