Google Fit Integration, and why you want it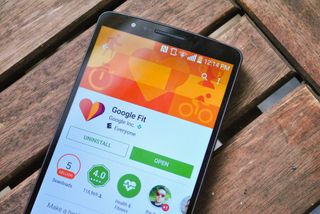 Fitness apps have been around for years, showing us how to workout more efficiently and helping us to track everything from steps to calories burned. Google wants in on the action, to show us what fitness data should do. Google Fit (opens in new tab) is the solutions the company have some up with so far, designed mostly to be a central hub for all sorts of health-related data points. We've been playing with the app for a few weeks now, and have the details you need before deciding if Google Fit is right for you.
Much like many of Google's other products and services, Google Fit has a crisp, clean interface that makes using it easy. When you initially install the app, it will ask for basic personal information. This includes your height, weight, and your activity goal for each day. Once you fill that out, unless you already have activities you want to add, you're actually done. That's because the bulk of what Google Fit does it does automatically, without bothering you.
It uses a pedometer API to count your steps on supported devices, measure time and distance traveled, and the number of calories you've burned based on that information. You always have the option of adding in other activities, of which there are dozens to choose from. Everything from Aerobics and Australian football to Yoga and Zumba, but all of this has to be entered manually. Google Fit even gives you an option to graph everything out in a timeline so you can see how your daily activities go. It's been suggested that an hour of activity each day is beneficial to your health, and with Google Fit it's easy to see how much you've done each day. One of the counters will let you know about active, and inactive calories burned so that it's easier to tailor your meals—whether that means eating more to build muscle, or tailoring your meals for weight loss.
While the app itself isn't filled with tons of bells and whistles, Google Fit isl extremely capable. It can easily become the centerpiece for your fitness by connecting to with physical hardware like Android Wear, and Pebble and the Withings scale. On top of that is the Google Fit API, with top fitness apps like Runkeeper (opens in new tab), Runtastic (opens in new tab), Strava (opens in new tab) and more already supporting the platform. This is fantastic, because it means that you can use Google Fit to store all of your data. No more having to go through multiple apps just to see what you activity was like for the day. Even better, your data is shared across apps as soon as you give them permission to do so. It means a minimum amount of effort on your part to get the ball rolling, and unless you're manually entering activities you can check in once a day to see how everything went. As a hub, it means you have access to all of your data in one easy place, which is a benefit that we cannot tout enough.
Having a central hub for all of your data is actually more important than you might realize. For the casual user, it means making sure you're getting enough exercise, or tracking your daily activity. For those already in the middle of a fitness regimen, it means being able to track your calories to make sure you're eating enough, track your workouts, and even gauge your distance each day. As much as Google Fit is an app for fitness, it is also an app for health, and it allows you to easily take control of yours. Being able to open a single app, and check everything at once is convenient, and allows you to see when, and how you are active. At first, it might not seem like much at all, but when you consider weeks and months of data compiled for your use it starts to make more sense. This is doubly true if you are someone trying to build stamina or train for a specific goal, this gives you a timeline of results. By itself, Google fit is a capable but limited app. With the integration from other sources, especially multiple sources, it excels.
Google Fit is definitely a great app to use for anyone who wants to be control of their fitness. With the integration, easy interface, and automatic functioning, it means you don't have to take time away from you day to check in on an app. Making it the center of your digital fitness is easy, and entirely worth it. So, are you going to check out Google Fit? Are you already using it? Tell us all about it!
Android Central Newsletter
Get instant access to breaking news, the hottest reviews, great deals and helpful tips
Jen is a staff writer who spends her time researching the products you didn't know you needed. She's also a fantasy novelist and has a serious Civ VI addiction. You can follow her on Twitter.
Google Fit seems way too limited and messy on my Galaxy Note 4 when I compare it to S Health. In fact, I never really cared about Google Fit on my Nexus 4, but with my Note 4, I really started to use S Health on day one.
But you're not limited to Samsung devices which is great!

i haven't used Google Fit on my GN4 either because S Health serves me very well!! Posted via the Android Central App

Until you move to non Samsung device where your lose all your fitness data. Why use Samsung only solution and get locked into crappy Samsung ecosystem. Posted via the Android Central App

Because it's better? Posted via the Android Central App

Not better than fitbit Posted via the Android Central App

They are all proprietary and that goes back to being open and compatibility with multiple platforms, apps and devices.

Wow. I never realized this.... there really is no way to access your S-health data from a non-Samsung device? Posted via the Android Central App

its been a while since you posted this, but you can now install S Health on any android device and sync using your samsung account

I completely agree with you on this. It's messy and horribly inaccurate in so many ways!

My experience with Google fit is not one that it should be, almost everyday I can see how long I was active, and I always meet my goal of surpass it, but then an hour later I'll look and it'll say 2 minutes active, as I'm sitting there wondering what happened to the 2 hours it said earlier, so yeah I am not impressed! This was with my nexus 5 and Moto 360. Posted via the Android Central App

Yeah. I also have an issue with the authors wording of 'extremely capable'. It is sometimes reliable, but it's so often unreliable that it's hard to trust if it ever is.

So I too have a Nexus 5 and a Moto 360 and the only complaint I have for Google Fit specifically is that it registered sitting in traffic as a bike ride. I am using navigation at that point as well. Maybe future iterations they will have something where applications can communicate with each other and correct each other so that they can become more aware. I do have a side-not complaint for Moto 360 is that the Moto Body doesn't communicate with Google Fit and that is annoying.

Exactly. I can look one day and see my 1-2 hours of activity during the week, then the next day it is either missing days, or the time active for the past week is only a few minutes. Really throws off the ability to compare days and get a good average.

Stick your phone in a car dock and you'll reach ten thousand steps in no time. All this fitness stuff is so overblown. People try to use it then give up because it's not worth the hassle. Not coincidentally, like a gym membership. Posted via the Android Central App

Except that isn't true. At least not for me anyway.

OH! But it is. No matter where I put my Nexus 6 ... RAM mount, secured in my jacket inside pocket or wedged in my tank bag .. this POS sees 40 minutes of motorcycle commuting as bicycling so it skews the numbers badly. I made a comment on the official G+ Fit page and those jokers said I was using the app wrong. So I'm afraid you are mistaken. It's not fully baked and can't tell the difference between activities very well at all.

Absolute fucking bullshit. Are you trying to troll or are you retarded? Or is your phones sensors that broken? Nah they can't be. As soon as the Google fit api detects that you are traveling at above 20km/h or so and you aren't moving much it knows you're in a car, and won't confuse that with waking and add steps* (*not real data but a general picture of how it works). Your phone sensors simply can't be that bad, MAYBE if you have location services turned off or something I don't know

Yes. You don't know. Maybe I live in an over congested part of the world where going slowly in a car is common. Please stop swearing at strangers and grow up. Posted via the Android Central App

It's not bs. I ride motorcycle in the canyons around Malibu,CA to Santa Barbara, and road trip to big bear and Joshua Tree. Every time I toss my phone in my top box it registers each ride as bicycling. Whether it's 40mph in a canyon or 80mph on the fwy. The app is hot garbage unless it's in the seat of your pants walking. Posted via Android Central App

I don't have this problem with my Note 4, but I am also using S Health. Think I will try Google Fit again and see if I start having the same issue as you in a car.

Note 4 also, s health is far more reliable. My point was a more general take on the fitness tracking phenomenon of the last year. Your phone can give you all the numbers in the world but a mirror can tell you a lot more. Posted via the Android Central App

Google Fit has not worked for me for weeks. For a few days, it constantly gave me the "Unfortunately Fit has stopped" error every time I hit the home key or went into any application (not just Fit). I reported this via the error message report button but nothing has been done. Now it doesn't give me the error message but it also doesn't do anything at all. No matter what I'm doing, Fit shows me with 0 minutes and I have a Android Wear too so you'd think either the phone or the watch would pick up motion but neither does.

I was using fit with my Urbane smart watch. All of a sudden I was getting those errors. I had to reset a few Google apps and reset the watch to get it working. I believe the one that did the trick was reseting Google play services. Certainly not the best recovery process but now all works well again. Posted via the Android Central App

How did you do that? I've rebooted the phone and watch a few times. Wouldn't that have caused everything to reset?

I've been having that exact same problem. I have a Nexus 4 and a LG G Watch. . . . I ended up just uninstalling it because it kept giving me that error and just murdered my battery life. I've tried re-installing a couple times and rebooted both phone and watch and no improvement. :( I never tried resetting google play services like the other commenter said. I'm not sure if there is an official way to do it and have read it isn't good to clear the cache/data for it from settings.

Same here with Urbane. Had to uninstall Fit to get my phone to last the day. I may try re-installing someday.

Google fit = battery drain Posted via Android Central App

I agree with this statement. Posted via the Android Central App

Google Fit kills my battery on both my Moto 360 and my phone. Last i checked, it was using up 12% of my battery, according to battery mix wear. That's insane. Plus, it's not even integrated with my wife's fitness tracker, her Misfit. So it's useless.

Drains battery on my Nexus 6. I had to disable it.

I am in the same boat. Absolutely killed my N6 battery. Disabled as well.

Was working fine on my N6 since November but just started draining my battery like crazy a week ago. Figured out it was Fit and disabled it. Battery back to normal. Posted via the Android Central App

Strange. What's everybody running? No battery drain for me. Im on a Sony running 5.0 and stamina mode has been great since the update.

No battery drain on my GS5 or Moto360. Me like Fit along with Runtastic.

Haha, I just disabled Google Fit a few hours ago. I've noticed it chewing away at the battery the last few weeks and I really don't need it anyway.

Love Google Fit. Unfortunately, like many of you have said, it wasn't worth the impact it had on my battery. I play with my food

Is there a fitbit or something for a dog ? Posted via the Android Central App

Actually there is. ... Fitbark! Too funny,
https://www.fitbark.com/ Posted via the Android Central App

My issue with Google Fit is it is grossly inaccurate. It seems to ignore incoming data from Runtastic in favor of it's own far less accurate measurements. It regularly makes my 8 mile runs into 6 miles. I'm lucky it's not chewing up battery though, so there's that.

I use it all the time with Runtastic, make sure they are linked with each other. Posted via a LG G4

I linked my Strava account to it, and it ignores the concept of moving time. It just doubled my workout because it ignored that I stopped for lunch and beer along the way. Useless for me. Posted via the Android Central App

Not much info on this article about how accurate is it, battery consumption etc . But from the comments I'm reading, it doesn't look too good. I'm still looking forward to Microsoft's second generation Band or at least for the one out right now to drop down in price. Posted via the Android Central App

MS Band FTW. Posted via the Android Central App

This. And the upcoming golf tracking looks awesome. Posted via the Android Central App

S-health on my phone works great and its much more consistent than Google fit... Posted via my Note 4...(AC App)

On my device, google fit is a huge battery suck. One reason I DON'T want it. --- This message brought to you via the sarcasm keyboard available for download at the Google Play Store.
LG-G2 on Lollipop.

I tried Fit soon after getting my Moto 360, but found it lacking, so I've used the Moto app. Since there have been some updates to the app, it may be time to try it again. Posted via the Android Central App

Not sure if they fixed it but I uninstalled after an update caused severe battery drain. I'm going with marshmallow via AC app.

I have had inconsistent results with Google Fit. I just cleared my data to start over. When it works it is great. On a new phone. Hoping for consistently accurate results. No real battery problem that I have noticed. I pretty much just walk and I love the data that it provides. Posted via my LG G2 Lollipop

Look, I know you're aggressively proud that you don't proofread (I think it was Phil that said "I'm not going to") but could you at least have one other person do a read-through before posting?

I've seen craigslist scams with better sentence structure and spelling.

shockingly, Google Fit doesn't have much of an impact on my battery life. That being said, even if I white list it on PowerNap, it doesn't pick up any activity during that time period, despite still having wakelocks (this is presumably due to Google Play Services having all its wakelocks and services blocked), so I basically have to choose one or the other.

I think it would be great for me but it always thinks my daily commute is me riding a bicycle. I mean, come on Google! How can you confuse driving a motorcycle at an average 80km/h for 20 minutes with riding a bicycle???

No thanks I have enough Google services at the moment. Home, Health services and wearables are on hold for now.

Useless for athletes and casuals wouldn't care enough about it. Something like Endomondo is better. Posted via the Android Central App

Tragically inaccurate and flaky app. Posted via the Android Central App

Interesting that this article was just published, since I just uninstalled Google Fit on my 2014 Moto X because it went bat-crap crazy in the last two weeks. Step count inaccurate, some days step count would read zero when I know my normal day is more than 10,000 steps. Runtastic wasn't working well with it, manual updates for weight lifting would not save. And, as others have mentioned, it's a huge battery drain. So, I ditched Runtastic and switched to Runkeeper, ordered a Fitbit flex, and will rely on that instead of my Moto 360 for fitness tracking. The Google Fit interface is pretty nice, the concept is good, it's just got too many issues. It could be a great app with some more effort.

I've had the same experiences. With all the negative feedback about Google Fit here in the comments, I wonder if the author used the app in a real world situation? I'm a bit disappointed in the coverage here from android central.

What I'd like to see is an article that explores lock in with the various fitness platforms If I want to change to a different central hub in a years time, would I have to lose all my historical activity data or is there a standard way of transferring data between these services? Do certain services support such an option whilst others do not? My lack of understanding here is the main reason i haven't started getting on board with activity tracking.

A quick scroll down the play store reviews for the app reveals it to be quite the train wreck! A sentiment also echoed by many users here - shocking. Did google not test this before they put it out? Posted via the Android Central App

I use Run Keeper Posted via the Android Central App

If you have a smart watch I recommend Jawbone up software. It has everything that Google fit has plus more. Posted via the Android Central App

S health is so much better and more comprehensive. Google fit is highly inaccurate and a massive battery drain Posted via the Android Central App

If it could:
ignore movement of my phone and only track my moto360 (and show it under apps and devices)
not kill my battery
Be viewed anywhere other than just an app (say a website along with the location data it collected) I might actually use it more

Why isn't FitBit supporting it?

Because they are the leader in the market and don't need to share their data with Google to be successful at this time. Data is valuable, and they see no reason to share that.

what a bunch of jerks. the data is mine, not theres. sick and tired of these companies trying to lock people in. really the FTC should do something about this, it is total bull ****!!

I have found that while the step count is fairly accurate, the distance traveled and calories burned are wildly under reported. My Fitbit (which has proven to be extremely accurate) lines up pretty well with the step count, but everything else is way low on Fit. Posted via the Android Central App

I wanna love Fit, but it is currently a mess. My nexus 5 will overwrite the steps from my Gear Live,thus eliminating thousands of steps. The historical data is not the same on the Live or the Fit phone app or Google.com/fit. Google has some serious work to do to straighten out this mess, and have been unable to since last October. Same problems before and after the May 28 app update. Just check out the Google Fit Group to get an idea :https://productforums.google.com/forum/m/#!topic/android-wear/jdGPXnXytI4

I like Google Fit. However, I also dislike it because there isn't enough fitness-minded companies that support it. The ones that do support it, have devices that are too expensive. Then there are the one's that are at the end-of-life cycle. They are cheaper now, but either still expensive or trying to get a warranty replacement is going to be a pain.

I'll stick with my M8 and Fitbit integration. Fitbit can use my M8 as a pedometer but Google Fit can't. Try and make sense out of that one.

Pretty soon Google will have enough metrics on us from their apps that they'll be able to clone us and have us work patrols on the moon. Posted via the Android Central App

I have never seen such consistently negative comments about a product or service, usually at least a dozen folks will stand up for just about anything. In this case I have to agree, battery drain is perhaps not enormous, but is a noticeable amount, probably 5-10 percent per day. And it frequently ignores/discards/reduces the step information from my Miband. After a few weeks I uninstalled Fit and just use the Miband app. Posted via Android Central App

Wow, read the review comments in the Google Play Store, ppl say it sucks. From being a battery hog to random data management. So, no thanks. I'll just continue to use Strava, I don't really care about counting steps. Follow @TheGroupRide

I use Google Fit to check for stats and it seems to be fairly accurate. Loving it so far. Using it on a Nexus5 and no battery drain. Battery life is as awful as usual!

Google Fit is indeed a nice service and although I use it myself, you might want to consider some (potential) privacy issues here. I did an analysis and reported it on my own blog: http://www.teusink.eu/2015/02/android-wear-and-google-fit-security-priva... Posted via Android Central App

Google Fit is good tool to your way to being fit and healthy. It will help you keep organized on your training as well as keep track of your progress. https://www.androidcentral.com/e?link=https2F2F...

U haven't used it because the ratings are bad :(

I installed it at the weekend but I have my doubts about its accuracy, I walk the dog twice a day for about 45 minutes each time but Fit is only reporting 19-25 minutes for the wallk and I know we don't stop that often. The tie in with Runtastic is terrible I went on a 21 mile bicycle ride that averaged 12mph and took just over an hour and fit logged it as a 30 minute walk at 15 mph which resulted me in wasting time to manually correct the activity. I haven't come across the battery issue as yet but I thought I'd give this a week or two to make my mind up. Posted via the Android Central App

I've been bugging MyFitnessPal support since Android Wear was announced to please please please allow integration. Now that it tracks calories burned from weightlifting via Progression (AMAZING app for tracking your sets, has rest timers, has material design, Dropbox backup, etc) I just need to somehow link that to my food. I refuse to use S Health because I've used MFP for so long and if I go back to a Nexus again at any time I lose all that data.

Fitbit ftw Posted via the Android Central App

Bad pedometer.
Even worse battery drain. I'm keeping my S Health on my Galaxy Note 3. And I don't mind being boxed into the Samsung ecosystem if their products work seamlessly (Compared to G Fit+A Wear; a friend's LG G Watch R gave a wildly different reading from her phone...)

was on the crosstrainer vor over an hour. The watch catched about 10.000 steps within one hour. on the graph activity i do not even have 1 lousy minute. this is not the first time and i really got to say this is one of the most inacurate apps i have ever seen.

Don't even care about any fitness app. Liked the moves app but Facebook took over and that's the end of the story.

Coolbeans, I like the look of the app but it's lack of integrations made me not use it. I'll check it out now
Android Central Newsletter
Get instant access to breaking news, the hottest reviews, great deals and helpful tips
Thank you for signing up to Android Central. You will receive a verification email shortly.
There was a problem. Please refresh the page and try again.