Google Fit Integration, and why you want it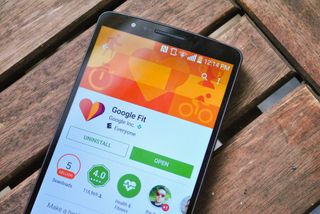 Fitness apps have been around for years, showing us how to workout more efficiently and helping us to track everything from steps to calories burned. Google wants in on the action, to show us what fitness data should do. Google Fit is the solutions the company have some up with so far, designed mostly to be a central hub for all sorts of health-related data points. We've been playing with the app for a few weeks now, and have the details you need before deciding if Google Fit is right for you.
Much like many of Google's other products and services, Google Fit has a crisp, clean interface that makes using it easy. When you initially install the app, it will ask for basic personal information. This includes your height, weight, and your activity goal for each day. Once you fill that out, unless you already have activities you want to add, you're actually done. That's because the bulk of what Google Fit does it does automatically, without bothering you.
It uses a pedometer API to count your steps on supported devices, measure time and distance traveled, and the number of calories you've burned based on that information. You always have the option of adding in other activities, of which there are dozens to choose from. Everything from Aerobics and Australian football to Yoga and Zumba, but all of this has to be entered manually. Google Fit even gives you an option to graph everything out in a timeline so you can see how your daily activities go. It's been suggested that an hour of activity each day is beneficial to your health, and with Google Fit it's easy to see how much you've done each day. One of the counters will let you know about active, and inactive calories burned so that it's easier to tailor your meals—whether that means eating more to build muscle, or tailoring your meals for weight loss.
While the app itself isn't filled with tons of bells and whistles, Google Fit isl extremely capable. It can easily become the centerpiece for your fitness by connecting to with physical hardware like Android Wear, and Pebble and the Withings scale. On top of that is the Google Fit API, with top fitness apps like Runkeeper, Runtastic, Strava and more already supporting the platform. This is fantastic, because it means that you can use Google Fit to store all of your data. No more having to go through multiple apps just to see what you activity was like for the day. Even better, your data is shared across apps as soon as you give them permission to do so. It means a minimum amount of effort on your part to get the ball rolling, and unless you're manually entering activities you can check in once a day to see how everything went. As a hub, it means you have access to all of your data in one easy place, which is a benefit that we cannot tout enough.
Having a central hub for all of your data is actually more important than you might realize. For the casual user, it means making sure you're getting enough exercise, or tracking your daily activity. For those already in the middle of a fitness regimen, it means being able to track your calories to make sure you're eating enough, track your workouts, and even gauge your distance each day. As much as Google Fit is an app for fitness, it is also an app for health, and it allows you to easily take control of yours. Being able to open a single app, and check everything at once is convenient, and allows you to see when, and how you are active. At first, it might not seem like much at all, but when you consider weeks and months of data compiled for your use it starts to make more sense. This is doubly true if you are someone trying to build stamina or train for a specific goal, this gives you a timeline of results. By itself, Google fit is a capable but limited app. With the integration from other sources, especially multiple sources, it excels.
Google Fit is definitely a great app to use for anyone who wants to be control of their fitness. With the integration, easy interface, and automatic functioning, it means you don't have to take time away from you day to check in on an app. Making it the center of your digital fitness is easy, and entirely worth it. So, are you going to check out Google Fit? Are you already using it? Tell us all about it!
Sign up for Black Friday email alerts!
Get the hottest deals available in your inbox plus news, reviews, opinion, analysis and more from the Android Central team.
Jen is a staff writer who spends her time researching the products you didn't know you needed. She's also a fantasy novelist and has a serious Civ VI addiction. You can follow her on Twitter.