Google creates new free replacement program for damaged Nexus 5 phones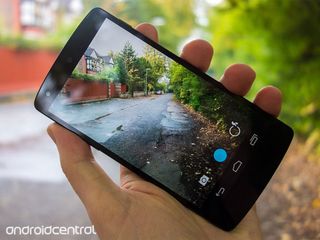 If you accidentally damaged your Nexus 5 smartphone, you can get it replaced for free thanks to Google's new Nexus 5 replacement program, which is similar to what rivals HTC and Motorola are offering. The program went live without any announcement or much fanfare, though devoted Nexus 5 owners have confirmed on a Google+ posting in the Nexus 5 community page.
The program may be region-specific as some users are noting that it may not be available in their country, so your mileage may vary. For now, if you've got a damaged handset, you can call Google and see if you can get a free one-time replacement.
For the fulfillment of the replacement, Google may ship you a refurbished unit. The nice thing is they won't ask for your damaged handset until the replacement arrives so you won't be without a phone in the interim.
Have you had any luck with this new replacement program? Let us know in the comments.
Source: Google+ post via DroidLife
Get the Android Central Newsletter
Instant access to breaking news, the hottest reviews, great deals and helpful tips.
I think that is awesome !! Way to go Google!!! Posted via Android Central App

Another reason why google nexus devices are the best!

Only if you live in America and bought your device from the US play store... to everyone else a big fat FO from google

Very cool. Not sure why it's taken so long to roll this out? I may cancel my insurance if this is legit to save me $10/month

Well, honestly, they didn't have to roll out this program. The phone is already cheap to begin with. Posted via the Xperia Z4

FYI, If you got it through a carrier you're not covered by Google most likely

You are correct i called lol. Only nexus 5's bought through the google play store are covered

I don't get their end game here. The margins on nexus are already paper thin. I don't know what they are doing but I don't trust them.... Posted via the Android Central App

Rumor has it that they are trying to get rid of their stock of Nexus devices ahead of the launch of Nexus 6 or X or whatever it will be called.

I wish that Samsung would employ this program!

IMHO you will never EVER see apple or samsung do this. Too much money they make to care. This is for the little guys to give them a leg up over the bigger guys.

Samsung has done it in the past, through the carrier. When one of the updates absolutely DESTROYED my Fascinate not only did they replace my phone but they ended up upgrading me to a ReZound. Now whether or not it was the carrier or Samsung, it was done.

That would be Verizon, I don't think Samsung would "upgrade" you to a HTC...just saying.

No I hear ya, but I kinda think that it was either do a full scale recall or get them out of consumer hands. There was a step in between, I went Fascinate, Charge, ReZound.

I just want to point out that the Fascinate was made by Samsung and the Rezound was HTC. Definitely the carrier.

I am very aware of that, someone picked up the bill though and it was not Verizon, and I am sure that Samsung did not do it willingly

Apple already does this for free for its one year warranty. Posted via Serenity

Back in the iPod touch days I exchanged a water damaged iPod like 3 times right at the store. The manager had to approve it but I just played dumb and they always said we'll make an exception this one time Posted via the Android Central App

A little late!. Well for me at least. I already bought a screen replacement. Would of been nice to just get a whole new (refurbished) one instead. Hope they start up or have this going once the nexus X , 6 whatever it will be called rolls out. Posted via the Android Central App

Paid $150 for a screen, too, that looks a little like it's cracking again! This would help. Posted via Android Central App

I wonder if the fact that you already replaced your screen yourself would void your 'warranty' (whatever you want to call this new replacement program)?

I would venture to say that it does in fact void his warranty. Warranties usually only carry over if work is done by an "authorized" agent.

Thats why he won't be telling Google he did the replacing!

Had that been the case when I was choosing between the OnePlus one and nexus 5 that would have warranted strong consideration. Posted via...The One

Agree. Only big hurdle after that is storage. Posted via Android Central App

That's great. Glad to see Google stepping up their customer service. Posted via Android Central App on the Moto X

Reminds me so much of the Verizon program that was in place when I was with them. Glad to see all these oems doing it. Posted via Android Central App

I wish more companies stood by their products like this. Posted via Android Central App

Agreed! Nexus 4 - CM10.1.3

How is that N4 with CM running? Miss mine Posted via Android Central App

I put CM on my friend's aging N4 the other day. Runs like a champ. CM has its issues on a lot of devices, but it's always been really solid on Nexus devices.

Does this work if you bought it from someone else? Posted via Android Central App

It sounds like it is only available for people who bought their phone from Google Play. I wonder lf they're doing it for Nexus 7 too. Posted via Android Central App

This is what I was wondering. I got my N5 at a T-Mobile store, and upon reading this article, I was excited. Now ...not so much.

No dice for me. Just called and tried to get my busted Nexus 5 swapped out and they told me it's not covered.

Adam.... Who did you call? Did they tell you the reason why your Nexus 5 was not covered?

Nope. I just told them I dropped it and cracked the screen, and that I bought it from Google Play. I was on hold for two min, then he told me it's not covered under the warranty and the only thing I can do is contact LG.

That guy probably hasn't been informed yet.. Posted via Android Central App

Riiiiiggghhht. Remember, what "Nexus 5 owners" report is meaningless. What Google says they will or won't do, in writing, is the only thing you can rely on. If you got a replacement, then congrats, because luck has smiled upon you.

Try again. They told me the same thing last week, but I just approved for a refurb Nexus 5.

I'll give them a shout tomorrow and we shall see!

That sucks, Adam! Not reading the warranty on my Nexus 5 (also bought from Google Play), I'm guessing there's a bit of a gray line on what circumstance a replacement is offered.

Wow, perhaps someone didn't get the memo. Were they aware of the announcement?

I called as soon as I read this. I told him I dropped it and the screen was cracked as well. Maybe, like mentioned somewhere in here, it's the rep more than likely. The rep even switched ownership to my account due to it was bought on my wife's account. Posted from my Nexus 5

i have the same situation as yours.. i just called 18558363987 and informed them that i dropped the phone and gave them my email address which i used to buy from google play, the call lasted 8 mins and i was told that a refurbished phone will be shipped in the next three days. I think you should try calling them again. BTW, i think this program is only for Nexus 5.

This is awesome news, especially since my N5 has a crack in the side bezel by the sim card slot, which i have no idea how that happened.

Same for me. Only 2 cracks by the Sim tray, one top and one bottom. And another by the headphone jack. Had it in a Nexus case from Google most of its life. Does anyone know if this is covered also?

Just call them and tell them you cracked the screen and if they approve it crack the screen.

Let's not encourage fraud or other illegal activities.

Omg i thought i was the only one.. Weak area Posted via Android Central App

I'm surprised I've never heard of anyone mention this, but worth a shoot to try for a free replacement.

Everyone probably just lets it go. When i discovered the tiny microphone on the top of my phone, i thought i poked it in with a needle.. I didn't originally know that the top was a microphone put there by google. Lol So when i discovered the crack next to the sim card tray, i also thought it was normal. Posted via Android Central App

Mine has 2 cracks by the sim tray and 1 crack by the headphone jack. Not sure how I got them either!! Posted via my Nexus 5

i cracked my phone in that same area.. sent my back google sent me another phone one day shipping. weird so many of us cracked it in the same spot.

This just made my day! I cracked my screen no more than a week ago! I just called verified some information and sent me the email to get the process started. They were sure to point out it was a favor though. Good luck to you guys. Posted from my Nexus 5

Hi, I tried calling the customer service today. They say that they are not aware of such a program.
Is there any reference links or pointers that you gave them. Anything pointers would be helpful.

google indeed setting the bar for customer serivce requests

Too many nexus 5's in stock?? Need to get rid of them??

I wonder if this covers the back letters peeling off. Also, I wonder if they'll let me pay the difference and upgrade to the 32GB model :D

I was wandering this too.... That would be sweet! Posted via Android Central App

Worked for me too. Their customer support is very good. He did say it was a one time favor to keep a loyal customer. Posted via Android Central App

Great news. Hope this is a trend for them. Especially with a rumored more expensive Nexus on the way and really no way to economically insure them. Posted via Android Central App

I don't get it. So if I crack the screen on my nexus 5, I can call google and they will swap it out for free? Posted via the Android Central App

Pretty much. They will most likely send you a refurbished unit.

Glad to see Google do this.. Hopefully it peer pressures other OEMs into doing the same (which is unlikely)

This is absolutely true. I dropped my phone a few months back and cracked the screen. I told the rep this and she said no problem. I have a new phone on the way now. I just called in and they are sending me a replacement. Here are the caveats, as explained to me by Mandy (the google rep I spoke with):
You have to be in warranty (I am not sure how it is possible to be out of warranty since the phone is not even a year old)
You have to have bought it in the US
You have to have bought it from the Play store (as others have mentioned) The other rather big deal is this is a one time event. Not for the Nexus 5 but for your entire google account. So if break your Nexus 7 or Nexus 6 (or X or what ever it is called) you cannot replace that later if you take this option. Maybe Google is making this a broader policy than just Nexus 5's????

Thanks for the post! By pure coincidence, my wife dropped her phone and the display shattered this afternoon. I saw the post, called the Goog at (855) 836-3987 and after a 20 minute hold started through a 5 minute process that will have a replacement phone sent. You do have to be able to purchase the phone through the play store, with the money refunded once the broken phone is received by Google. I was advised that the phone will likely be refurbished and that the replacement may also be a refurb. I am a very happy Google customer today.

This is good news.. Posted via Android Central App on The Nexus 5

My wife has had a cracked screen for about 5 months and we have never replaced it. Good thing I didn't. Called today once I saw this on droid life and it was seem less. Worked great. New phone should be here soon. Think you google!

How bout water damage? Posted via the Android Central App

Just used it here in Canada. Awesome! My ridiculous battery draining issues are no more.
Just a note though they will put a temporary pre Auth on your credit card until they get your old phone. Posted via Android Central App

Thanks for confirming it works in Canada! +1 to Google!

Called about an hour ago, they said cracked screens are not officially covered but because I am a loyal customer, they can do a one time replacement on my account. I bought 4 nexus 5 when they came out. Luckily only one needed replacement. Thanks android central for the post. Would have done earlier but I didn't install the app on new ROM flash because I was giving playstand a chance. Still can't get it to refresh on opening still have to manually refresh. So back to android central app. Posted via the Android Central App

So I wonder if I purchased my nexus 5 through Amazon while they had that screaming deal for like $35.00. If the unfortunate event of a cracked screen, I'll be covered or not. Hmmm Posted via Android Central App

Wow. I hope this works out! I cracked my screen months ago and just haven't used the phone since. I've used other phones. My N5 works fine, but for the cracked screen. I'm awaiting a rep call back when my call reaches the top of their support queue. If it is a one time per account deal, I'm wondering if I should do it... The N5 is a great phone, but I doubt it would be my daily driver these days. Decisions!

*Correction* May want to correct the statement about Motorola doing this. Had a cracked moto x and their customer support told me they are no longer doing free one-time screen replacements. Im guessing its Lenovo's doing. Good on Google though.

THEY'LL PUT A HOLD ON YOUR CARD TILL YOU RETURN THE DAMAGED ONE. Yeah this only apply IF the device is under warranty. They'll send you a link to order the new phone (refurbished) and you just place an order and that's it, the next day you'll get your replacement unit just like that. BUT THEY WILL PUT A HOLD IN YOUR CREDIT CARD for the amount of a new nexus 5 till you ship back the damaged one (within 7 days of receiving the replacement) . IF the device is in fact covered under warranty they'll refund the amount and drop the charges BUT it could take up to 21 days for the hold to be gone from your card. Source: just got my refurbished nexus 5 after the old one suddenly died.

Too bad they didn't offer this for the NEXUS 4....the most fragile phone ever even with the bumper. Posted via Android Central App

Please update the OP to make it clear this does NOT apply globally. 35 minutes on hold, 10 minutes with the rep and then told this doesn't apply to Australia.

Just as well they didn't do this when Oneplus were asking is all to smash our N5's. BTW, had an N4 from day one and no problems with fragility, screen protectors front and back and bumper, still in as new condition. Posted via Android Central App

I thought it was worth a try. My screen cracked whilst my Nexus 5 was in my back pocket. Called UK customer service. The service rep informed me (after being slightly pressed) that an announcement had gone out about a replacement program for damaged Nexus 5s but only for US customers. Posted from my BlackBerry Z30 because my Nexus 5 is broken. Posted via Android Central App

Well, mine is still perfectly fine, pretty much like day 1, so I won't be doing this, but it's nice for them to offer this service.
Edit: I have to say that this being my first "high end" mobile phone, I was very cautious and it's had a case and screen protection since day 1 too.

I am on the phone with them right this minute and this is going strictly according to the "book" that people are reporting. When you first call in, they will ask for the IMEI number of the phone, and they will tell you this is considered an "out of warranty" situation (just be persistent and tell them you're hearing about this all over the place). They will put you on hold, after which they will tell you they will need to speak to a supervisor, and then they will come back with a "since you're a valued customer, we'll give you a one-time replacement with a refurbished device". You keep your charger, etc. as you'll only get the phone. They will place an authorization hold on the credit card in your Google Wallet account for the full cost of the device plus shipping until they receive your old unit back then they will remove the hold. They will send an email to you that has a link where you can select within 24 hours the shipping you desire, and it will also include RMA and shipping labels for your old unit. You will have 21 business days to send the old unit back before you're charged for the refurbished device. All in all it took about 15 minutes on the phone for me.

To be clear, Motorola does NOT offer a free repair/replacement program. I have a $195.00 credit card charge to prove it. They will at first say the policy changed in mid-July (about a week after all the news sites/blogs reported that they "confirmed" they would do free replacements), then will deny they ever did it, and it's not in any of their written policies. I even have the email where they claimed sites like Android Central (mentioned no site by name) were spreading "misinformation". And yes, I bought our phones directly from Motorola. Didn't matter. Still in replacement cycle hell with them, as the sent us the wrong phone (they sent 16GB phone to replace a 32GB) and now claim they didn't receive the broken phone, but then say it's "just now on the dock". It's been "just now on the dock" for two weeks now, with no end in sight. Been dealing with this crap from them since the 3rd week of July.

All in all it was a smooth experience and 12 minutes on the phone got me a replacement N5. Not bad deal Posted via Android Central App

I'll let you know soon. I cracked my screen a week ago and hadn't had time to deal with it. Guess its good I waited! Posted via Android Central App

As stated above, it doesn't work if you bought it from a carrier. However, if you bought it from a carrier during the time the Google Play Store was out of stock and and explain you had to pay the higher price from the carrier, they may budge. You may have to speak with a supervisor. Good luck. Posted via Android Central App

Yep this news is confirmed! I called them when I saw this post on Wednesday and got my new refurbished replacement today on Friday! What's awesome is they used next day shipping!! :)

Just called Google today to try to get a replacement for my Nexus 5 with a cracked screen - happened about 5 months ago. I actually bought a new Nexus 5 to replace the 1 with a broken screen and the 1 with the broken screen was out of warranty. I spoke with a rep and she put me on hold for a while and let me know that even though it's out of warranty, they'll send me a refurbished 1. Correct that they'll put a hold on your credit card for the amount of the replacement until your replacement has been received by Google. Had my fingers crossed when I called hoping that I'd still be lucky enough to get it replaced. Now I'll have 2 Nexus 5s:)

Thanks to google !! I got my Google Nexus 5 replaced under exceptional Warranty. I bought my phone in US and they replaced me in India ..amazing service from Google :)

Hi Sandeep, I am in a similar situation as yours. Bought Nexus 5 from the Google Playstore in the US in May this year. Now i have a broken screen. I checked up with the customer care in the US and they said that the devise has to be in the country of purchase for them to replace it. How come you managed to get it replaced in India? Can you please advise.....

Hello Sandeep, I am in a similar situation as yours. Bought Nexus 5 from the Google Playstore in the US in Dec 2013. Now i have a broken screen. I checked up with the customer care in the US and they said that the devise has to be in the country of purchase for them to replace it. How come you managed to get it replaced in India? Can you please advise.

Is there a place where I can replace my nexsus immediately? Give my broken phone and get a new one. I bought my nexsus 5 from the play store. Now I live outside the states, in few weeks Ill be visiting their, only for few weeks. So I wanna do the replacement quickly.
What should I do before going to replace it?

Called them on October 1st 2014 and talked to the rep and he asked a few questions and told me he had to go through some steps to make sure what was wrong with my phone was covered. (The flash memory died I guess and I couldn't reset to factory or install the factory images.) After talking for about 30 minutes he emailed me a special link to order my refurb. phone that puts a temporary charge on your card. The best thing I liked about it was they gave me next day UPS shipping so I got my phone on Oct 3.

Do you know much the hold is that Google puts on your credit card?

It was 399.99 plus tax so it ended up being $430.92. Although it only shows up as an authorization and a day after I received my phone I had an email saying Google Play Order Cancellation Receipt which took of the authorization.

Hi, I had bought my nexus 5 from US in November 2013 and this morning had cracked screen. Is it possible that it could be replaced free under warranty in India?

if you bought it from the google play store and have proof of purchase.

i called 855-836-3987 and stated 1 of my nexus 5 devices has cracked screen from being dropped. It wasn't covered under any sort of warranty Google offers, but they said they would replace w/refurbished phone - a courtesy replacement that they would offer for my email account. (So, I don't think I would be able to get my other Nexus 5 replaced, because it is tracked by your account, not by the device). They sent me an email with a link to buy from google play and then when broken device returned and received by Google, they will credit back your account., The call lasted 10 mins.

They replaced mine a few months ago after mine was dropping LTE. They put a hold on my credit card, shipped me the new one with a return label and i sent the old one back right away. They removed the charge before they even got the phone back. Didn't cost me a penny. Awesome service!

Just called Google an hour ago and they made an exception for my device. They are really nice and really value the customer. This was my first experience with a google product and customer service. I'll update once I get the phone and everything checks out.

Unfortunate we are in France, we pay the nexus more expensive than to the US and are not entitled to this service of free replacement. I have broken my screen and have to pay about 125 euro to repare it.
Thank you Google for France!

Apparently, this program will only replace phones that are still under the 12 month warranty. My phone recently started rebooting randomly and they will not replace it since it was purchased 14 months ago. Unfortunately, a factory reset did not fix the problem so it seems to be a hardware issue. Very disappointing...

I called Google stating about nexus 5 damage (without me indicating what happened), the rep did a quick check with her supervisor and she managed to push through a phone replacement. Well the thing is, my phone has water damage. I even had the back cover opened to check. Pretty much double voided the warranty. I'm afraid when I do send it back while they put my card on hold, they may not release it when they realized as such?

Hi all,
Does anyone know if this includes Canada?? Just got mine water damaged :(

My nexus 5 entered an endless bootloop about 10 months after purchase, and when I called google they immediately sent me a replacement. I was impressed with the speed of their response, but unfortauntely was horribbly dissapointed a few days after getting the refurbished replacement and noticing that parts of the screen were unresponsive! After contacting support again, and going through the troubleshooting steps, the 3-day old phone was deemed dysfunctional and google offered to again send a replacement, which I found to be already ridiculous considering the inconvenience. Was this a bizarre coincidence? Perhaps. It may also be indicative of the quality of these refurbished phones which don't seem to be properly checked before being re-packaged and shipped out.

I dropped my phone from about 18 inches off the floor and the screen shattered. I bought it on Google Play, it's 14 months old and Google would not replace it. :( Love the phone otherwise.