Google Cardboard app 'Jack White: Third-D' places you in the middle of a concert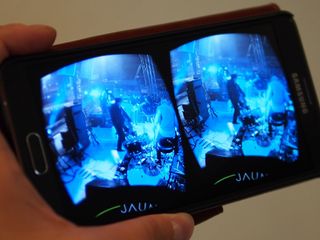 A new virtual reality app titled Jack White: Third-D has just hit the Google Play store that will place Google Cardboard wearers in the middle of a Jack White concert from wherever they are located. The experience will also be hitting the Samsung Gear VR and Oculus Rift in the future as well.
The technology company behind the app was also involved with the Paul McCartney virtual reality concert experience.
Proof that the VR is overpriced. You can have good apps with just cardboard and lenses.

And a couple of magnets... and velcro... and 3m adhesive.

I may not understand cardboard but could there be. Video player app that could be used to give a feel of watching your video at theater or big screen Posted via the Android Central App

Yes,
Cmoar VR Cinema free
https://www.androidcentral.com/e?link=https2F2F...

The Cardboard app has a YouTube player in it that does just that.

No thanks. I've used Google Cardboard with my Note 3 and it's not a worthy experience. Waiting for the Oculus.

Well no kidding your experience was shitty on the Note3. Cardboard was designed for smaller phones (specifically the Nexus5).
Trying to force the Note3 into the cardboard enclosure would be like trying to fit Rosie O'Donnell into a SmartCar.

Uh, nope, I bought a Cardboard kit that was designed for the Note's size. The problem is that Cardboard is in general a crappy experience compared to Oculus: small FOV, uncomfortable, slow reaction, etc.

For those with phablets with screens such as note 2, 3 and iphone 6 plus, you need a bigger version of the google cardboard, the NEJE VR ZB02 MAX will do the trick will support phones with large screen up to 5.7 inch, is available at tabletland.com under 9 bucks with coupon:HG4SA

I got it from pcardboard with really fast delivery. Moreover you might get some of Google Cardboard clones for every type of smartphone. Or cut yourself template. It is great thing!

Check out "Insects 2" you can also find it if you do a search for BowersLLC in the google playstore. In this first person shooter episode 1, you'll incorporate the newly developed point walk/stop system. Stay tuned for episode 3 with complete inventory system to top off this series with a full blown RPG. Story:
The people of Earth are finally starting to populate the universe. You're marine space astronaut Sergeant Major Bowers sent to Mars to clear out this insect infestation and ready the planet for habitation. Upon your arrival (episode 1) you are surprised to see a space ship. It was always believed these insects lived beneath the surface of the planet but it turns out we might have been wrong. You decide to investigate the origins of the ship and head inside. Instructions:
- Look at the footprints for 2 seconds to start the auto walk features. Look at them again to stop.
- Look at the insects for 1 second to start the auto shoot feature. Simply look away to stop shooting. Hints:
Retrace your steps! This game is a maze of doors and trigger events. If you get stuck, you have probably missed a key or a room somewhere.
Android Central Newsletter
Get the best of Android Central in in your inbox, every day!
Thank you for signing up to Android Central. You will receive a verification email shortly.
There was a problem. Please refresh the page and try again.