Google to bring Nexus 9's Tegra K1 processor to Project Ara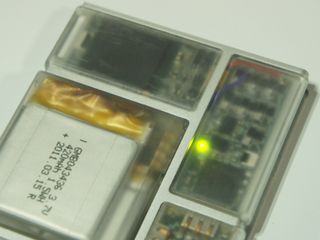 Project Ara will offer a few choices in processor selection, and now Google has announced that it is working with Marvell and NVIDIA to bring their application processors as options for the modular smartphone. Both the NVIDIA Tegra K1, the same chip that's found inside the Nexus 9 tablet, and the Marvell PXA1928 will be joining Rockchip as options for Ara's processing power.
The company is also working with Toshiba to work on the Spiral 3 prototype:
Source: Google
This may be the first time a moonshot project might finally pay off Posted via the Android Central App

I think it will I'm the kind of guy that stops a microwave at 1 second to feel like a bomb defuser.

With A Tegra K1 in it how big will these phones be?
Also why do they need A Tegra K1? but then again why do I need this awesome poket computer? Posted via the Android Central App

Tegra K1s don't have to be big. Posted via Android Central App

But both the Nexus 9 and Shield Tablet produce a fair bit of heat.

When is this coming to the consumers? I'm the kind of guy that stops a microwave at 1 second to feel like a bomb defuser.

When you get a new signature My M8 posted this

Does it bother you? I'm the kind of guy that stops a microwave at 1 second to feel like a bomb defuser.

How do you like this one? white lunch bag is trash

It's definitely funnier My M8 posted this

Well, that's a relief. With just the Marvell, the only chance I had of buying one of these was as an experimental oddity. With a real processor as an option, this is back on the map.

Hopefully the 810 will come in short order too, I'm really not keen on Tegra chips. Wubba lubba dub dub!

I never was fond of Tegra either until I bought the Nexus 9.

I guess my question(s) (in reference to the Tegra K1) is:
a) will it be the 32-bit or 64-bit or will it be a custom chip? (the article says the "same chip that is in the Nexus 9" so maybe the 64-bit?
b) how will the lack of integrated cell radios work - ie. would we then need a second "block" for LTE and such? I am truly excited to see this reading about some of the things that might be able to be done (see link below). Good job Google!! http://i0.wp.com/cdn.bgr.com/2014/04/flippypad-project-ara-module-1.jpg?...

I'd love to cram a K1 into a phone. This Project Ara is really turning out to be pretty damn awesome :D Sony Xperia Z2
Nvidia Shield
Android Central Newsletter
Get the best of Android Central in in your inbox, every day!
Thank you for signing up to Android Central. You will receive a verification email shortly.
There was a problem. Please refresh the page and try again.