Google Assistant will expand to 38 countries and 17 languages in 2018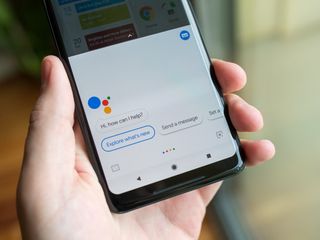 (Image credit: Android Central)
The Google Assistant is something I regularly use every single day, whether it be on my Pixel 2, Pixelbook, or Google Home. While the Assistant has expanded to a lot of different hardware since its launch, the same hasn't exactly been true for worldwide availability. However, it looks like this will soon be changing.
During a recent Digital News Initiative Summit that was held in Amsterdam, Google announced that the Assistant was expanding to a lot more countries later in 2018. The photo in the Tweet below shows which countries the Google Assistant is currently available/coming soon (the areas in blue), and as such, we can see that the Assistant will be made available in the Netherlands, Sweden, Italy, Saudi Arabia, Russia, and others.
The Google Assistant will be expanding to a total of 38 countries (bringing the total number up to 52), but there are some notable exceptions from the list such as Denmark and Austria. In addition to the new countries, Google also plans to support new languages — including Russian, Dutch, Arabic, and Hindi.
There's currently no time frame as to when these expansions will roll out, but we'll be sure to keep an eye on things as the year goes on.
Google Phone v17 introduces chat heads feature during calls
Get the Android Central Newsletter
Instant access to breaking news, the hottest reviews, great deals and helpful tips.
Joe Maring was a Senior Editor for Android Central between 2017 and 2021. You can reach him on Twitter at @JoeMaring1.
I don't think there is a language called Indian?!

It's spoken by ppl who live in Hindi, duh

It could be Indian languages. India has more than one language.

There's no such language known as Indian, it's Hindi. I understand your analogy though, if there's Russian, arabic the analogy says the language of India should be Indian but it's Hindi because the term hindi originally was used to refer to inhabitants of the region east of the Indus. It was borrowed from Classical Persian. Hindi meaning "Indian", from the proper noun Hind "India".

It could be multiple Indian languages. India has more than one language. Hindi is majorly spoken but there are other languages spoken by millions of people.

Austria? We have GA in Austria. Ok, we need to speak proper high german and not one of our hundreds of dialekts, but I am guessing the GA won't understand someone speaking Yorkshire accent as well. Those people have to talk proper Oxford english, too, if they want GA to understand them.
So yes, we do have GA in Austria.

As a dane, my only comment is grarrrrgh. Ffs give us the assistant or don't leave Google now dead in the water like it is now.

Why do Internet companies including Google think that a country of residence defines the language the person speaks. It is a nightmare when the whole Internet insist in showing you the wrong language. An American can't live in Germany? A Spaniard can't live in Poland? Come on, get with the times.

When do we get Bixby i Swedish? like never... :-)

I already imported a Home Mini from Germany, but great, it'll be easier to buy them later on!
Sidenote: I hope you update this article to mention all the countries and all the languages. It's sad that you only mention 5 countries out of 38 and 4 languages out of 17.

"Google also plans to support new languages — including Russian, Dutch, Arabic, and Hindi." So expanding to Sweden, but without Swedish? What gives?