No Home, no help: Google Assistant's shocking lack of customer support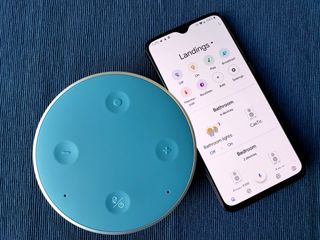 Google Assistant has done a lot of growing in the last three years, and you can now find Assistant not just on your Android phone, but on TVs, watches, Chromebooks, smart speakers, smart displays, and soon a whole lot more, thanks to the Assistant Connect program announced at CES. Google Assistant is perhaps Google's most important service right now, and if it breaks — as it regularly does — getting Google Support to help you is damn near impossible, with one exception.
If you have a Made by Google device, Google Support will gladly help you with an Assistant error. Assistant broken on anything else? You're basically on your own, and that's completely unacceptable.
Getting help with a Google service is usually simple: you go to the Google Support site, click on the service you need help with and then click Get help or Contact us. You can then talk to a Google Support representative about the issue you're having with Google Drive, Google Play, your Wear OS watch, your Android TV console, or your Made by Google devices. For Chromebooks, direct chat support is available, but only for certain brands; support numbers are listed for other manufacturers.
For other, smaller services like Google Keep, Google Photos, and Google Translate, if the information on the Support site doesn't help you, you can ask about your problem in the Help forum for that particular service, where some Product Experts pitch in to help users troubleshoot the issues they post about with varying degrees of success. Your only other option is to go into the app for that service and use the Send feedback feature to file a bug report and hope that someone gets back to you.
The Google Assistant Help site lacks information on many of Assistant's features, the troubleshooting section is limited to three problems — two of which are "OK Google" hotword-related — and there are no chat or call support options. There's no mention of Google Assistant Routines, one of the features most prone to misbehavior, nor most Assistant features introduced in the last year. If you really need help with Google Assistant, you're better off looking on the Google Home Help site, which not only has a more up-to-date guide to Google Assistant's features but has chat and phone support from Google Home specialists.
Most of Google Assistant's smart speaker/display features debuted on Google Home before becoming available everywhere else; those support pages being created on Google Home Help sounds reasonable. Once they roll out to all Google Assistant speakers, though, the support pages never migrate to Google Assistant Help, nor are they updated to reflect compatibility with non-Google devices, and that is not acceptable from one of the largest smart home ecosystems on the planet.
The Google Assistant team is responsible for the development, implementation, and the maintenance of Assistant's many functions on all connected devices — not just Google Home — and when Google Assistant breaks, it has a tendency to break across several platforms with little warning and even less recourse. For the Google Assistant to have no centralized, proper customer support functions should be a giant red flag to anyone considering building a smart home around it.
Even the representatives on the Google Home support team recognize the need for a separate Google Assistant team to handle multi-platform issues, and after three years, Google has had more than enough time to make the transition. For Google to pour so much effort into the marketing and mass-adoption of Google Assistant and yet give no thought to a Google Assistant support team is too incompetent to be unintentional.
If you want a Google Assistant experience with robust support, you better buy a Google Home. After all, this is a nice smart home setup you've got here. It'd be a real shame if a bug crept in overnight and broke all your speakers…
Android Central Newsletter
Get instant access to breaking news, the hottest reviews, great deals and helpful tips
Ara Wagoner was a staff writer at Android Central. She themes phones and pokes YouTube Music with a stick. When she's not writing about cases, Chromebooks, or customization, she's wandering around Walt Disney World. If you see her without headphones, RUN. You can follow her on Twitter at @arawagco.
This couldn't be more true. Been trying for 3 days to relink my Hue account to Assistant. Tried everything google searching for hours has recommended and still a no go. Provided "Feedback" in the app 3 different times and no response back.

had the same problem because one of my rooms stopped responding, the lights worked in the hue app, worked in homekit but through google home the command would not worked reprogrammed. then unlinked which took 3 tries, then re linked which took 2 different devices. but there really is no support and some of googles support is some of the best i have ever seen.

like I posted ot staindone Try " Hey Google update Philips Hue" that seems to work for the majority of people who have those either not found or unlinked.

Have you tried "Hey Google, update Phillips Hue" that did the trick with mine.

So what hardware are you using?

This is an incredibly frustrating oversight. I have Nest thermostat that worked fine at our old house. About a year and a half ago we moved and I didn't get around to re-installing it for a few weeks. When I did get it reinstalled Google Assistant told me I had to unlink it and re-link it for some updates or something (why, I don't know). I unlinked it and then was not able to re-link it. I tried on and off for months including reaching out to Google Home support (I have a Home Mini) and the product support forums. I finally gave up for a while and when I tried again, probably close to a year after the issue started it magically worked again. The fact that Google (well, Alphabet) owns both "products" makes this so much more frustrating.

Honestly. This is a little whiny to me. The simple truth is Google needs to focus on their products, and provide the great customer service they do for the people that paid good money for them. The manufacturer of any other device bears the responsibility of their own product. Period. You want support, buy Google. It's a pretty clear message.

Now this is bizarre. I have had great customer service with my Nest, and Homes, and Pixels.

Here Here! Thanks so much for posting this. I hope Google sees it! And unfortunately, it's not much better in the Alexa world... If you own an Echo product, sure, support is good...
But try to get help with a Garmin Speak, forget it... I called Garmin with several odd little issues with the functionality of Alexa on it specifically (issues that doesn't exist in my Echo Dot), and they said they only support it for navigation!.... I said "but I use my Speak for everthing in the world imaginable EXCEPT navigation". They told me to call Amazon, Amazon said to call Garmin. Etcetera. 🥴

Again, the bottom line is if you want good support buy from ECHO or Google, all these third parties are nice, but like Samsung and updates, you are only as good as you are with software. Most third parties suck at software support.

I had a similar problem about a month ago.. Got my kids a smart switch and their own google home mini so they could control their own room light. Created their own accounts and linked them to my google home account. Links them to my smartthings account, and set them up with their own "homes" within my main home so they could have their own device page, routines, etc. Worked fantastic out of the box. Was blown away at how well it all came together. 2 days later, one of the room lights stopped responding. Google would say "oops, could not connect to device". 3 days later, it spread to the whole house. Now nothing was working with Google Home on Smartthings OR my Insteon (ISY) setup which was not even shared with the kids. Finally I just removed both and relinked and everything works again. But there was nothing online for support.. and I knew calling anyone would simply take me to an india call center where i'd go through their "script" for 4 hours and get nowhere. Still, it's really powerful and aside from one bug with not being able to edit routines for one of your linked "homes" from your app, it all works quite well.

I have a Pixel and I'm blown away with how good the customer service is. They should extend this service to all Google users.

As I, you paid a lot of money for that Pixel, and that is why the service is so good. People go out and buy these 'with assistant' devices and then want Google to fix them. Lol. That is crazy AF.

This is not entirely accurate.
There is a toll-free number for Google Home Support, and its fairly thorough in terms of their follow up for a resolution. And when there is no resolution, they issued me a Google Play credit.. that still did not resolve the issue I contacted about which was single account usage in conjunction with Google Home and Google Play Musc Family plan. Google Home Technical Support: 1.855.971.9121

The article is about NON-Google devices. A Home is a Google device.
You missed the entire point of the article.

Buyer beware with third party Home and Alexa Devices.

Their live Chat troubleshooting is very responsive with very little wait time if any.

Not long ago I was having a difficulty with my assistant on my phone. Too complicated to describe the the details here but in wandering around looking for a solution I found a place that asked me to describe my problem. I did and within an hour the problem was gone. They never replied but the problem was resolved. Coincidence? I doubt it.

I don't understand this piece. This is like saying you bought a Smart TV, but you're mad at Hulu because it doesn't work well on that TV. That's a manufacturer's issue, not Hulu's.

My Dell Windows laptop is misbehaving. Let me call Acer/Asus/Lenovo, anyone but Dell, to fix it.
Android Central Newsletter
Get instant access to breaking news, the hottest reviews, great deals and helpful tips
Thank you for signing up to Android Central. You will receive a verification email shortly.
There was a problem. Please refresh the page and try again.