Google Assistant on phones can finally send videos and music to Chromecast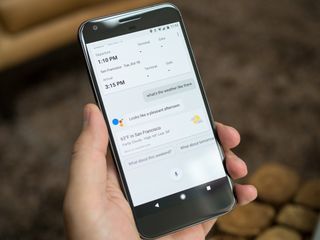 The Google Assistant is one of Google's most impressive services in a number of years, but as powerful as the AI has become in such a short amount of time, there are still some aspects that don't make any worldly sense. If you own a Google Home, you'll know that there are certain things it can do that the Assistant on your phone can't (and vice versa).
Google's been working hard to bridge this gap as much as possible, and in its latest attempt to do this, you can finally send videos and music to your Chromecast-enabled devices from the Google Assistant on your phone.
This is a feature that's been available on Google Home since day one, and it's something that I find myself regularly using. The ability to say "Ok Google, play Android Central videos on my TV" or "Ok Google, play Spotify on my speakers" is still wickedly cool, but up until this point, you couldn't replicate the same action on your phone.
We aren't sure what took Google so long to make this feature available, but either way, we're thrilled that it's finally here to use. You should be able to send videos and music to your Chromecast-built-in devices even if you don't own a Google Home, but at this time, it's not clear as to how the functionality is being rolled out.
Android Central Newsletter
Get instant access to breaking news, the hottest reviews, great deals and helpful tips
Joe Maring was a Senior Editor for Android Central between 2017 and 2021. You can reach him on Twitter at @JoeMaring1.
I assumed that it was intentionally left out of phones to give Google Home a unique feature. Otherwise, lots of people wouldnt have seen a point to buying a Home when their phones do everything almost as well. Now that the Mini is out, there's less need to differentiate.

Nice. Now, Google, just bring me that YouTube TV functionality you touted at I/O.

The thing that always confuses me is that Assistant still can't do everything that Google Now could do... When are they going to fix that?

Just picked up two Chromecast audio's today and was yelling at Google home from another room trying to test it out. If I would have known this when I start testing, life would have been much easier.

I'm honestly surprised by all of this. I installed the Google Assistant on my iOS device on Thursday and have been giving it commands to play content to my Chromecast's and Chromecast Audio's and thought that was completely normal. I had no idea all these things didn't work at one point. It's really quite awesome.

Now it's only necessary that Google give the Chromecast to users of Pixel 2 :)

Am I the only one that prefers to just open the app and press the cast button instead of speaking to my phone? The only thing I use it for is for converting units and setting up a timer. Any other useful stuff that you guys use?

If I'm rushing around to catch my bus i might ask if i need an umbrella or how cold it'll get. If I'm jumping in the car i might ask it to sms my wife that I'm on my way home, then "navigate home". The other day i was reading an animal book to my daughter and asked Google what a peacock sounds like and to my amazement she didn't just give me results, she made the sound. I like to have a drink and often ask eg what's in an old fashioned. I'm enjoying the straight answers rather than search results. With Spotify, yeah if it's playing I'll just hit cast but it's easier to use voice if you want to search for a specific song and now cast if you don't even have Spotify open, in my opinion at least. I wouldn't say any of it is life changing but mildly convenient and getting more so

No, it can't. Maybe this is a US only feature?

Does this apply to the assistant on my Android Wear smartwatch, too?
Android Central Newsletter
Get instant access to breaking news, the hottest reviews, great deals and helpful tips
Thank you for signing up to Android Central. You will receive a verification email shortly.
There was a problem. Please refresh the page and try again.