Google joins Amazon, Apple, Zigbee Alliance, and others to help develop a smart home connectivity standard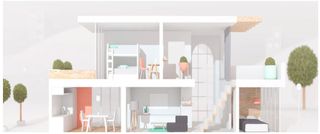 (Image credit: Google)
What you need to know
Google and others are joining forces to improve smart home standards.
Amazon, Apple, and others are in.
There's even a new website with all of the information, too.
Google has announced that it has joined forces with Apple, Amazon, and the Zigbee Alliance to work on the adoption of a new connectivity standard designed to make it easier for smart home products to work with each other.
The Zigbee Alliance is made up of some big names in the world of smart home accessories and appliances, with names like Samsung SmartThings, Signify (makers of Hue bulbs, formerly Philips Lighting), and IKEA included. Google says that it wants "bring together market-tested technologies," hopefully making life easier for consumers.
As part of the joint efforts a new website, "Project Connected Home over IP", has been launched and people are encouraged to go there to get updates. Google also says that is contributing two of its open source technologies to the cause.
Ultimately, this should be good news for consumers. The theory goes that this will allow device makers to more easily add support for services like Amazon's Alexa, Apple's Siri, and Google Assistant as well as others as they are developed or new companies come on board.
Android Central Newsletter
Get instant access to breaking news, the hottest reviews, great deals and helpful tips
Good. If you want to see fragmentation, "smart" home products are the place to look. I'm still not sure if "hey Google, show my ring doorbell on chromecast" doesn't work because Amazon want me to use Alexa and a fire stick, or because Google want me to use a nest hello... Or both.

Yeah, there's some irony that Zigbee is already 2.5 home automation standards; LL (LightLink aka Hue) and HA (home automation) and then Zigbee3 will in theory interact with both Z-LL and Z-HA. In theory is rarely proven in practice. And if you need battery powered devices, this is actually detrimental. WiFi is horrible on batteries, so you'd need a regular home automation system, like Zigbee3 or Zwave (my preference). The reason this is bad, is that battery powered devices really like to have a mesh so they don't have to transmit far to get to a relay. The issue is that battery powered devices don't relay and now the mains powered devices are likely to be this wifi Zigbee-over-IP.

The only privacy a person has now is the privacy of their own home. The tech giants know this. They have done a great job making you believe that their products are indispensable in the home. They have now been able to invade our home and thus our privacy. Even without authorization, they can listen to your conversations, listen in while having sex, as well as a miriad of other things. We as a collective have allowed this. We as a collective are idiots for doing this. I don't and will never have anything "smart" in my home. My privacy is extremely important and I will not allow others to take it from me. Just a warning to those who believe that this is a good thing, maybe so, but unlikely that it is. Beware...

Ha ... you said "I don't and will never have anything "smart" in my home." Sorry to hear that.:)

Ha. I'm glad you saw the irony in my post. Of course I wasn't talking about ME😁😉👏

So does this mean the Ring Alarm security system will now work with google home/nest mini speakers? They will allow ability to arm/disarm security that way even though Ring (Amazon) doesn't currently support google product?
Android Central Newsletter
Get instant access to breaking news, the hottest reviews, great deals and helpful tips
Thank you for signing up to Android Central. You will receive a verification email shortly.
There was a problem. Please refresh the page and try again.