Google and ASUS officially launch the Chromebit, available now for just $85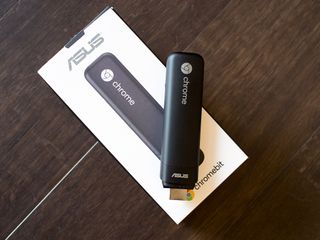 Though Google and ASUS took the wraps off of their new little Chrome OS computer called the Chromebit back in March, the two companies are finally ready to release it into the wild — and they're doing it at a great price, just $85. For that money you're getting a tiny stick that contains a full computer, with a Rockchip ARM processor, 2GB of RAM, 16GB of storage, 802.11ac Wifi, Bluetooth 4.0 and even a USB port. The whole thing can plug directly into the HDMI port of your favorite monitor or TV and instantly turn that screen into a full-on computer.
Of course for $85 you're not getting a keyboard or a mouse, so you'll have to provide your own Bluetooth peripherals for this stick to make it actually work for anything, but if you already have some you can use your existing equipment if you wish. Despite its low price the Chromebit offers a complete Chrome OS experience, meaning you'll be able to do everything you can do otherwise on a Chromebook or a Chromebox for that matter, albeit at a slightly slower pace on account of its middling specs.
The Chromebit will be available from a variety of retailers, with Amazon, Fry's and Newegg being the choices initially in the U.S. and several others picking up the duties elsewhere around the world. In total, the Chromebit is coming to Australia, Canada, Denmark, Finland, Japan, New Zealand, Norway, Spain, Sweden, Taiwan and the UK.
As the Chromebit becomes available at retailers, we'll be updating this post with relevant links to purchase it.
Buy the ASUS Chromebit from Newegg (opens in new tab)
Android Central Newsletter
Get the best of Android Central in in your inbox, every day!
Andrew was an Executive Editor, U.S. at Android Central between 2012 and 2020.
Seems like a great little mini computer on the go when you need it. It'd be pretty good if you just wanted a bare bones experience. Posted via the Android Central App

when is it coming to india

I'm curious if Microsoft Office is on Chrome? This would be a good solution for my wife's schooling. Posted via the Android Central App

There's office online here: https://www.androidcentral.com/e?link=https2F%2Fmicrosoft.msafflnk.n...
Or if you want there some extensions made by MIcrosoft for the Chrome Web Store: https://chrome.google.com/webstore/search/microsoft?utm_source=chrome-nt...

Thank you Posted via the Android Central App

Yep. Just look up ms office or, for instance excel in the chrome store. Pretty cool.

You can download the Microsoft Word from the play Store and use it Posted via the Android Central App

Yes, please. I can experience the Chrome OS on my TV. Posted via the Android Central App by OnePlus One

Maybe a stupid question but can this be plugged into an HDMI port on a laptop for a dual OS experience for Windows 10? My kids use Chromebooks at school so I am curious if I could set up a Chromebook on my laptop instead of buying a separate device. Posted via the Android Central App

No, I don't know of any laptop that has HDMI in; basically any HDMI port on a laptop is going to be HDMI out only. There are some portable small LCD monitors designed for travel and business, etc., but yeah, that'd be a great feature to have in a laptop or tablet. You could install linux on a USB thumb drive and boot that, but unfortunately the only way you can get Google Chrome OS is to buy a piece of hardware, like a Chromebook, Chromebox, or this Chromebit stick. But if you were interested in buying this anyway, you could plug it into your tv; or if you have an existing desktop computer & monitor, you could for example hook up both that computer and this Chromebit to that monitor (provided the monitor has sufficient video inputs, of course), and it could serve as a PC station or a Chrome OS station depending on which input you switch to.

Thank you for your response! Much appreciated! I am going to go with a Chromebook for them and maybe a chromebit for my TV Posted via the Android Central App

You can boot chrome OS without buying hardware. Hexxeh did it and now... http://getchrome.eu/download.php.
You dont HAVE to buy the hardware.

Checkout Arnold the Bat's Chromium OS builds, or Neverware's CloudReady Chromium OS builds.

Seriously, what an amazing time to be around! We're right on the cusp of the IOT taking hold, and having computers in everything, in all shapes and sizes, at every price point. Very cool!

I seriously think this is a waste. Don't get me wrong but who in the sane mind would get a half baked os if windows is available for like 20 - 30 dollars more?

What runs a full version of Windows 10 for $85? Posted via the Android Central App

For about 85$ + 20-30 more? That: http://www.amazon.com/gp/aw/d/B00W8T61O0/ref=mp_s_a_1_1?qid=1447761562&s...

Thanks Posted via the Android Central App

I purchase a full win10 minipc called Kangaroo at Newegg for $99, cheaper if you had the visa check out off $15 - $20 last week.

some of the school districts i've worked in are all about cost vs efficiency. it's easier and cheaper for them to buy 100 of these instead of 100 new computers running windows 7, 8, or 10. and our kids still get access to computers they don't have at home. the things we think are "silly" or a "waste" can make life infinitely better for people who don't have the same opportunities. Posted via the Android Central App

I agree this is a fantastic solution. Posted via the Android Central App

I'm thinking about sticking one of these in our conference room- 90% of the use on the screen is web content, and Chrome OS should cover most of what's missing. Not having a real OS is an advantage here-- I don't have to worry as much about people screwing it up.

Very cool. Will be interesting to see whether it can handle a Web cam and has enough cpu for the encoding /decoding... Posted via the Android Central App

What a clever idea. Not sure how I would use it but once again, like the Chromecast, the price is so low, it's almost a purchase first, figure out what for later. Posted using SwiftKey on my LG G4 via the Android Central App

Hmm isn't a INTEL compute Stick for 114€ with windows 8.1 home or 120€ with windows 10 home the better buy? Posted via my LG Flex 2

If you prefer Windows, then yeah, but this is the way to go for Chrome so it depends .... personally I'd shell out the extra $30 and go with the Intel. Great idea and an amazing product. I don't need one but I'm getting it anyway, I'm sure I'll find it handy once I have it.

For something like that, I'd rather give my money to the Remix Mini, which I've already done and plan to do again. Great little Android device. Posted via the Android Central App

I got one too! I've plugged it in once though. Posted via the Android Central App

Does the Remix have clearly better specs or something? I'm only asking because I am deciding between the two

About the same specs. Two USB ports. Just runs Android instead of ChromeOS. Can't do 5G wifi. Beyond that it's great, and you've got access to everything you've already downloaded/purchased on your phone/tablet. Most apps seem to still work, though it's not a guarantee. Posted via the Android Central App

Oh, and my Logitech wireless trackball and keyboard work just fine. Posted via the Android Central App

I wonder how well it will run Kodi, if at all. Posted via the Android Central App

This is fucking cool. Seriously great job guys. Posted via the Android Central App

Anyone know if there is an Android app that will let me use my Android tablet as the Bluetooth keyboard and mouse to connect to one of these Chromebits?

Chrome Remote Desktop. But it's gonna be a bit slow, even if you have a very fast home internet connection. May be best off with a bluetooth keyboard and mouse, or combined keyboard/trackpad.

CRD works over Bluetooth? That IS what I asked about. I want to avoid the need to buy a BT kb and mouse at all - not even to use it just to configure the WiFi on the Chromebit. Who wants to pack a kb/mouse around when traveling, just to use to configure the WiFi to connect to the nearest WiFi access point? Ditto for using a USB kb/mouse.

Ah no, it's over the Internet ... but like I said, it's really no replacement for just having a BT keyboard and mouse.

"Rockchip ARM processor, 2GB of RAM", I don't know..., that seems to low specs to me. I know it's low priced too, but you don't want to ruin the experience over the price. Is specs are too low, you won't enjoy it that much. Let see.

I was hoping for an Android TV 2.0

Is this something that can be used for streaming video like a roku? With the additional ability to surf the web and do work? Posted via the Android Central App

You should read the review.

And I paid nearly a 100$ for a nexus player of 8gb storage. FML Posted via the Android Central App

I just got one! Thanks for the link!!
Android Central Newsletter
Thank you for signing up to Android Central. You will receive a verification email shortly.
There was a problem. Please refresh the page and try again.