Gold HTC One on display tonight at Harvey Nichols in London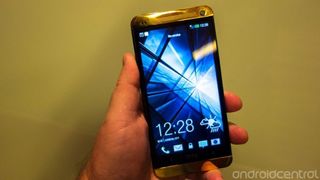 If you want to get up-close and personal with the 18 carat gold HTC One produced in partnership with Goldgenie and the MOBO awards, the device will be headed to London later today. HTC UK says the limited edition "real gold" HTC One will be on display alongside BassBuds earphones at high-end London department store Harvey Nichols from 6-10pm tonight.
The gold HTC One is valued at $4,400 and one of just five in existence, though, so don't expect to take it home with you. Instead you can check out our hands-on video with the gold HTC One after the break to take a closer look. (We've also got more photos in our original hands-on feature.)
Source: @HTC_UK (opens in new tab)
Alex was with Android Central for over a decade, producing written and video content for the site, and served as global Executive Editor from 2016 to 2022.
It looks like shit compared to the stock one but then again I always preferred matte back plastic to metal on phones Posted via Android Central App from Nexus 7 2013

Go Go Samsung fanboy!!! Posted via Android Central App

I love...goooooollld
But I can't imagine the scratches...

That would get stolen and melted down very quick.

I don't see why this is a big deal with the amount of money people spend on cases to protect their phones....unless this new finish will increase durability....

Just the One for Edina and Patsy. Posted from my XT1080M

Pointless! HTC M8 or the next flagship will be out in a couple of months so why invest so much in this?
What a joke. Sent from the Android 5.0 Milkshake

It's obviously just for marketing purposes. It doesn't appear to be for sale anywhere. That being said, my blue HTC One just got a couple of scratches on the back and I just about went nuts over it. I can't imagine if it were real GOLD! Posted via Android Central App

I have the silver One and I was thinking to get the blue. Is it that prone to scratches and cuffs ? I am really impressed with my silver...more than 7 months not a single scratch ... p.s. I don't do cases...

Its not prone to scratch but I had it in a caseless Seidio Holster and I somehow managed to get a few deep gashes along the back surface. I must have been leaning up against something that was sharp or on a corner or something. Never dropped it and I always baby it so I was pretty upset to say the least. Posted via Android Central App

i wonder if it has the shitty purple tint

I don't know about you guys, but I would be one paranoid mother fu**** pulling this out in a restaurant or alley way or anywhere these days. I know these aren't for sale for anyone, just a thought if they where.

It's made for people rich enough to afford bodyguards I guess. Pulling this one out in certain parts of the world will have dire consequence.

Yeh designed for the Elite twats that seem to have the delusion that in owning such a device somehow makes you above everyone and everything. Its a real gold plated phone and the point being? Posted via Android Central App

Wow, incredibly ugly! And, unless they are willing to state the troy weight of the Gold used in the case, there is no way to tell how good or bad a deal it is at $4,400! If it is simply Gold plated than you are talking about a few dollars worth at the most.

An quite offensive (and vulgar) piece of excrement. Tasteless, like those destined to own it. Should have been finished in platinum.
Android Central Newsletter
Thank you for signing up to Android Central. You will receive a verification email shortly.
There was a problem. Please refresh the page and try again.