Gmail joins the dark side, dark theme now rolling out for Android and iOS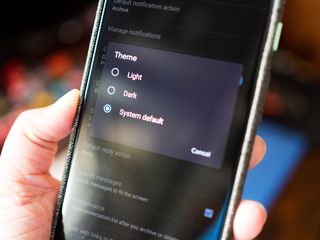 What you need to know
Google has announced the dark theme for Gmail is officially rolling out starting September 24.
It will be available on both Android and iOS.
The rollout is being done on the server-side and could take up to 15 days to show up.
Google has been hard at work updating its core apps with dark themes to support Android 10's built-in dark mode. However, one of the most used and most popular apps has been noticeably absent. That was until today, when Google announced the dark theme for Gmail is officially rolling out.
In the past, we saw hints that the theme was in the works. It's surprising it took Google so long to release it for Gmail, but at least it is finally here. In the blog post, Google details that the rollout is beginning today for Android and iOS, but that it can take "potentially longer than 15 days for feature visibility." It's a server-side switch, so if you haven't gotten it already, updating your app won't help and you're just going to have to wait it out.
Once the dark theme becomes available, there are a couple of ways to enable it. On Android 10, it will respect your system-wide theme setting, or you can enable it by heading into Settings, Theme, and select Dark. Similarly, on iOS it will respect the system-wide theme in iOS 13, and in iOS 11 or 12, you can enable it via the settings.
Like the other dark themes we've seen from Google, the Gmail theme makes use of a dark gray color with white text. The colors are also more subdued to prevent any harsh contrasts and make it easier on the eyes.
Love how everyone is now doing this for me this was one of the biggest plus points of a windows phone I have missed

Why wouldn't Google use black for people with AMOLED screens???

Dark gray is killing me. It just looks horrible. Have it as an option but dark mode should be black

I prefer the dark grey. It's easier to read white text and no black smear.

Because Google don't actually know what they're doing. It's readable though, so I'll take it. If I ever get it.

Another slow trollout from Google. Just enable it for everyone at once rather than leaving people who want it without while people who couldn't care less have the option available.

I assume users that don't have android 10 will still get this?

Nope. Apparently it's Android 10 only. However google is allowing apple users on older software versions to just activate it. I'm on pie and downloaded the newest apk which has dark on Android 10 and don't have the option to turn it on.

I've already got dark theme on Gmail... Instagram, YouTube... You guys need to download HEX!!

Thanks for the tip! It's quite a nice app, if a bit convoluted on the install process. It's also not really much help to people not running a current Samsung phone. To be honest though, it's worth the£1.59 to get rid of the SIM control panel from the top of my notification shade alone lol.

Yeah deffo, it took me a while to work it out... But it's a good start and hopefully will only get better!

All we need is dark mode for Assistant & Google. Even if it's dark gray, i don't give a care.

Finally! It's been long time coming, but I'll take it! 😱

They pulled a "Microsoft" and have support for 3 iOS versions, and only one version of their own OS.

Another server side update that I will get once I forget about it :(

Still waiting for the option to hit my Gmail settings. You would think that Google would show a little love for people who buy their Pixel phones and turn this on for them first, but...

still waiting on Dark Mode for gmail :(

Same here. : ( Verizon, S9+, if that makes a difference.
Android Central Newsletter
Get the best of Android Central in in your inbox, every day!
Thank you for signing up to Android Central. You will receive a verification email shortly.
There was a problem. Please refresh the page and try again.