Gingerbread update for HTC Desire now available as RUU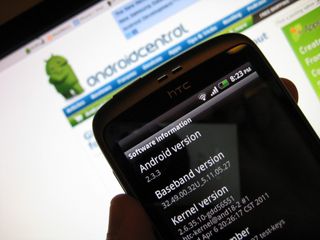 Almost exactly a year after the device first received an update to Froyo, the venerable HTC Desire now has an official Android 2.3 Gingerbread update available. The update is provided in the form of a RUU (ROM Update Utility) directly from HTC's Developer Center.
In order to fit Gingerbread and HTC Sense onto the Desire's tiny 512MB of internal storage, HTC has removed certain bundled apps from the update. The updater will also eradicate any carrier-specific branding or applications that might be loaded onto your Desire, which for some may be reason enough to update. Because of the nature of the update, HTC won't be offering it over-the-air, instead the only way to get it will be via a manual install of the package on the developer site. And because the installation method is a little more complex then the usual OTA, HTC recommends the Gingerbread update for "expert users only".
Unfortunately, though, Desire owners in Germany, North America, South America, South Korea, and Japan are out of luck. HTC says that Desires in these territories aren't supported, and applying the update on an unsupported device may result in the loss of basic functionality like SMS and MMS.
So to break it down, here's what you'll get if you choose to apply the update --
Android 2.3.3 Gingerbread (yay!) on top of a tweaked version of HTC Sense 1.0.
A clean, de-branded phone. All user data will be removed during the update, as will any bloatware bundled apps from your carrier.
Just one pre-loaded wallpaper. The rest are included in a zip file inside the updater package.
Flashlight, Teeter, Facebook are no longer pre-loaded. The first two are included as apk files in the update package, while the latter is available from the Android Market after initial setup.
Kudos to HTC for providing a way for advanced users to enjoy Gingerbread with a minimal amount of fuss and lost functionality (we doubt anyone will lose any sleep over having to sideload Teeter and the Flashlight app). If you've taken the plunge and updated your Desire using the RUU, let us know how it went in the comments. In the meantime, you can grab the files for yourself from the source link below, or check out HTC's full release notes after the jump.
Source: HTC Developer Center
This update is only recommended for expert users who want to experience Android 2.3 and understand the limitations which apply to this update. Due to memory constraints several applications have been removed from this update and we are only offering the ROM upgrade utility (RUU) for you to download. Please note that flashing this ROM will erase your previous customizations, including any messages, emails, contacts, and other personal information. We suggest you take advantage of your Google account and other backup solutions available on the Android Market to ensure you do not lose your personal data. Your SD card will not be erased or modified.
The major changes in this update include:
All customizations, including operator applications, will be removed.
All wallpapers, except the default wallpaper, will be removed and placed online on the HTC Developer website.
Several HTC applications will be removed and placed online on the HTC Developer website.
The official Facebook application will be removed and is downloadable on the Android Market.
Note: This ROM update is for development only and not for general public use.Upgrades to non-authorized phones may result in loss of functionality.In addition certain functions may no longer be usable after re-flashing the ROM if you are using an excluded variant (listed below), including but not limited to MMS and SMS and HTC also disclaims liability for any unusable functions.HTC disclaims liability for the loss and/or leakage of any personal data resulting from the re-flashing of the ROM.
Exclusions: The following regional variants are not-compatible with this upgrade: Germany (Deutsch Telekom), North America, South America, South Korea, and Japan.
Is this the official update for HTC Desire to Gingerbread?
Yes, this is the official update for HTC Desire to Gingerbread.
Will this release remove the ability to send SMS / MMS like in the disclaimer?
Only certain regions, specifically the ones listed below, will have some functionality removed. For the majority of regions, there is no impact to your SMS / MMS functionality.
Why is this only for developers?
Due to the complicated nature of the update we suggest only expert users proceed. We have provided the update in as user friendly way as possible and also included the instructions in the download file but we were unable to provide the update by our usual over the air method.
When can I download the upgrade for my phone?
You can still access the download at http://developer.htc.com for the upgrade for your phone, unless you are in the regions listed below.
Will HTC issue an over the air (FOTA) for HTC Desire update to Gingerbread?
No, this downloadable RUU is the official update to your phone. The update required that we conserve space by removing customizations and wallpapers, we had to release the update as a downloadable update.
Android Central Newsletter
Get instant access to breaking news, the hottest reviews, great deals and helpful tips
Alex was with Android Central for over a decade, producing written and video content for the site, and served as global Executive Editor from 2016 to 2022.
They lucked out. Got an unbloated version of GB.

Sounds pretty nice. Wouldn't it be nice if all updates came without carrier crapps?

Its most of sense that is removed. Sense is over bloated

Finally, shame that I will be getting my upgrade this month, likely a Sensation. Still, don't think I can resist checking it later!

Thanks for the update...! Ok, so I gotta carve out a few hours for this; during the week...! What do I need? There doesn't seem to be any instruction on the HTC website... Down the file and... then... what?? What do I do first? I have a COX Desire, not even going to bother calling them...

I'm in the UK & have a Desire Z. I've got a over the air system update alert for 2.3 @ 105.44MB is this the same update were talking about here ?

That is the Gingerbread update for the Desire Z, which has more storage and thus full version of sense and everything. You can simply install the OTA update without having your phone completely wiped (backing up your data is still recommended. Of course).

I have to say this is great. Things definitely seem faster and the os looks more polished. Would recommend it.

anlygi... thanks for the input... would you please take just a moment and tell us: 1) Which backup did you use to save all your data & apps.. I would hate to restore all my WiFi pass codes... Apps I'm not too worried... 2) Did you just plug in your USB to your PC and click the File RUU htc Desire Gingerbread 2.3 update..? The PDF wasn't so informative on detail instructions... really appreciate it...! Thanks... I'm not a newbie, but I am not a poweruser...

Hey Droidintorrance,
1 - all apps and data got erased you would have to back that up somehow (check Google) apps you could use appbrain. It didn't save any of my Wifi pass codes.
2- the zip file comes with instructions on what needs to be installed.

Works great the Tv turning off thing doesn't look like it's there, other than that works; calls, texts, Wifi and 3G all work. I'm with Telus in Canada rooted Desire.

Some features I was expecting too are missing, like the power controls in the notifications pull down so I am back to the power control widget. It seems that the build is more about performance gains than the extra eye candy, though menu text and icons definitely appear sharper. I don't know if power off is now some sort of hibernate but start up is lightning fast compared to Froyo! That's the main difference I have noticed in this short time, so obviously can't say if there is any improvement on battery life. I was also rooted, though running a stock rom, and it now appears I am no longer so as I don't have power user icon on the apps screen. I am ok with that though as I am being pressured into taking my upgrade because someone wants a new phone, as in MY Desire. :) Otherwise I would be happy to sit it out until the next crop of high end devices appear in the UK. In answer to above: 1. None is the answer. I made a list of my apps and exported contacts to SD, then it was reinstall everything from scratch and set my widgets and other personalisations. Took me no longer than 90 minutes I'd estimate. That is one area Android is lacking officially, backups. Not the breeze i found with BB and iphone. Also in trying previous custom roms found Titamium backup didn't work with everything. 2. Basically yes. Was a case of a few clicks then waiting about 10 minutes and it was done. Very simple! I just had to reinstall HTC Sync on my pc beforehand as I uninstalled it when I rooted.

It'd be nice to have an official Gingerbread ROM for my Desire, but since I'm in the U.S. and I actually use my SMS functionality, I can do without.

I keep getting the error code: ERROR [130]: MODEL ID ERROR
One of these error messages will appear when you use the wrong RUU to do the update. The RUU will check if the Model ID and Language ID are compatible with the Android phone. Make sure you use the correct RUU to update. My hardware is a: ADR6275 don't know what to do...

This is my reply from HTC tech support: Dear, I understand the importance of having the most up to date software for your HTC Desire. The RUU available on our developer website is not for use with our North American version of the HTC Desire. It is also only for developmental purposes of the Global GSM Desire. This is why you are receiving the error 130. I do apologize for any inconvenience. To send a reply to this message or let me know I have successfully answered your question log in to our ContactUs site using your email address and your ticket number. Sincerely, Jeffery HTC

Hi. Is there a way to "rewind" the update? Do we have the ability to download the original FroYo installation?
Android Central Newsletter
Get instant access to breaking news, the hottest reviews, great deals and helpful tips
Thank you for signing up to Android Central. You will receive a verification email shortly.
There was a problem. Please refresh the page and try again.