Gingerbread for the Samsung Droid Charge appears on video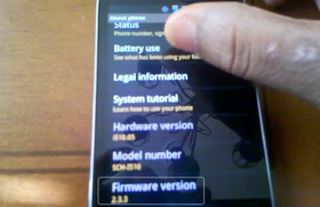 Youtube link for mobile viewing
Things have been pretty quiet on the update front for Samsung Droid Charge owners as of late, unlike the HTC Thunderbolt there hasn't been any leaked radio files, no leaked Gingerbread builds or anything of that nature. That is until the latest video from p3droid popped up -- yes, what you see running above in that video is Gingerbread along with Netflix up and running on a Samsung Droid Charge. We still don't have any dates for such a version to be released but boy; it sure is pretty to look at.
Source: MyDroidWorld
Where's the beef.. err I mean leak... ;-)

The word is "quiet", not "quite".

Beautiful? Ah, I dunno...it's still got that craptastic orange and brown TouchWiz (emphasis on Whiz) color scheme. But GB? Oh yeah, I'm ready. Cyanogenmod, ready for one more device?

Android Central : leading the Android world in reposts.

This phone has a front facing camera. I hope it has the Google talk video chat built in to it which i thought was 2.3.4

I hope this comes soon. ..I ditched the tbolt for this but.it does need gb badly. ..Oh and one more thing. ..Is there any way to overclock the processor on this to help get rid of some of this lag. ..this is a solid phone just needs some tweeks badly

If you want to root your phone, just implement the Voodoo lag fix. It makes the lag go away. If you want to overclock it as well, you can do that. But I find the Voodoo lag fix is all I need.

So that video doesn't show crap. 2.3.3 great - I don't use netflix, no raving for it here based on that video.
Android Central Newsletter
Get the best of Android Central in in your inbox, every day!
Thank you for signing up to Android Central. You will receive a verification email shortly.
There was a problem. Please refresh the page and try again.