Get a whole new view of the world with ISS onLive using Chromecast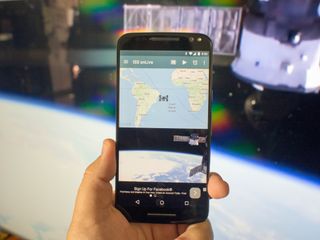 Science and technology have come a long way from the world we were born into. For many of us space has always been a huge part of scientific progress. The International Space Station is a marvel of advancement, and now you can see the world the way that it does. ISS onLive is a live feed of the ISS's orbit around the Earth. This app which, has fantastic Chromecast support lets you see what the ISS sees in realtime, along with giving you a map of it's trajectory.
The main screen for ISS onLive is split horizontally. On top is the map with the trajectory of the Space Station. The bottom of the screen is the video feed that allows you to see the Earth like the ISS does. Three icons in the upper right hand corner will let you set an alarm for the next time the ISS passes over your location, along with rating the app, or opening it in the Google Play Store.
Opening up the options in the upper left corner, gives you some choices as to what you see — and how you see it. You can open the map up to see the whole thing, eliminating the video feed. You can also switch between a high-definition feed of the map and video, or a lower resolution feed of the same thing. The big difference between the two is the clarity of video, but both of them tend to lose signal on and off.
The settings have quite a few things you might want to check out. You can choose to keep your screen on without it timing out, only showing video if you are connected to wi-fi, showing night and day regions layer on the map.
If it's really the video being shot from the ISS that you're concerned about, then you're in luck. By double tapping the video from the main page will expand it to fill your screen. While it looks kind of cool on the screen of your phone, it can be absolutely breath taking when it's casted up onto your television screen.
Anybody who has been a fan of space, or who wants to get some real perspective should definitely take a few minutes to check out ISS on Live. Even better, this app is absolutely free which means there isn't any real drawback to checking it out. Enjoy the view, it's fantastic and something everybody should see for themselves.
Jen is a staff writer who spends her time researching the products you didn't know you needed. She's also a fantasy novelist and has a serious Civ VI addiction. You can follow her on Twitter.
This would be a lot more interesting than a picture slideshow :D They should add that natively to Backdrop :P

Agreed! I often just have the Chromecast sitting showing pictures, but now I think I'll be watching this a lot instead. Posted via the Android Central App

The only one app that seems to be working with Chrome Cast in this category is the ISS HD Live: https://www.androidcentral.com/e?link=https2F2F... The ISS onLive did not work well, it streams in the phone and in the TV at same time, causing lagging and double bandwidth consumption

I found this one the other day. It's much better than watching it on the NASA website lol. The second time I opened the app I was lucky enough to catch a sunrise which was just incredible. I mean, the resolution isn't exceptional but seeing it live (from space!!) was just amazing. Sony Xperia Z2
Nvidia Sheild
Xperia Z3 Tablet Compact

It might be worth noting that this is just a third party app for viewing the feed from NASA's HDEV (High Definition Earth viewing Experiment). It's much better than viewing it in a browser though Sony Xperia Z2
Nvidia Sheild
Xperia Z3 Tablet Compact

When nothing is on TV I usually keep Nasa TV on all the time, a lot of live views of them orbiting around. Going to DL this app, hopes it's the same feed they pipe through Nasa TV

Please mark when an app overview is clearly a paid placement. This app also has in app purchases. All the GA parameters in the url kind of give it away.

I would argue it's more of a community service lol. Cos y'know, live views from space 8D Posted via the Android Central App

Its wrapping a freely available stream in an app that then asks for money to remove ads. It's like creating an app that just opens Google then layers ads over it unless you pay and then AC writing a positive review and getting a commission for referring traffic to it. I get that this is how blogs make money. I just think transparency is a better route.

While that's true, it's a lot more streamlined than the way NASA provides it (not optimised for mobile AT ALL) and just more user friendly. It's a much better (and better presented) user experience. Posted via the Android Central App

And there's Chromecast support. Best backdrop ever Posted via the Android Central App

They are providing a service...I have no problem with the ads or the in app purchase. Nothing is free in this world. If you prefer then find the limited NASA app and use it. Not a scam, its a common practice... I think I can do something better than someone else, so I write an app and hope to make some money on it.

What makes you think that AC got paid for this review?

The tracking parameters in the referring URL. You can read more about how it works here: https://developers.google.com/analytics/devguides/collection/android/v4/... Note: I AM 100% OK WITH AC GETTING PAID FOR APP SPOTLIGHTS OR FOR REFERRING DOWNLOADS TO THE PLAY STORE. I just think it should be presented as "hey here's a cool app emailed to us by the developer to check out, if you click this link we'll get paid" instead of "oh wow i just happened to stumble upon a great app, how lucky am I! Let me tell you about it!" They do include a generic disclosure in their terms and conditions. I just which bloggers were more transparent about paid news. http://www.mobilenations.com/terms-and-conditions.html ///FTC DISCLOSURE REQUIREMENTS: Mobile Nations aims to provide unbiased editorials and has always and will continue to main separation between editorial and e-commerce. However, we wish to disclose that (i) we occasionally receive free products from marketers that we sometimes review or discuss in our editorials, and (ii) we may run advertisements on our sites concerning some of those products or companies that sell them (and other products sold by such companies) for which we sometimes receive compensation, and (iii) may sell these products within our stores, and (iv) we may use affiliate links to products and or services for which we sometimes receive compensation. //

Yawn..... Posted via the Android Central App

Seriously? This is the coolest thing EVER :D Posted via the Android Central App

No a fire stick or fire TV stb with Kodi is the coolest thing ever. Posted via the Android Central App

Ah, but those don't give you a live view from SPACE :D Sony Xperia Z2
Nvidia Sheild
Xperia Z3 Tablet Compact

This is pretty cool. Posted via the Android Central App

Read it as a new ISIS map thing at first, was like dafuq?

These streaming images are provided by a company named Urthecast. These dudes launched a few cameras up into space and docked on the ISS a few years ago and finally they are up and running. Developers have been working with the images for only a few short months, but it's pretty awesome happening. Watching the earth spin is pretty awesome live. If you are watching the map you will notice that the video is just a little, maybe 10-15 minutes behind the map. Also, whenever the thing goes over a specific country, it seems to "lose contact" and need to reestablish connection, and we're told to stand by. Enjoy watching to figure it out. I also think it's 16 or 18 times a day it orbits the Earth and that's how many sunrises and sets you get to see. It's pretty awesome to watch as it is heading into the sun or away from it and the sun goes up and down just off the edge and the glow is so dang perfect around the Earth! https://www.urthecast.com/live is the live link of the website itself.
http://www.isstracker.com/ This is the website I use to check the location of the ISS at the time. These follow and lead by about the 15 minutes I mentioned and it has a nice yellow circle that tells you about what you can see in the horizon of the view.

I was under the impression that the stream is from NASA's HDEV.. Unless they're the same thing lol
http://eol.jsc.nasa.gov/HDEV/

The ISS is a scam, NASA is a big scam, do a search on YouTube for iss hoax or moon landing hoax.A hoax worth trillions of tax payer dollars

You ARE kidding, right...? Sony Xperia Z2
Nvidia Sheild
Xperia Z3 Tablet Compact

I just use another app called "ISS HD Live". There are more camera options, sunset/sunrise notifications, better Chrome Cast (Google Cast Support), information on map and also has a cool section of help & feedback. https://www.androidcentral.com/e?link=https2F2F...
Android Central Newsletter
Get the best of Android Central in in your inbox, every day!
Thank you for signing up to Android Central. You will receive a verification email shortly.
There was a problem. Please refresh the page and try again.